October 9, 2009 News Headlines
HANYS' Board Takes Stand on Health Care Reform in Letter to Congressional Delegation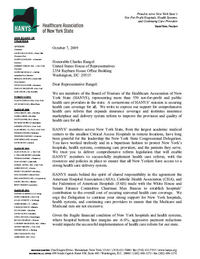 As Congress and the Obama Administration continue efforts in Washington, D.C. to develop health care reform legislation this year, HANYS' Board of Trustees has sent a letter and detailed policy paper to the New York State Congressional Delegation detailing the Board's positions on the major hospital and health system provisions under consideration in the House and Senate health reform packages.
The HANYS Board communication reinforces the advocacy messages HANYS continues to deliver on Capitol Hill. HANYS and the Board urge the Delegation to maintain its long-standing support for New York's hospitals and health systems by actively seeking the inclusion of provisions that achieve the goals of the policy positions outlined by the Board.
The comprehensive set of policy issues the Board addresses range from limiting the level of Medicare and Medicaid reductions to ensuring a fair and equitable approach to addressing delivery system reforms, including geographic variation in health spending.
HANYS continues its advocacy in Washington, D.C. to ensure that the final reform package will enable HANYS' members to successfully implement health care reform, with the resources and policies in place to ensure that all New Yorkers have access to a strong health care delivery system. Contact: Susan Van Meter
---
HANYS Supports Eliminating Barriers to Coverage for Legal Immigrants Under Health Reform
This week, HANYS joined several national, state, and local groups/entities to urge the Obama Administration and congressional leaders to use health care reform as the opportunity to eliminate the five-year waiting period legal immigrant adults currently face to obtaining coverage under Medicaid, Medicare, and the Children's Health Insurance Program (CHIP).
Current law prohibits the use of federal Medicaid funding to cover legal immigrant adults for the first five years they lawfully reside in the United States. A similar five-year waiting period exists for these individuals under Medicare. States like New York that currently opt to cover these populations under Medicaid and CHIP do so with state-only funds.
A similar five-year CHIP waiting period for legal immigrant children and pregnant women was eliminated under the CHIP expansion signed into law by President Obama earlier this year. New York State previously offered coverage to these individuals with state-only dollars.
Elimination of the five-year waiting period for legal immigrant adults would allow states to access federal funding to support the expansion of health insurance coverage to this important and vulnerable population. Contact: Kevin Krawiecki
---