March 15, 2012 News Headlines
Speakers at NYSPFP Kickoff Emphasize Need to Transform Care Delivery

Featured speakers at the kickoff (from left): Joseph McCannon, Senior Advisor to the Administrator and Group Director for Learning and Diffusion, CMS; Arthur A. Levin, Director, Center for Medical Consumers; and William Powers, patient advocate.
Hospital leaders and New York State Partnership for Patients (NYSPFP) liaisons participated Wednesday in NYSPFP's Engagement Conference: Inspiring Change through Culture & Leadership kickoff event that focused on hospital safety culture, the importance of leadership in driving and sustaining quality and safety, and the significance of engaging patients in these efforts.
NYSPFP is a joint initiative of HANYS and the Greater New York Hospital Association (GNYHA), which were jointly awarded a contract to become New York State's Hospital Engagement Network (HEN) by the Centers for Medicare and Medicaid Services (CMS) under the Partnership for Patients program. Wednesday's program was hosted by GNYHA at its offices in Manhattan and was available via Webconference at other sites.
In his opening remarks, HANYS' Vice President for Clinical Affairs, Jerry Salkowe, M.D., highlighted the project's ambitious goals of reducing hospital-acquired complications by 40% and preventable readmissions by 20%. Dr. Salkowe said these goals will only be achieved if hospital culture and leadership are fully aligned as a driving force for change. He said that what distinguishes PFP from previous quality improvement efforts also positions it for success. "Through this unified integrated approach, we will succeed," he said.
Thomas Hartman, Director of Administration, IPRO, introduced the keynote speaker, Joseph McCannon, Senior Advisor to the Administrator and Group Director for Learning and Diffusion, CMS. Mr. Hartman commented on the significant change of focus that has occurred at CMS in recent years, which now sees quality improvement as one of its key purposes.
In his keynote address, Mr. McCannon outlined the serious problems facing America's health care system, including fragmented delivery systems, highly variable outcomes, and unsustainable costs. He said CMS' PFP initiative is part of a broad effort to address these problems by incentivizing change, supporting innovation, and providing infrastructure. He said PFP addresses specific clinical areas where proven, evidence-based solutions are known to prevent patient harm, but the larger goal is to transform care delivery so all causes of harm are addressed system-wide. According to Mr. McCannon, the nationwide efforts of PFP will save $35 billion over the first three years. He acknowledged that government cannot make change occur, but said initiatives like PFP can support organizations and caregivers as they strive to achieve quality improvement goals, calling the NYSPFP collaborative approach "very promising." He said the efforts of NYSPFP and other HENs across the nation "are a source of inspiration for me and my colleagues at the Department of Health and Human Services every day."
Arthur A. Levin, Director, Center for Medical Consumers, said patient advocates have been frustrated with the incremental progress on quality improvement since 1999 when the Institute for Healthcare Improvement published its landmark To Err Is Human report that declared the status quo was unacceptable. Mr. Levin remarked that in PFP he sees "an opportunity to really make a difference."
Patient advocate William Powers shared his experience in losing his son, who died during childbirth due to a series of errors at a Boston-area hospital, and the serious injuries his wife suffered from that event. He said that during and in the aftermath of this event, he found it difficult to obtain a straight answer about what had occurred, but because his was wife in a coma for weeks, he was able to stay at the hospital and talk with various staff and piece together what happened. "All I wanted was to hear the truth," he said. Mr. Powers urged hospital leaders to be honest and human in the face of medical errors, and for medical staff to speak up if they question any procedure or practice. He said anyone at a health care institution can and should be an agent for positive change, and organizational cultures and processes need to foster open dialogue about patient safety so staff feel free to raise issues or concerns. Contact: Kathleen Ciccone
---
New Medicaid Reimbursement Guide Available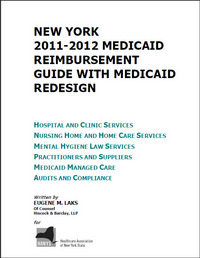 HANYS is offering members an opportunity to purchase a comprehensive reference to New York's complex and constantly changing Medicaid reimbursement system. The 2011-2012 Medicaid Reimbursement Guide with Redesign contains more than 400 pages about all aspects of New York State's Medicaid reimbursement system, including:
Hospitals and Clinics
Nursing Home and Home Care Services
Mental Hygiene Law Services
Practitioners and Suppliers
Medicaid Managed Care
Audits and Compliance
Written by Eugene M. Laks, Esq., former Assistant Counsel for the State Department of Health, and currently at Hiscock & Barclay, LLP, the feature-rich Guide is available as a PDF document on CD, offering a comprehensive index and full-text search capability.
The 2011-2012 Medicaid Reimbursement Guide With Medicaid Redesign reflects legislative and regulatory enactments through September 2011.
HANYS' members may purchase the Guide for $120. That is 20% off the full, non-member price of $150.
Orders are accepted online.
Members with questions about the Guide's content should contact Mr. Laks at Hiscock & Barclay's Albany office, at (518) 434-2163, or at elaks@hiscockbarclay.com.
---