HANYS' Rural Conference Focuses on New Models for Providing Care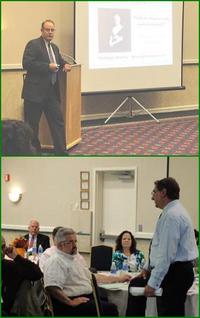 Addressing the Rural Conference participants are (top photo) Steven B. Pierdon, M.D., M.M.M., Chief Medical Officer and Executive Vice President, Geisinger Northeast, Danville, Pennsylvania; and (bottom) Daniel Sisto, President, HANYS.
HANYS held its Rural Conference this week, bringing together rural health care leaders from across the state to network, hear the latest information about HANYS' advocacy efforts, and share best practices and strategies. This year's program, held October 19-20 in Geneva, New York, featured presentations that challenged rural providers to investigate new partnerships and new care modalities, including telemedicine, to contend with the challenges of delivering health care amid an environment of physician shortages, declining public funding, and greater need for health care services.
Steven B. Pierdon, M.D., Chief Medical Officer and Executive Vice President for Geisinger Northeast, based in Danville, Pennsylvania, described his health system's innovative efforts to reduce unjustified variations in health care costs and address fragmentation of care delivery and counter-productive payment incentives. Geisinger's success in these endeavors has become a model in national health care reform discussions, particularly for its ProvenCare initiative that essentially provides a "warranty" on health care services and establishes one fee for an episode of care, including all pre-admission care, inpatient services, and post-operative care, and any complications.
The Conference agenda featured a presentation from Cynthia Gordon, R.N., M.S.N., telemedicine manager at the Rochester General Health System, who, with her colleagues, pioneered a robust telemedicine program that brings specialists face-to-face with their patients via a video interface. Ms. Gordon discussed the success of the Rochester General Hospital/Newark-Wayne Community Hospital collaborative to provide specialty services to the community. Patients are able to schedule appointments with specialists at Rochester General Hospital and see them at the Newark Wayne site earlier than if they had to travel to Rochester. Additional benefits of the program are that primary care physicians are able to access specialists, unnecessary transfers are avoided, patients receive earlier diagnoses and have less travel time, and quality of care and outcomes have improved.
The program also featured presentations by Steven Kelley, F.A.C.H.E., President and Chief Executive Officer, Ellenville Regional Hospital; and James X. Kennedy, M.S., L.C.S.W., Director of Program Development, Finger Lakes Community and Migrant Health Center, who discussed partnerships between federally qualified health centers and rural hospitals.
Karen Madden, Director of the Department of Health's Office of Rural Health, presented on rural funding opportunities, and Jean Moore, M.S.N., B.S.N., Director of the State University of New York Center for Health Workforce Studies, discussed new ideas for identifying physician shortages areas and ways to better draw resources into needy areas of the state.
HANYS' President Daniel Sisto and Executive Vice President Dennis Whalen discussed HANYS' advocacy strategies and Medicaid reform opportunities.
Presentation materials from the conference are available on HANYS' Web site. – Contact: Sherry Chorost and Karen Roach
Published October 21, 2010