2010-2011 Medicaid Reimbursement Guide Available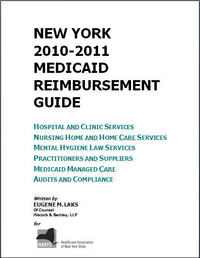 Have questions about New York's byzantine Medicaid reimbursement system? HANYS is offering a comprehensive reference to New York's complex and constantly changing Medicaid reimbursement system. The New York 2010-2011 Medicaid Reimbursement Guide contains more than 400 pages about all aspects of New York State's Medicaid reimbursement system, including:
Hospitals and Clinics
Nursing Home and Home Care Services
Mental Hygiene Law Services
Practitioners and Suppliers
Medicaid Managed Care
Audits and Compliance
Written by Eugene M. Laks, Esq., former Assistant Counsel for the State Department of Health, and currently at Hiscock & Barclay, LLP, the feature-rich Guide is available as a PDF document on compact disc (CD), offering a comprehensive index and full-text search capability. The Guide can be viewed on most smartphones and other mobile devices, including Blackberries, iPhones, and iPads, making it a great pocket reference.
HANYS' members may purchase the Guide for $120. That is 20% off the full, non-member price of $150.
Orders are accepted online.
Members with questions about the Guide's content should contact Mr. Laks at Hiscock & Barclay's Albany office, at (518) 434-2163, or at elaks@hiscockbarclay.com.
Published January 4, 2011