Medicaid Redesign Team Holds First Public Meeting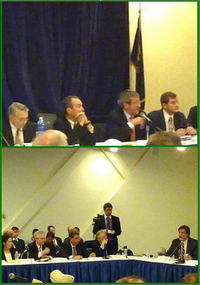 Top photo: Michael Dowling begins the Team meeting. Pictured (from left): James Introne, Deputy Secretary for Health and Director of Healthcare Redesign; Dennis Rivera, Senior Advisor to the International President, SEIU; Mr. Dowling; and Jason Helgerson, New York State Medicaid Director. Bottom photo: Budget Director Robert Megna (right) provides Medicaid statistics as Team members listen (from left:) Ann Monroe, President, Community Health Foundation of Western and Central New York; Max Chruma, Acting Commissioner, Office for People with Developmental Disabilities; Daniel Sisto, President, HANYS; and Assembly Health Committee Chair Richard Gottfried.
The Medicaid Redesign Team established by Governor Andrew Cuomo and charged with reducing costs through program redesign rather than across-the-board cuts, held its first public meeting Thursday.
The Team's co-chairs, Michael J. Dowling, President and Chief Executive Officer, North Shore-Long Island Jewish Health System; and Dennis Rivera, Senior Advisor to the International President, SEIU, welcomed the members and outlined the group's goals and timeline. Mr. Dowling reminded the group that "Medicaid on its current trajectory is not sustainable long-term" and he urged Team members to try not to view the program from their own perspective, but rather from the perspective of what is best for the program overall.
State officials, including New York State Medicaid Director Jason Helgerson, who serves as Executive Director of the Team, presented Medicaid statistics showing where Medicaid dollars are spent and comparing New York's Medicaid costs with other states. They highlighted the need to coordinate care and reduce costs for high-cost populations (25% of enrollees drive 75% of total Medicaid costs), including the chronically ill, those needing long-term care, and those with behavioral health problems. They also highlighted the need to reduce avoidable hospital readmissions.
As a Medicaid Redesign Team member, HANYS' President Daniel Sisto took the opportunity to discuss the redesign recommendations put forth by HANYS' Task Force on Improving New York's Medicaid Program. He noted that many of the recommendations of HANYS' Task Force are consistent with the Team's major areas of discussion.
Mr. Sisto said this is an opportunity for aggressive regulatory relief and he reminded the group of the critical need for medical malpractice reform, noting that this Team presents an opportunity to finally move forward. He also encouraged the Team members to keep in mind the federal government may be an excellent source of funding to implement delivery reform, whether it is a Medicaid waiver or Center for Medicare and Medicaid Innovation (CMMI) "venture capital" to test new approaches.
He warned against comparing New York's Medicaid program with other states' programs, since they differ significantly in how they are structured. Mr. Sisto noted that a recent Medicare Payment Advisory Commission report on variation in Medicare spending showed New York State has some of the lowest per capita spending in the nation.
The Team scheduled seven regional public hearings to solicit ideas for reforming New York's Medicaid program. HANYS encourages members to participate in these meetings:
Buffalo: Roswell Park Cancer Institute,

Wednesday, January 19, 1:30 - 4:30 p.m.

Rochester:

National Museum of Play at The Strong,

Thursday, January 20, 10:30 a.m. - 1:30 p.m.

New York City (Manhattan): Baruch College,

Thursday, January 27, 10 a.m. - 1 p.m.

New York City (Bronx): Bronx Community College,

Thursday, January 27, 3 - 6 p.m.

Long Island (Hempstead): Hofstra University,

Friday, January 28, 10 a.m. - 1 p.m.

Hudson Valley: State University of New York at New Paltz,

Wednesday, February 2, 10:30 a.m. - 1:30 p.m.

North Country (Queensbury): SUNY Adirondack Community College,

Thursday, February 3, 10:30 a.m. - 1:30 p.m.
The Team's recommendations must be presented to the Governor by March 1.
In addition to addressing the challenges of the 2011-2012 state budget, the Team will continue to meet throughout the fiscal year to address long-term reform. The Team's schedule and members are listed in the slide presentation. Contact: Dennis Whalen
Published January 18, 2011