Sound Shore Wins HANYS' Community Health Improvement Award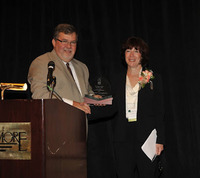 Lori Baker-Stone, R.N., Vice President of Nursing, accepts the 2012 Community Health Improvement Award on behalf of Sound Shore Medical Center's Outpatient Pediatric Immunization Program. Presenting the award is HANYS' Chairman of the Board, Joseph McDonald.
Sound Shore Medical Center was the recipient of HANYS' 2012 Community Health Improvement Award for its Outpatient Pediatric Immunization Program. Building upon the institution's longstanding commitment to childhood vaccination, Sound Shore Medical Center created the Outpatient Pediatric Immunization Program in 2005 with the goal of vaccinating 90% of patients who are two-years-old and younger. To help ensure children receive the recommended immunizations, the program makes vaccination services readily available, identifies and minimizes barriers, reviews immunization status at every visit, and educates caregivers about the risks and benefits of vaccination in a way that is both culturally-appropriate and easy to understand. Since Sound Shore's Pediatric Clinic population is 80% to 85% Hispanic-Latino and its 2005 needs assessment revealed a significant number of Hispanic-Latino children with incomplete vaccinations, one focus of the program's was enhanced education about vaccinations, including the benefits and risks. Under the program, immunizations more than doubled from 2008 to 2010, increasing from 9,982 to 20,116. The Outpatient Pediatric Immunization Program has a 94% success rate for children 12 months of age completing the series of recommended vaccinations, and has been nationally recognized for its efforts. In addition, this continued commitment to immunization has translated into a 25% rise in Sound Shore's clinic visits. This added frequency offers the opportunity to more closely monitor the health status of patients and provide proactive measures.
Honorable Mentions were presented to:
Rochester General Hospital for its Refugee Healthcare Program. Nearly 800 refugees resettle in Rochester each year. From Bhutan, Burma, Iraq, and sub-Saharan countries, these refugees have often endured inadequate past medical care, exposure to diseases, poverty, and experiences that have included torture and terrorism. Rochester General Hospital created the Refugee Healthcare Program in 2009 to assist newly-arrived refugees entering the area in finding primary care. The program coordinates care, addresses language and cultural needs, and acts as a liaison with outside agencies. In the last three years, 2,439 refugees have entered into primary care practices, and 97% of all newly-arrived refugees were established patients within 30 days of arrival.
Lutheran Medical Center/Lutheran Family Health Centers for Project SAFE. Lutheran Medical Center and Lutheran Family Health Centers launched Project SAFE (Speak Out on AIDS Facts and Education) in 2008 to train teens to educate their peers about HIV/AIDS prevention. The program has provided 350 youths ages 13 to 19 with training sessions on issues such as HIV transmission, prevention, and treatment, and healthy decision-making skills. Each year these peer educators provide life-saving information to 2,500 peers through community outreach, dance and theatre performances, new media technology, and educational workshops. After attending a workshop or event, 92% of attendees reported an increased knowledge of HIV and pregnancy prevention, and 82% said they would be more likely to be tested for HIV and sexually transmitted infections.
In partnership with HANYS, the American Hospital Association presented its 2012 Grassroots Champion Award to William F. Streck, M.D., in recognition of his advocacy before the U.S. Congress and work with the New York State Congressional Delegation to protect Medicare funding for hospitals and health systems. Dr. Streck, who is President and Chief Executive Officer of Bassett Healthcare Network in Cooperstown, has been instrumental in preventing deep cuts to hospital outpatient department payments.
Published July 2, 2012