Sisto Discusses Significant Turning Points, Including His Own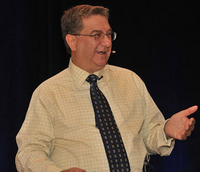 HANYS' President Daniel Sisto delivers his address to the membership.
In his address to the membership at the Annual Conference, HANYS President Daniel Sisto looked back at important turning points in American history, relating them to one that is happening now in the form of health care reform.
Mr. Sisto said turning points in history can be defined as when society's trajectory changes, causing a new reality. Citing examples from the Colonial era through the Civil War and World War II, and including technological breakthroughs from the cotton gin to the personal computer, Mr. Sisto painted a picture of actors who floundered in the face of change because of timidity or indecision, and those that flourished by adapting and taking risks. In each instance, the lessons derived from each turning point were the importance of adaptation, advocacy, leadership, risk-taking, technology, scale, partnership, integration, and luck as the result of hard work.
Similarly, health care providers are at a turning point where government and payers are enacting policies that move the health care system away from a fee-for-service model toward quality-based reimbursement and coordinated care—while reducing the resources providers need to make the change.
He said HANYS' role at this turning point includes member education, technical assistance/data analysis, shaping policies at the state and federal levels, and removing obstacles to change. HANYS also works to beat back reimbursement cuts to the fee-for-service system so hospitals and health systems are not starved of the funds they need to enact necessary reform.
He said providers must decide at this juncture if they will be able to make the change to become a risk-taking entity that provides coordinated care for entire populations, or to become a "vendor" within the larger care system, a single piece of the coordinated care continuum. He noted that the answer will vary from one organization to the next, and there is no wrong answer—but inaction is not an option at this turning point.
Mr. Sisto concluded his remarks by referencing his own turning point: his decision to leave HANYS in 2013 after 27 years of service as President. He said the decision was not an easy one, but that personal and professional factors converged to make it the right decision for him now, at this important turning point in his life. The audience gave him a standing ovation.
Published July 2, 2012