HANYS Publishes 2012 Community Health Initiatives Across New York State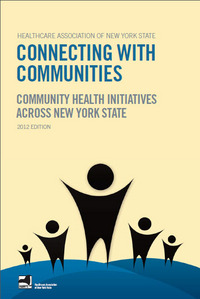 HANYS has published its 2012 edition of Connecting with Communities: Community Health Initiatives Across New York State, which features 38 community health initiatives that HANYS' members identified in nominations for HANYS' 2012 Community Health Improvement Award.
HANYS established the Community Health Improvement Award in 1997 to recognize outstanding initiatives designed to improve the health and well-being of communities. The Award is presented to facilities and programs that target specific community health issues, demonstrate leadership, collaborate among diverse groups, and achieve quantifiable results.
The 2012 publication highlights each facility that met the award criteria, their program goals, partners, outcomes, lessons learned, and sustainability strategies. Each community health program profile also includes contact information about an initiative.
Sound Shore Medical Center was the recipient of HANYS' 2012 Community Health Improvement Award for its Outpatient Pediatric Immunization Program. Honorable Mentions were presented to Rochester General Hospital for its Refugee Healthcare Program and Lutheran Medical Center/Lutheran Family Health Centers for Project SAFE. The awards were presented in June at HANYS' 44th Annual Membership Conference. Contact: Sue Ellen Wagner
Published July 9, 2012