HANYS Hosts Three-Day Haz-Mat Training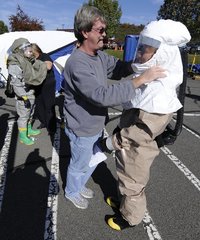 This week, HANYS hosted a three-day infectious and hazardous materials training at the Association's Rensselaer headquarters.
Twenty-two hospital emergency preparedness personnel participated in this "Train the Trainer" program, which was made possible by the Health Workforce Retraining Initiative – a joint program of the Department of Health and Department of Labor. The goal of the program was to focus on building a cadre of trainers at hospitals and health care systems throughout New York to enhance the facilities' capabilities to protect employees, patients, facilities, and communities during a hazardous materials or biological emergency.
Participants who completed the course are now qualified to train colleagues in their hospitals as well as key emergency preparedness personnel at other member hospitals and health systems in their regions.
The program trainer was Paul Penn, President of EnMagine. The program covered five training modules, ranging from basic awareness of hazardous materials and how to handle them, to use of Personal Protective Equipment, to strategies for planning and presenting the training in their regions. Participants represented 18 hospitals covering all region of New York State.
HANYS plans to offer this training again. If you are interested in participating in this training event and would like more information, contact Christopher Smith, Manager, Emergency and Trauma Initiatives.
Published October 17, 2008