HANYS Begins ECHO Collaborative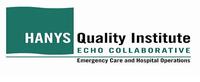 HANYS this week officially launched its ECHO (Emergency Care and Hospital Operations) Collaborative, an initiative that addresses emergency department (ED) overcrowding, real-time demand-capacity management, and patient "flow." The ECHO Collaborative enables participating hospitals to build a structure for daily bed management while creating a learning laboratory for identifying barriers and testing improvements.
This week's ECHO Collaborative Webconference provided an overview of the initiative including the required roles, responsibilities, teams, deliverables, project management needs, metrics, resources, and a discussion on the fortitude needed to succeed. The second phase of the collaborative will focus on both short- and long-term system-level quality improvement activities that can add or shape capacity and demand. HANYS will also provide diagnostic reports and comparative data to participants.
HANYS is implementing this initiative under the guidance of its ECHO Collaborative Advisory Workgroup. Albany Medical Center and North Shore-Long Island Jewish Health System, under the leadership of Dr. Mara McErlean and Dr. Andrew Sama, respectively, are the champion hospitals and lead faculty.
Participating hospitals include:
· Albany Medical Center
· Auburn Memorial Hospital
· Bassett Healthcare
· Carthage Area Hospital
· Catskill Regional Medical Center
· Chenango Memorial Hospital
· Crouse Hospital
· Erie County Medical Center
· Faxton-St. Luke's Healthcare
· Geneva General Hospital
· Highland Hospital of Rochester
· John T. Mather Memorial Hospital
· Jones Memorial Hospital
· Kenmore Mercy Hospital
· Lawrence Hospital Center
· Lenox Hill Hospital
· Long Island College Hospital
· Lutheran Medical Center
· Nassau University Medical Center
· New York Downtown Hospital
· New York Hospital Queens
· NewYork-Presbyterian—Allen Pavilion
· NewYork-Presbyterian—Children's Hospital
· NewYork-Presbyterian—Columbia
· NewYork-Presbyterian—New York Weill Cornell
· University Medical Center Medical Center
· Nicholas H. Noyes Memorial Hospital
· North Shore University Hospital
· Orange Regional Medical Center
· Oswego Health
· Our Lady of Lourdes Memorial Hospital
· Peconic Bay Medical Center
· Plainview Hospital
· Richmond University Medical Center
· Samaritan Medical Center, Watertown
· Saratoga Hospital
· St. Joseph's Hospital Health Center
· St. Joseph's Hospital, Elmira
· St. Luke's Cornwall Hospital
· St. Mary's Hospital
· Staten Island University Hospital
· Stony Brook University Medical Center
· University of Rochester Medical Center-Strong Memorial Hospital
· The Brooklyn Hospital Center
· Thompson Health
· University Hospital, Syracuse
· Vassar Brothers Medical Center
· Westchester Medical Center
· Winthrop-University Hospital
· Wyckoff Heights Medical Center
· Wyoming County Health System
Contact: Nancy Landor
Published January 23, 2009