Some cuts never heal: Healthcare workers urge New York's legislators to reject funding cuts
On Tuesday, March 5, healthcare workers from hospitals, health systems and other care providers throughout New York came together in Albany.
United, they rallied, they marched, and they implored New York's state legislators to protect healthcare funding, to invest in healthcare, and to recognize the impact of the healthcare system on people and communities statewide.
But most critically, they urged New York's legislators to reject the largest state budget healthcare reductions proposed in years.
Healthcare workers came together to protect the community anchors that provide care to 20 million New Yorkers and stand ready 24/7/365 to save lives, bring new life into the world, and respond to any emergency.
They came together to protect providers that already face significant challenges and threats.
Healthcare workers rallied because many of New York's most vulnerable – children, individuals with disabilities, the elderly - are covered by Medicaid.
They rallied because drastic cuts to Medicaid affect every New Yorker's care.
Healthcare workers marched because investments in healthcare drive transformation and innovation that lead to better care for future generations of patients.
They marched because improvements to patient care quality are being seen right now – and cuts put that progress at risk.
Healthcare workers raised their voices because they know that when you invest in healthcare, jobs are created in and outside the hospital's walls, local economies are boosted, and communities become stronger and healthier.
They raised their voices because they know that some cuts never heal.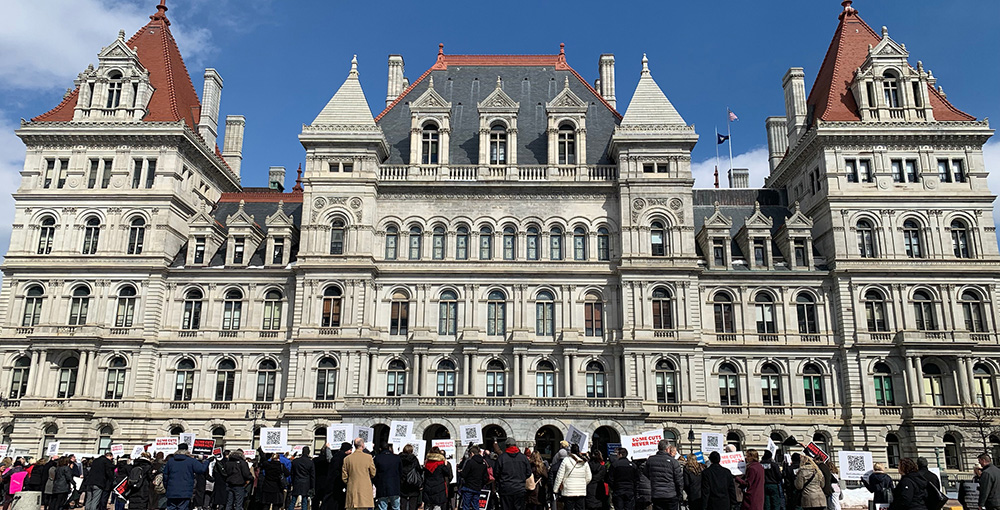 We're grateful to the healthcare workers who came together at the state capital, and the many more who have made their voices heard within their local communities.
Every day, the individuals at New York's hospitals and health systems demonstrate an unwavering commitment to improving care quality, access and delivery.
We urge New York's legislators to remain committed to those goals, as well.
Our fight to protect healthcare funding is not over, and we need your voice. Contact your local legislators and urge them to reject proposed healthcare funding cuts.