Speakers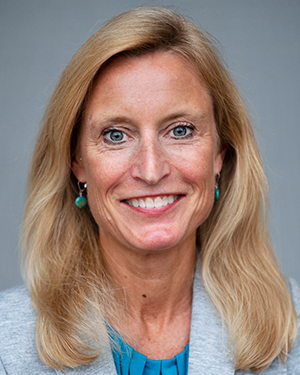 Courtney Burke
Chief Operating and Innovation Officer
HANYS
As chief operating and innovation officer, Courtney Burke oversees all of HANYS' operations and ensures optimal alignment of the Association's various functions – from healthcare policy and advocacy to quality improvement and data analysis.
Ms. Burke comes to HANYS with an extensive background in healthcare operations and policy, with a career that has included executive positions in government and the healthcare provider sector.
Most recently, Ms. Burke served as senior vice president and chief strategy officer at Albany Medical Center. Before that, she served as New York state's deputy secretary for health. In that role, Ms. Burke provided oversight for the state's health and mental hygiene agencies, including the Department of Health, Office of Alcoholism and Substance Abuse Services, the Office for the Aging, Office of the Medicaid Inspector General, Office of Mental Health, Office for People with Developmental Disabilities, Developmental Disabilities Planning Council and the Justice Center.
Ms. Burke previously served as commissioner of the New York State Office for People with Developmental Disabilities, an agency of nearly 20,000 employees. Before that, she served as director of the Nelson A. Rockefeller Institute of Government's New York State Health Policy Research Center and as the senior research scientist in the Rockefeller Institute's Health and Medicaid studies program. Before joining the Institute, Ms. Burke worked at NYSDOH and as the Senior Policy Analyst at the New York State Office of Advocate for Persons with Disabilities.
She has a master's degree in health policy and management from the School of Public Health, University at Albany, and a bachelor's degree in political science and journalism from the University of Connecticut.
Allan Clear
Director, Office of Drug User Health
NYSDOH AIDS Institute
Allan Clear is the director of the NYSDOH AIDS Institute's Office of Drug User Health. Mr. Clear has worked in the field of drug user health since 1990. He was the executive director of the Lower East Side Harm Reduction Center, one of the first syringe exchange programs in New York, and of the Harm Reduction Coalition, which is the prominent community-based organization promoting harm reduction as a mode of working with drug users in the United States.
Mr. Clear has served on both local and international advisory bodies, including Gov. Andrew Cuomo's End the Epidemic Task Force in 2015 and the United Nations Civil Society Taskforce on Drugs.
Elizabeth M. Dufort, MD, FAAP
Medical Director, Division of Epidemiology
NYSDOH
Clinical Assistant Professor, Department of Pediatrics
Albany Medical College
Dr. Elizabeth Dufort received her medical degree from the State University of New York at Buffalo, School of Medicine. She completed an internship and residency in pediatrics at New York University and Bellevue Hospital and served as faculty with the AMPATH program in western Kenya.
Dr. Dufort completed a fellowship in pediatric infectious diseases with the Alpert Medical School of Brown University/Hasbro Children's Hospital in Providence, Rhode Island. She subsequently served as a pediatric infectious diseases clinician and assistant professor of pediatrics at Brown University and Albany Medical College. Currently, Dr. Dufort serves as medical director in the division of epidemiology at NYSDOH and is a clinical assistant professor at Albany Medical College. She specializes in pediatric infectious diseases and public health.
Colleen Flanigan, RN, MS
Director, Bureau of Hepatitis Health Care
NYSDOH AIDS Institute
Colleen Flanigan, RN, MS, currently serves as the director of the Bureau of Hepatitis Health Care at the NYSDOH AIDS Institute. Ms. Flanigan has been involved in hepatitis C-related work for the past 17 years. She is primarily responsible for the design, implementation and evaluation of hepatitis C programs and policies in New York. Ms. Flanigan is also responsible for the development and implementation of the New York State Hepatitis C Elimination Plan. Ms. Flanigan holds a bachelor's degree in biology and a master's degree in nursing.
Brett Fox, CRPA-P
Certified Recovery Peer Advocate
Saratoga County Jail
Brett Fox, CRPA-P, is a person in sustained recovery and a graduate of Saratoga County Drug Treatment Court. In Jan. 2019, Mr. Fox completed the recovery coach academy and is now a Certified Recovery Peer Advocate volunteering at Healing Springs Recovery Center in Saratoga Springs. He spent more than 10 years in active addiction and three years incarcerated. He has successfully used MAT in his recovery and is an advocate of harm reduction.
Ed Fox
Harm Reduction Manager
Project Safe Point
Ed Fox has worked in the field of harm reduction for more than five years. Mr. Fox's history includes his ground-breaking work with the LEAD Program in Albany, New York, syringe exchange coordinator and currently as harm reduction manager with Project Safe Point. Mr. Fox's work is based in the city of Albany, however, Project Safe Point provides services to the Capital District and the 12 counties surrounding the Capital Region.
Mr. Fox has extensive harm reduction training experience, having delivered hundreds of naloxone, harm reduction and safer injection practice trainings. He was one of the original architects in the design of the Health Hub and Peer Navigation Programs with Project Safe Point. Both programs are based on a harm reduction model emphasizing a humanistic, person-centered approach. His work is centered on alternative ways to educate and engage individuals using drugs.
As a manager for the LEAD Program, Mr. Fox oversaw this ground-breaking approach to address substance use and the criminal justice system in Albany. He has engaged and partnered with law enforcement, healthcare, education and rehabilitation institutions to better serve individuals using drugs.
Mr. Fox's work is aimed at helping individuals re-think, engage and challenge the way they work with people who use drugs, and, most importantly, to engage and serve people who use drugs. Mr. Fox has a bachelor's degree from University College Cork, Ireland. He has certifications in trauma informed care and sociology.
Jill Harrington, RN, CCHP-RN
Health Service Administrator
CFG Health Systems, LLC
Jill Harrington, RN, CCHP-RN, is the health service administrator for CFG Health Systems, LLC at Albany County Correctional Facility. Ms. Harrington has more than 26 years of nursing experience, with almost 20 of those years in correctional nursing. She is a Certified Correctional Health Professional Registered Nurse through the National Commission on Correctional Health Care. Ms. Harrington has assisted in achieving accreditation for the medical unit at Albany County with NCCHC and the New York State Sheriff's Association. She has assisted in implementation of and transition to a full EMR in 2018. In Jan. 2019, Ms. Harrington planned and coordinated the implementation of one of the first MAT programs for OUD in upstate New York.
Stephanie Lao, MSW
Executive Director
Catholic Charities Care Coordination Services
Stephanie Lao, MSW, is the executive director for Catholic Charities Care Coordination Services in Albany, New York. Ms. Lao is a social worker who has worked in human services for the last 15 years and has extensive experience in direct client work, program development, implementation and monitoring.
Ms. Lao joined the Catholic Charities Care Coordination Services team as a site supervisor under the COBRA Targeted Case Management model in 2010 and transitioned to associate executive director in 2013. In that role, she worked to develop and manage the agency's transition to Health Homes and expansion of the agency's harm reduction program, Project Safe Point, which provides an array of harm reduction services to drug users.
In 2016, Ms. Lao stepped into her current role. As executive director, she is committed to promoting the health and dignity of individuals and communities who are impacted by drug use and/or chronic illnesses through advocacy, training and program development. This commitment is fueled by her belief in the value of recognizing and responding to the needs of those individuals and communities affected by drug use and/or chronic conditions while preserving and respecting the self-determination and dignity of those served.
Joshua Lynch, DO, EMT-P, FACEP
Medical Director
Buffalo Matters Program
Dr. Joshua Lynch completed his emergency medicine residency at the University at Buffalo, where he served as chief resident his final year. During his residency, he won the Marjorie Dube award for professionalism.
Dr. Lynch is a senior physician with UB|MD Emergency Medicine and holds faculty appointments at the University at Buffalo and Lake Erie College of Osteopathic Medicine. He works clinically in the emergency departments of Kaleida Health and Erie County Medical Center. Dr. Lynch also spent several years as the system medical director at Mercy Flight of Western New York.
Dr. Lynch has a drive to fight addiction. He serves on the Erie County Opioid Epidemic Task Force along with the New York State Buprenorphine Workgroup and is a MAT specialist for the Erie County Health Department. He works tirelessly to educate first responders, the medical community and members of the public on naloxone, overdose and treatment options. Dr. Lynch is involved in research and is the creator of the Buffalo Matters network to provide widespread access to buprenorphine and expedited linkage to treatment centers in emergency departments across Western New York.
Bethany Medley, MSW
Assistant Research Scientist
NYU College of Global Public Health
Bethany Medley, MSW, is the assistant research scientist for the "Overdose Risk Management and Compensation in the Era of Naloxone" project within the College at Global Public Health at NYU. Prior to her position at NYU, Ms. Medley was the opioid program manager at the Harm Reduction Coalition, where she was responsible for coordinating overdose prevention and drug user health initiatives, such as naloxone training of trainers and promoting community-based buprenorphine access.
Ms. Medley has also served as a consultant for the Global Drug Policy Program and the International Harm Reduction Development Program at Open Society Foundations, working on several projects to promote the health and rights of women impacted by the war on drugs. Ms. Medley holds a bachelor's degree in social work from the University of Maryland, Baltimore County, and a master's degree in social work from Columbia University.
Brendan Norton, MS, CRC
Family Support Navigator
Healing Springs Recovery Community and Outreach Center
Brendan Norton, MS, CRC, is in long-term, sustained recovery and is a family member in recovery. While on his journey through recovery, Mr. Norton earned a master's degree in rehabilitation counseling and is employed at the Prevention Council of Saratoga and Healing Springs Recovery Center as a family support navigator. Prior to this, Mr. Norton spent 24 years of his life in active addiction. He works closely with families to help them cope and better support a loved one who is struggling with addiction.
Chad Putman, LMSW
Project Director, Center of Treatment Innovation
New Choices Recovery Center
Chad Putman, LMSW, is the project director for the Center of Treatment Innovation Project for New Choices Recovery Center based in Schenectady, New York. The COTI Project provides mobile outpatient substance use disorder services with a focus on individuals struggling with an opiate use disorder who are uninsured and under-insured in Montgomery, Saratoga and Schenectady Counties. Mr. Putman oversees a team of clinicians and Certified Recovery Peer Advocates engaged in community-based clinical, peer support and MAT services, which also utilizes telepractice technology in order to better serve individuals in remote or underserved communities. Mr. Putman also oversees the MAT Re-entry program at the Hale Creek New York State Correctional Facility which offers clinical and peer support services, post release treatment planning and medical services including extended release naltrexone (Vivitrol) prior to an inmate's release from the Parole Diversion Pod. Mr. Putman is a graduate of SUNY Albany's School of Social Welfare, has over 15 years of human services experience and identifies as a person in long-term recovery.
Sharon Stancliff, MD
Associate Medical Director of Harm Reduction in Healthcare
NYSDOH AIDS Institute
Dr. Sharon Stancliff is associate medical director for harm reduction in healthcare at the NYSDOH AIDS Institute. She is also a staff physician at Project Renewal, where she prescribes buprenorphine at an FQHC in a men's shelter. Dr. Stancliff has been working with people who use drugs since 1990, including provision of primary care, drug treatment, HIV care and syringe access. She has been the medical director of a community health center, an opioid treatment program and the Harm Reduction Coalition.
Dr. Stancliff's current focus is on opioid overdose prevention through expanding access to buprenorphine in primary care and in less traditional settings such as syringe access programs, as well as expanding access to naloxone. She has spoken and provided technical assistance on these topics nationally and internationally as well as through publishing in books and peer reviewed journals. She is an active member of the American Society of Addiction Medicine. Dr. Stancliff maintains board certifications in Family Medicine and Addiction Medicine.
Kimberly Sue, MD
Medical Director
Harm Reduction Coalition
Dr. Kimberly Sue is the medical director of the Harm Reduction Coalition. She is a graduate of the Harvard Medical School's social science MD-PhD Track (PhD, 2014, MD 2015) and completed her medical training at Massachusetts General Hospital in Boston, Massachusetts, in internal medicine-primary care. Her PhD work (medical anthropology) addresses the intersection of United States prison systems, addiction policy, mental health and drug treatment. Her book on this topic, Getting Wrecked: Women, Incarceration and the American Opioid Crisis, is due out in fall 2019 with the University of California Press. She currently sees patients in syringe service programs providing low threshold buprenorphine as well as at Rikers Island Jail system in New York City.
Paul Updike, MD
Medical Director of Substance Use Services
Catholic Health System
Dr. Paul Updike is the medical director of substance use services for Catholic Health in Buffalo, New York. In that capacity, he runs three opioid treatment programs that utilize methadone. Dr. Updike has treated patients in one of the system's outpatient medical clinics with buprenorphine since 2005. He has been involved with a number of state and local programs to increase access to care for patients with OUD. In those efforts, he has trained several hundred physicians on buprenorphine prescribing. Dr. Updike has worked on rapid access treatment through emergency departments in Western New York and has been active in the treatment of pregnant women with SUD.
Justine Waldman, MD, FACEP
Medical Director
Reach Medical
Dr. Justine Waldman is board certified in addiction medicine and emergency medicine and is a Fellow of the American College of Emergency Physicians. For 15 years, she practiced emergency medicine, primarily in Ithaca, New York. Her interest in medicine has always been driven by access to care and health equity issues.
In 2005, she spearheaded the opening of the Ithaca Free Clinic, a volunteer multidisciplinary clinic open to the uninsured. In 2014, she was part of the Harm Reduction Team that gave recommendations for the Ithaca Plan: A Public Health and Safety Approach to Drugs and Drug Policy. Since her involvement on that team, she has focused most of her work on health equity. In 2016, she began providing medical services at the first Health Hub at a syringe exchange program in New York at the Southern Tier AIDS Program in Ithaca.
At the Health Hub, Dr. Waldman provides low threshold medication assisted therapy, Hepatitis C treatment and acute care to people who use drugs. She is currently the medical director of Reach Medical in Ithaca, a medical practice offering integrated primary care and low threshold harm reduction services for people who tend to face stigma in the current medical system.
Reach Medical offers full primary care, MAT with buprenorphine, Hepatitis C screening and treatment and medical cannabis. Reach Medical is a tax exempt PLLC under The REACH Project, a nonprofit providing Respectful Equitable Access to Compassionate Health, of which Dr. Waldman is the president of the board of directors.
Valerie J. White
Deputy Director, Surveillance, Prevention, Administration and Drug User Health
NYSDOH AIDS Institute
Valerie White has been with the New York State Department of Health AIDS Institute since 1988 and currently serves as deputy director. One of the areas in Ms. White's portfolio is the Office of Drug User Health. This office was initially created in 2016. The Office of Drug User Health includes the Syringe Exchange Program, the Expanded Syringe Access Program, the Opioid Overdose Prevention Program, post-overdose follow-up programming, the Buprenorphine Access Initiative and Health Hubs.
Alan Wilmarth, CASAC
Administrative Director
United Health Services
Behavioral Health; Chair
HANYS Behavioral Health Task Force
Alan Wilmarth, CASAC, has worked in the field of behavioral health treatment for over 38 years. Currently, he serves as the administrative director, behavioral health, for the United Health Services system in Binghamton, New York. In his career with UHS, Mr. Wilmarth has held a variety of clinical and administrative roles across the behavioral health continuum of care, working in both inpatient and outpatient services for addiction and psychiatric treatment programs.
Mr. Wilmarth has done consulting work with addictions and mental health treatment providers, hospital systems and insurance companies in New York, Massachusetts and Washington, D.C., and has been a speaker at several conferences on substance use disorders. Mr. Wilmarth has served on several public and private not-for-profit boards throughout his community and on the federal planning teams for criminal and family drug treatment courts in Broome County.