October 8, 2008 News Headlines
HANYS Offers Concerns and Solutions at State Balance Billing Hearing
In testimony delivered yesterday at a state hearing, HANYS recommended that all stakeholders come together to find a reasonable way to insulate consumers from surprise and balance bills for medically necessary, covered services. HANYS testified that efforts to protect consumers must address the root causes of the balance billing problem to avoid exacerbating problems accessing specialty care.
Consumers are sometimes surprised by unexpected medical bills for services delivered by providers who are not part of the patient's health insurance network. The State Insurance Department and Department of Health called the hearing to learn more about this and related problems.
HANYS' testimony, delivered by Jeffrey Gold, Vice President of Managed Care and Special Counsel, covered the following points:
Insured patients should not be surprised by unexpected bills for medically necessary, covered services
The managed care industry's methodology to calculate as well as the adequacy of "usual, customary, and reasonable" fees are part of the root cause of the balance billing problem and must be addressed.
Prohibiting balance billing by non-participating physicians and/or establishing a default rate will not solve the underlying problems and could make matters worse.
Insurers are best positioned to inform consumers about possible bills before treatment is provided.
A form of arbitration that insulates the consumer from disputes over reimbursement may be the best resolution, but a comprehensive solution for consumers will require all stakeholders to come together.
Contact: Jeffrey Gold
---
New RAC Announced; HANYS Continues Advocacy for Fairness
Diversified Collection Services, Inc. (DCS) of Livermore, California, has been named the Medicare Recovery Audit Contractor for Region A, which includes New York, Maine, New Hampshire, Vermont, Massachusetts, and Rhode Island.
The RAC program was established by federal law to uncover Medicare underpayments and overpayments, returning overpayments to the Medicare Trust Fund and underpayments to providers. It began in 2005 with a three-year RAC demonstration project in New York, California, and Florida. During the demonstration program, HANYS advocated for fairness in RAC audit methods and for the resolution of specific problems associated with the program. While many of HANYS' issues were addressed during the demonstration phase, HANYS continues its advocacy to address member concerns as the RAC program is rolled out nationally.
To prepare members for the RAC expansion, HANYS will host representatives from the Centers for Medicare and Medicaid Services (CMS) and the project officer and medical director from the new RAC at an educational session in Rensselaer on November 6, from 1 to 3 p.m. This session will be broadcast live via interactive videoconference at seven sites around the state. Members may register using the registration form online. Contact: Edward McGill
---
HANYS Concludes 2008 Journey to Success Series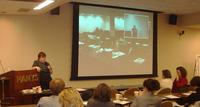 HANYS concluded this year's Excellence in Workforce: The Journey to Success series of educational programs yesterday with "Cultivating a Culture of Accountability," led by Liz Jazwiec. More than 400 people from about 100 member facilities participated in this year's educational sessions. HANYS is planning the 2009 Journey to Success series.
---