October 21, 2009 News Headlines
HANYS Testifies Against Health Care Cuts at Legislative Hearing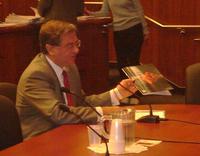 Daniel Sisto displays HANYS' publication, "Tangled Up In Rules" while delivering testimony this morning before the Assembly Ways and Means Committee hearing on the Governor's budget cut proposals.
In testimony before an Assembly Ways and Means Committee hearing today, HANYS' President Daniel Sisto discussed the human costs of the funding reductions in Governor Paterson's Deficit Reduction Proposal, making it clear that any future significant cuts to health care funding will directly result in real losses of jobs and health care services in communities across New York State.
HANYS' written testimony is available online.
Mr. Sisto told lawmakers that rejecting the Governor's proposed health care cuts is the logical and humane choice, given the fragile nature of our health care delivery system, the increased demand for services by those who cannot pay, aggressive state-enacted Medicaid enrollment expansion, the likelihood of up to $12 billion in federal health care cuts, and the four recent inequitable state budget actions that have disproportionately cut billions from health care.
He testified that other sectors of state spending that have been spared large cuts must be looked to for a more equitable shared sacrifice moving forward. He also urged lawmakers to consider revenue enhancers that will not harm patients and providers.
The four most recent budget actions alone, enacted in just the last 18 months, have resulted in annualized cuts totaling $1.7 billion for health care providers. This latest Deficit Reduction Proposal would increase those cuts to a staggering $2 billion each year. No other sector of spending has been subject to cuts approaching this magnitude.
Mr. Sisto gave lawmakers copies of Compound Fractures, which details the damage caused by recent state budget cuts. Mr. Sisto also urged lawmakers to enact meaningful regulatory reform to reduce costs and improve care. He provided them with copies of Tangled Up in Rules, which highlights the many redundant and unneeded regulations that need to be addressed.
In a related matter, the Director of the Division of Budget, Robert Megna, released a statement yesterday highlighting the need for action to address New York's deficit. He discussed potential consequences of inaction including cash flow problems and credit downgrades.
In addition, Governor Paterson convened a legislative leaders meeting this morning in Albany to discuss his Deficit Reduction Proposal. There was general consensus among the leaders that action must be taken to improve the state's fiscal situation, and they are in the process of reviewing the specific proposals and seeking public input through legislative hearings. There was also general concern with the health and Medicaid cuts, acknowledging that the impact on providers becomes much larger when factoring in the enhanced federal share of Medicaid. Contact: Nicholas Henley
---
HANYS and KLAS Offer Hospital HIT Assessment for Members
HANYS has partnered with KLAS, one of the nation's most respected resources for accurate and impartial information on health information technology (HIT) vendor and professional service performance. This partnership will enable HANYS' members, at a discounted fee, to benefit from a new KLAS HIT Assessment, developed specifically for HANYS' members. The KLAS HIT Assessment is a valuable opportunity to obtain a candid review of hospitals' technology programs and plans.
Assessing the current state of hospitals' HIT choices is essential, as the use of HIT becomes increasingly linked to hospital reimbursement and quality improvement programs. State and federal governments are advancing policies that will necessitate hospital adoption of HIT systems and require the successful use of these systems in complex ways to improve care delivery, report quality data, and share information with patients and other entities.
As success in HIT implementation and use become increasingly essential, HANYS is proud to offer this new service for institutions just entering the pathway to HIT adoption, and those looking to reassess their HIT strategic plan.
On November 3, from 3 to 4 p.m., HANYS and KLAS will conduct a Webconference to provide further details of this service. Members are encouraged to register online. Contact: Kevin Krawiecki
---