October 26, 2009 News Headlines
HANYS Urges State Senate Finance Committee to Reject Health Care Cuts
At this morning's Senate Finance Committee hearing in New York City, HANYS' President Daniel Sisto urged members of the New York State Senate to reject the health care cuts included in Governor Paterson's Deficit Reduction Proposal (DRP).
In his testimony, Mr. Sisto reminded the Senate Finance Committee of the human costs of the funding reductions in Governor Paterson's DRP, making it clear that any future cuts to health care funding will directly result in real losses of jobs and health care services in communities across New York State. Mr. Sisto delivered similar testimony before an Assembly panel last week.
Mr. Sisto urged lawmakers to reject the Governor's proposed health care cuts in light of the likelihood of up to $12 billion in federal cuts, and the four recent state budget actions have resulted in annualized cuts totaling $1.7 billion for health care providers. The latest DRP would increase those cuts to a staggering $2 billion each year. No other sector has been subject to cuts approaching this magnitude.
Mr. Sisto provided Committee members with copies of Compound Fractures, which details the damage caused by recent state budget cuts, and Tangled Up in Rules, which highlights redundant and unneeded regulations that need to be addressed. He used the second report to urge lawmakers to enact meaningful regulatory reform to reduce costs and improve care.
Today's hearing in New York City was the first of several statewide Senate hearings to solicit public input on the Governor's DRP. The following dates and locations have also been scheduled:
October 27 at Brookhaven Town Hall Auditorium, Farmingville, 10 a.m.
November 2 at United Auto Workers offices, Williamsville, 10 a.m.
November 5 at Greenburgh Public Library, Elmsford, 10 a.m.
The Governor today requested a public leaders' meeting for this Thursday, October 29, in New York City. In anticipation of the extraordinary session also set today by the Governor for November 10, the Governor has asked the leaders of the Senate and Assembly to convene a joint session on November 9 in Albany, so that he can address the Legislature on a strategy for ensuring the long-term fiscal stability of New York. Contact: Julia Donnaruma
---
President Obama Declares H1N1 Outbreak a National Emergency
President Obama signed a National Emergency Declaration on H1N1 that enables health care systems to quickly implement disaster plans, should they become overwhelmed. This Declaration gives the U.S. Department of Health and Human Services (HHS) authority to waive certain regulatory requirements for health care facilities in response to the ongoing pandemic. Specifically, health care facilities will be able to submit waivers to establish alternate care sites, use modified patient triage and transfer procedures, and take other disaster response actions.
Under Section 1135 of the Social Security Act, health care facilities may petition HHS to approve waivers in response to particular needs related to emergency declarations. Two conditions must be met before HHS has the authority to approve Section 1135 waivers: first, the Secretary must have declared a Public Health Emergency, and second, the President must have declared a national emergency. Requirements that may be waived include those related to Medicare, Medicaid or the Children's Health Insurance Program, the Emergency Medical Treatment and Labor Act, and the Health Insurance Portability and Accountability Act. The HHS Secretary may tailor authorities granted under Section 1135 waivers to match specific situational needs. Contact: Christopher Smith
---
HANYS' Rural Members Discuss Reform and Cuts at Annual Gathering
HANYS' rural members from across the state convened in East Syracuse last week to discuss health care reform developing at the state and national level, and to assess where to focus advocacy efforts in the coming year to preserve rural health care. HANYS and the American Hospital Association reported on state budget cuts being proposed, federal legislation in play to advance health care reform, and the associations' responses to date.
Rural hospitals and networks reported on their efforts to reach out to elected officials to describe the impacts of the Governor's proposed across-the-board budget cuts.
HANYS described its regulatory reform initiative as being imperative to ensuring critical health care staff can focus on caring for patients, rather than taking time fulfilling unnecessary or outdated regulatory requirements. HANYS' reform document, Tangled Up In Rules, was recently sent to members and to key state officials and policymakers.
This year's program included a special networking forum for Critical Access Hospitals (CAHs), discussing collaboration underway to improve quality benchmarking for smaller hospitals. The group also discussed legislative advocacy for issues specific to New York's 13 CAHs. Contact: Karen Roach
---
HANYS Engages Auxiliaries in Organ Donation Promotion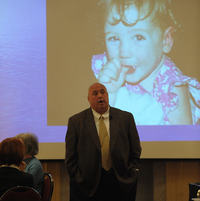 Wes Merritt spoke about his daughter's accidental death and the decision to donate her organs. An image of his daughter Sarah is behind him.
Auxilians and volunteer leaders were encouraged to participate in organ donation promotion activities at last week's 43rd Annual Institute for Health Care Auxiliaries and Volunteer Leaders in Albany. Ellen Hollander, Executive Director of the New York Alliance for Donation, and Wes Merritt, a donor family member, spoke to auxilians about the importance of organ donation and opportunities to promote organ donation within communities.
New York State has one of the country's lowest participation levels on its statewide registry; only about 10% of potential donors have joined. New Yorkers can enroll in the registry online or at their local Department of Motor Vehicles office. Auxilians can encourage community members to enroll in the registry by disseminating informational materials at community events, such as health fairs or fundraising events.
Healthcare Trustees of New York State has embarked on a similar initiative to encourage trustees to promote organ donation with their boards and in their communities.
Contact: Jennifer Carter
---
The Auxiliary of North Shore University Hospital, Manhasset Receives Award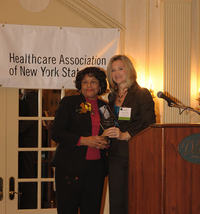 Gladiola Sampson (left), President of the Auxiliary of North Shore University Hospital, Manhasset, is presented with the Auxiliary of the Year Award by Sue Ellen Wagner, HANYS Vice President of Community Health and Executive Director, Healthcare Trustees of New York State.
HANYS presented its Auxiliary of the Year Award to the Auxiliary of North Shore University Hospital, Manhasset at last week's Annual Institute for Health Care Auxiliaries in Albany.
The auxiliary was chosen by an expert panel from among 31 nominations. It was recognized for its numerous community outreach activities, including its Stroke Club, which provides programs and support for stroke survivors. Gladiola Sampson, Auxiliary President, accepted the award on behalf of the Auxiliary.
In addition, there were three honorable mentions: the Auxiliaries of Corning Hospital, Long Island Jewish Medical Center Service Guild, and Thompson Guild.
The call for nominations for the 2010 Auxiliary of the Year Award will be sent to auxiliaries this spring. Contact: Jennifer Carter
---