January 4, 2011 News Headlines
HANYS Comments on DOH's Proposed Readmission Payment Regulations
HANYS sent comments to the Department of Health (DOH) regarding proposed regulations that would implement hospital penalties for potentially preventable readmissions (PPRs). HANYS emphasized the commitment and efforts of its member institutions to work constructively with DOH to prevent unnecessary readmissions. However, HANYS noted that the proposed regulations run contrary to the enabling statute and do nothing to help or incentivize hospitals to improve their efforts to reduce readmissions.
Specifically, HANYS commented that the approach developed by DOH is inconsistent with the enabling statute and has multiple technical flaws that would result in inequitable reductions in Medicaid payments to certain hospitals. In addition, the regulations would apply a methodology that will ultimately undermine, rather than support, improvements in patient care.
HANYS will continue to work with DOH and advocate for a policy that is built on a valid evidence-based performance standard and appropriately incentivizes hospitals by redistributing savings that accrue from a decrease in the number of readmissions to reward hospitals that improve their performance. Contact: Kathleen Ciccone
---
CMS Issues Final Rule on Permanent EHR Certification Program
Yesterday, the Centers for Medicare and Medicaid Services (CMS) published a final rule to establish a permanent certification program for electronic health record (EHR) technology. The permanent certification provisions outlined in this rule replace the temporary certification program established by the Office of the National Coordinator for Health Information Technology (ONC). Testing and certification under the permanent program are expected to begin January 1, 2012.
Organizations that wish to conduct certification under the permanent program may submit applications to ONC beginning this spring. EHR technology tested and certified under the temporary program will remain certified once the permanent certification program takes effect in January 2012.
Hospitals and physicians eligible for the Medicare and Medicaid EHR Incentive Payment Program must be "meaningful users" of certified EHR technology to qualify for the temporary incentive payments and avoid payment penalties that begin in 2015. Contact: Susan Van Meter
---
HANYS Announces 2011 Board Chair and Officers
HANYS' Board of Trustees named its Chair for 2011: Herbert Pardes, M.D., President and Chief Executive Officer, NewYork-Presbyterian Healthcare System, New York City.
The Board also announced its 2011 Board Officers:
Chairman-Elect: Joseph D. McDonald, President and Chief Executive Officer, Catholic Health System, Buffalo
Secretary: Linda Brady, M.D., President and Chief Executive Officer, Kingsbrook Jewish Medical Center, Brooklyn
Treasurer: Scott Cooper, M.D., President and Chief Executive Officer, St. Barnabas Hospital, Bronx
Immediate Past Chairman: Joseph A. Quagliata, President and Chief Executive Officer, South Nassau Communities Hospital, Oceanside
Past Chairman: David G. Kruczlnicki, President and Chief Executive Officer, Glens Falls Hospital
Past Chairman: Michael J. Dowling, President and Chief Executive Officer, North Shore-Long Island Jewish Health System, Great Neck
Past Chairman: Steven I. Goldstein, President, Strong Memorial and Highland Hospitals, Rochester
In addition, the following new members were elected to the Board:
Alan D. Aviles, Esq., President, New York City Health and Hospitals Corporation, New York City
Richard B. Becker, M.D., President and Chief Executive Officer, The Brooklyn Hospital Center
Mark C. Clement, President and Chief Executive Officer, Rochester General Health System
Warren Hern, President and Chief Executive Officer, Unity Health System, Rochester
John T. Lane, Trustee, Winthrop-South Nassau University Hospital, Melville
Jody L. Lomeo, Chief Executive Officer, Erie County Medical Center, Buffalo
Paul J. Kronenberg, M.D., President and Chief Executive Officer, Crouse Hospital, Syracuse
Scott H. Perra, President and Chief Executive Officer, Faxton-St. Luke's Healthcare, Utica
Steven M. Safyer, M.D., President and Chief Executive Officer, Montefiore Medical Center, Bronx
Anthony Shorris, Senior Vice President, Vice Dean, and Chief of Staff, NYU Langone Medical Center, New York City
Mark Webster, F.A.C.H.E., President and Chief Executive Officer, Claxton-Hepburn Medical Center, Ogdensburg
Contact: Barbara Susko
---
HTNYS Elects 2011 Officers and New Board Members
The Board of Governors of Healthcare Trustees of New York State (HTNYS) elected its 2011 chair, officers, and board members. Sarah J. Schermerhorn, a trustee at Ellis Hospital, was re-elected Chair of the HTNYS Board, effective January 1, for her second one-year term.
The Board also re-elected the following officers to serve one-year terms:
Vice Chair—John T. Lane, a trustee at Winthrop-South Nassau University Health System;
Secretary/Treasurer—Daniel E. Clark, a trustee at Alice Hyde Medical Center; and
Immediate Past Chair—Richard H. Hawks, Jr., Treasurer and Chairman of the Finance Committee of the Board of Directors of Thompson Health
In addition, the Board elected three new members to serve for three-year terms beginning January 1:
John Daly, a trustee at St. Mary's Hospital at Amsterdam;
Susan R. Holliday, a trustee at University of Rochester Medical Center/Strong Memorial Hospital;
F. J. McCarthy, a trustee at North Shore-Long Island Jewish Health System; and
Sharon Norton Remmer, a trustee at Brookhaven Memorial Hospital Medical Center.
HTNYS is also pleased to announce that HTNYS board member, S. Jan Eberhard, a trustee at Arnot Ogden Medical Center, was elected at-large member of the American Hospital Association's Committee on Healthcare Governance, for a three-year term, effective January 1. Contact: Jennifer Carter
---
HTNYS Releases New Trustee DVD Series With Jamie Orlikoff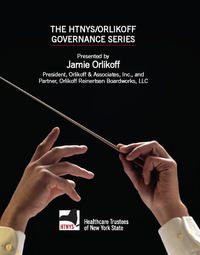 Healthcare Trustees of New York State (HTNYS) recently sent all member chief executives a complimentary set of its new DVD governance series, created in collaboration with governance expert Jamie Orlikoff.
HTNYS/Orlikoff Governance DVD Series was developed to offer board education on three important topics: leadership challenges, accountable care organizations and physician alignment, and governance best practices. HTNYS encourages chief executives and board chairs to use this valuable DVD series as educational opportunity in upcoming board meetings. Contact: Sue Ellen Wagner
---
2010-2011 Medicaid Reimbursement Guide Available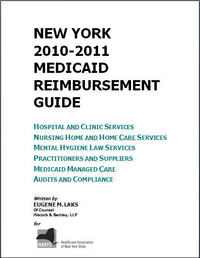 Have questions about New York's byzantine Medicaid reimbursement system? HANYS is offering a comprehensive reference to New York's complex and constantly changing Medicaid reimbursement system. The New York 2010-2011 Medicaid Reimbursement Guide contains more than 400 pages about all aspects of New York State's Medicaid reimbursement system, including:
Hospitals and Clinics
Nursing Home and Home Care Services
Mental Hygiene Law Services
Practitioners and Suppliers
Medicaid Managed Care
Audits and Compliance
Written by Eugene M. Laks, Esq., former Assistant Counsel for the State Department of Health, and currently at Hiscock & Barclay, LLP, the feature-rich Guide is available as a PDF document on compact disc (CD), offering a comprehensive index and full-text search capability. The Guide can be viewed on most smartphones and other mobile devices, including Blackberries, iPhones, and iPads, making it a great pocket reference.
HANYS' members may purchase the Guide for $120. That is 20% off the full, non-member price of $150.
Orders are accepted online.
Members with questions about the Guide's content should contact Mr. Laks at Hiscock & Barclay's Albany office, at (518) 434-2163, or at elaks@hiscockbarclay.com.
---