May 3, 2012 News Headlines
Medicaid Spending Finishes $14 Million Below Global Cap for State Fiscal Year 2011-2012
The Cuomo Administration announced Tuesday that spending came in $14 million below the $15.3 billion Medicaid global spending cap for state fiscal year (SFY) 2011-2012. This means the health care sector succeeded in reducing Medicaid spending by more than $640 million, which represents the amount for which providers were at risk under the global cap in last year's budget. As a result, a Medicaid Savings Allocation Plan was not used to further reduce spending to stay within the cap.
The global cap and associated provisions, including Department of Health (DOH) authority to reduce spending if the cap is pierced, continue this year and through the end of the next fiscal year (SFY 2013-2014). The cap for this year (SFY 2012-2013) is $15.9 billion. Contact: Nicholas Henley
---
HANYS Releases Still Tangled Up in Rules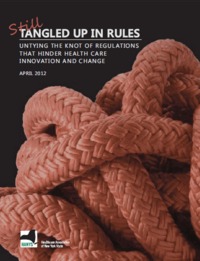 HANYS this week published Still Tangled Up in Rules, which highlights the Association's agenda to eliminate regulatory barriers to innovation, enact positive regulatory changes, and give health care providers the flexibility needed to operate more efficiently in today's environment.
The publication builds upon the success of the original Tangled Up in Rules, published in 2009, which helped HANYS advance significant regulatory reform into law, including Certificate of Need (CON) reform, easing New York Patient Occurrence Reporting and Tracking System reporting requirements, reducing survey duplication related to inpatient psychiatric units, and increasing state support for services provided via telemedicine.
Key focus areas in Still Tangled Up in Rules include CON reform, aligning the state's observation services rules with Medicare regulations, increasing flexibility to allow practitioners to use their skills to the fullest extent their training will allow, improving the Doctors Across New York Program, and eliminating duplicative and/or inconsistent regulations among state and federal oversight agencies. Contact: Frederick Heigel
---