April 13, 2018 News Headlines
New from HANYS President Bea Grause: "Protecting a Vision"
"Staying the course on longer-term policy priorities is difficult under any circumstances, but especially so in today's divisive political atmosphere. With healthcare reform, which is an incredibly complex issue, it's hard to understand the course, much less stay on it."
How — and why — did the Governor and state lawmakers agree to the creation of what came to be known as the "Healthcare Transformation Fund"? Read HANYS President Bea Grause's new blog post to find out.
---
New Video Interview: The Provider/Payer Relationship
In our latest "Critical Issues in Healthcare" video interview, Jeffrey Gold, Senior Vice President and Special Counsel, Insurance and Managed Care, discusses the relationship between providers and payers - and how it may evolve. Don't miss this great discussion on a complex and important topic. Watch the interview online.
---
HANYS and MLMIC Collaborate, With Aim to Reduce Patient Harm
HANYS and Medical Liability Mutual Insurance Company (MLMIC) announced this week their collaboration to conduct an in-depth analysis of claims data. This effort will explore potential linkages between patient safety protocols, patient health outcomes, and adverse events.
Averting the consequences of an adverse event for patients and the economic and professional impact for physicians, hospitals, and all other healthcare provider organizations are a high priority for HANYS, our members, and MLMIC, an insurer of many of these practitioners and organizations.
"We are hopeful that this analysis will provide valuable insight and best practices for providers across New York to improve risk mitigation and patient safety. Over time, improvements in patient safety could reduce medical malpractice claims and in turn, serve to counter medical malpractice premium inflation," said HANYS President Bea Grause.
Learn more about this collaboration on our website. Contact: Michael Ilnicki
---
Innovation Spotlight—White Plains Hospital Provides Breastfeeding Support
The first weeks after giving birth can be daunting for any new mother. To assist postpartum women who have been discharged from the hospital and are struggling with breastfeeding during their babies' first month of life, White Plains Hospital initiated the Breastfeeding Support Group.
To learn more about this group and its results, read the full story here. This story is just one of the many initiatives profiled on HANYS' NYS Triple Aim website that demonstrate how New York healthcare providers are improving population health, enhancing the quality of patient care, and reducing the cost of healthcare despite fiscal constraints.
---
2018 Trustee Conference: Big Speakers Out-of-the-Gate in a Winning Setting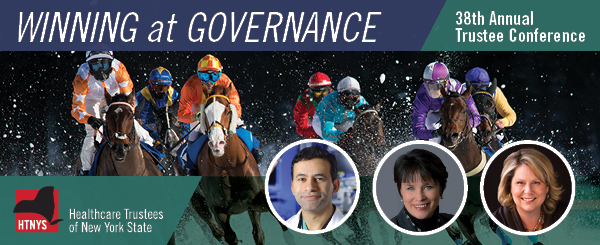 Healthcare Trustees of New York State is excited to bring you the first details about our 2018 Trustee Conference in Saratoga—September 14-16.
Opening Keynote: Marty Makary, M.D., Professor of Surgery and Health Policy, Johns Hopkins School of Medicine
As creator of the ground-breaking "surgical checklist," Dr. Makary is synonymous with innovation in quality and patient safety. The New York Times best-selling author will examine transparency, the next generation of quality measures, and whether America suffers from "too much" medical care.
Four additional sessions will be led by two renowned governance experts:
Maureen Swan, President, MedTrend, Inc.
Maureen Swan returns to advance the discussion on affiliations and the evolution of systems from both the hospital and system perspective and the impact on local, regional, and corporate boards. In a separate session, she will show trustees how to use board self-assessment to achieve excellence.
Kimberly McNally, Kimberly McNally, McNally & Associates
It's all about relationships. Kimberly McNally will focus separately on boards and their CEOs, and boards and physicians to provide trustees with practical guidance on how to establish, build, and maintain effective leadership partnerships that strengthen governance.
Bets are that you'll enjoy Saratoga Springs. Our new Trustee Conference location is a destination for horse-racing tradition, spas, the arts, and so much more! Online registration opens in early July. Join us in Saratoga Springs! Contact: Sue Ellen Wagner
---
Celebrate National Volunteers Week April 15-21
Volunteers are part of the backbone of hospitals. National Volunteer Week was established in 1974 to recognize and celebrate the efforts of volunteers across the country. HANYS would like to thank all of the volunteers in our hospitals and health systems who provide so many programs and services to the members of their communities. Contact: Sue Ellen Wagner
---
April 28 is National Drug Take-Back Day: Take Action to Curb the Opioid Crisis
On Saturday, April 28, from 10 a.m. to 2 p.m., the Drug Enforcement Agency (DEA) will hold the 15th National Prescription Drug Take-Back Day.
The DEA's Take-Back Day events provide an opportunity for Americans to dispose of unused medications to help prevent misuse. Last October, Americans turned in 912,305 pounds to approximately 5,300 return sites.
HANYS encourages members to provide misuse and drop off location information to patients, families and their communities, and consider becoming a drop-off location.
We have created a Drop-off Education Tool, and encourage you to use it to inform staff, patients, their families and your community about this event. Additional resources and tools are located on the HANYS Opioid Addiction Prevention and Management Collaborative webpage and include a how-to guide for drug take-back, drug disposal fact sheets, and drop-off locations. Contact: Kathy Rauch
---