May 4, 2018 News Headlines
HANYS Celebrates National Hospital Week May 6-12
In advance of next week's celebration of National Hospital Week, HANYS extends our gratitude to New York's hospitals and health systems for their 24/7/365 dedication to providing healthcare services to all.
"This week and every week, HANYS is eager to celebrate the great work of New York's hospitals, health systems, and care providers," said Bea Grause, HANYS President. "We are tremendously grateful to all of the dedicated individuals who provide compassionate care to patients and their loved ones in New York's hospitals every day."
During National Hospital Week, HANYS will share many stories about the amazing work New York's hospitals have been doing to improve the health of their patients and local communities. New York's hospitals and health systems continue to be committed to transforming care delivery to be more patient-centered, while embracing new initiatives to achieve the "Triple Aim" of better health, better care, and lower costs. You can find the complete collection of these stories at HANYS' "Innovation Spotlight - Triple Aim" website.
---
2018 Trustee Conference: From Forecasting the Future to Today's Key Topics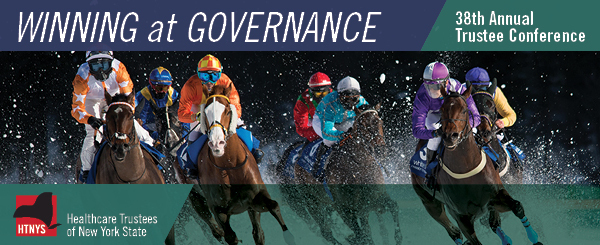 HTNYS is excited to announce another compelling speaker and several breakout topics for our 2018 Trustee Conference in Saratoga, September 14-16.
Tomorrow Will Change Even Faster Than Today
Jack Uldrich, Global futurist and best-selling author
Just when you thought healthcare couldn't change any faster, it does. Acclaimed futurist Jack Uldrich will examine how consumerism, emerging technology, and unique partnerships will continue to disrupt the delivery of healthcare and how boards can help their hospitals get out in front of it. And, with the future being "predictably, unpredictable," he will help trustees gain the actionable insight and foresight they need to lead their hospitals through change and plan strategically for the future.
Breakout Strategy Sessions
We're offering a broad range of topics relevant to your trustee role:
Creating the Conditions for Effective Board-Physician Relationships
Hospitals as Bridges Out of Poverty
Partners in Behavioral Health
From Good to Great Governance—Using Board Self-Assessment to Achieve Excellence
Diversity and Inclusion Evolution
It Takes a County: Fulton County's Telehealth Pilot
Online registration opens in early July. Join us in Saratoga Springs! Contact: Sue Ellen Wagner
---
Innovation Spotlight—Lighthouse Guild Empowers Students with Low Vision
Lighthouse Guild is committed to helping people with vision loss live full, independent, and productive lives. To that end, the organization is granting free access to a library of more than 500,000 books to people who are blind or have low vision.
To learn more about this program, read the full story here. This story is just one of the many initiatives profiled on HANYS' NYS Triple Aim website that demonstrate how New York healthcare providers are improving population health, enhancing the quality of patient care, and reducing the cost of healthcare despite fiscal constraints.
---
Baldrige Training in Rochester NY
The annual Partners in Performance Excellence (PiPEx) Baldrige examiner training will be held in New York State this year at Monroe Community College in Rochester on May 31 and June 1.
This training provides detailed and comprehensive education on a full organization model for performance improvement and excellence. The Baldrige methodology has stood the test of time, covering areas from systems and innovation to valuing people and customers.
There is no requirement to actually serve as a Baldrige examiner. Please click here for the registration brochure and information. The deadline to complete is May 8. Contact: Nancy Landor
---