June 8, 2018 News Headlines
CMS Quality Programs Make More Progress
On June 5, CMS announced further declines in hospital-acquired conditions (HACs), including 8,000 lives and $2.9 billion in costs saved. CMS has spearheaded new initiatives in the Center for Medicare and Medicaid Innovation (CMMI). Many of these initiatives, including the Hospital Innovation and Improvement Networks (HIINs), are now part of the Division of Clinical Standards and Quality, Quality Improvement and Innovation Group. The Agency for Healthcare Research and Quality (AHRQ) provides the federal dashboard used to measure the Partnership for Patients programming. The AHRQ National Scorecard on Hospital-Acquired Conditions estimates that 350,000 HACs were avoided and the overall rate was reduced by 8% from 2014 to 2016. Federal experts note that the recent gains in safety among hospital patients echoed earlier Partnership for Patients successes, including 2.1 million HACs avoided between 2010 and 2014.
"Those results show that this is a tremendous accomplishment by America's hospitals in delivering high-quality, affordable healthcare," said CMS Administrator Seema Verma. "CMS is committed to moving the healthcare system to one that improves quality and fosters innovation while reducing administrative burden and lowering costs. This work could not be accomplished without the concerted effort of our many hospital, patient, provider, private, and federal partners—all working together to ensure the best possible care by protecting patients from harm and making care safer." Improvements were seen in almost all areas with the exception of rising pressure injury rates.
CMS is reorganizing its bidding and contract approach to ensure that this and other quality improvement programs will continue to provide support and assistance on this journey to eliminate preventable harm. HANYS is proud of the progress New York's hospitals and health systems have made and their contributions to this major national decrease through the New York State Partnership for Patients and other work. Contact: Nancy Landor
---
Annual Conference Online Registration Closes June 13

HANYS' 50th Annual Membership Conference is almost here! Don't miss out: Online registration closes Wednesday, June 13.
Making your final plans? Visit our website to learn more about our exciting new Saratoga Springs conference location, review our enhanced agenda, meet the speakers, and see all available continuing education credits. We hope you'll have the opportunity to spend June 27-29 with us in historic Saratoga Springs! Contact: Allison Manny
---
Innovation Spotlight—Burke Rehabilitation Hospital Provides Access to Life-Changing Technology
Burke Rehabilitation Hospital recognizes each patient's journey as unique. With the hospital's focus on individual care and innovative technology, a Burke therapist was able to pair a wheelchair-using patient with a special device to help him walk again.
To learn more this patient's story, read the full story here. This story is just one of the many initiatives profiled on HANYS' NYS Triple Aim website that demonstrate how New York healthcare providers are improving population health, enhancing the quality of patient care, and reducing the cost of healthcare despite fiscal constraints.
---
HTNYS Launches 2018 Trustee Conference Website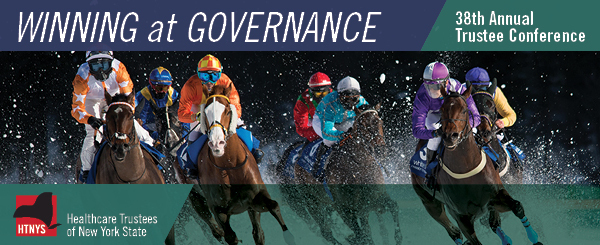 Trustees can now access the Conference website for complete information about HTNYS' 2018 Conference, Winning at Governance, September 14-16 in Saratoga Springs. You'll find all the details you need about the two-and-a-half day program, including agenda, speakers, registration, and accommodations. This year, we are excited to welcome you to a new Conference location—the rich and vibrant destination of Saratoga Springs. Online registration opens July 9. Contact: Sue Ellen Wagner
---