March 15, 2019 News Headlines
New blog post: Continued threats to healthcare require our constant advocacy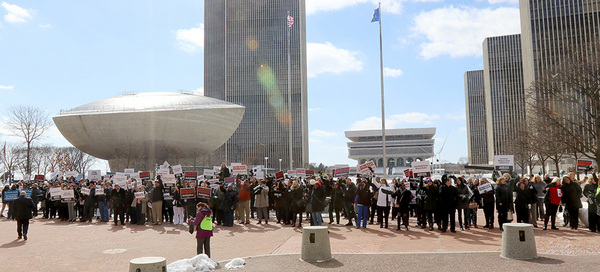 The outpouring of support from healthcare workers and New York's state legislators at HANYS' Healthcare Advocacy Day on March 5 was encouraging, their participation and voices critically important to our efforts to reverse proposed cuts that would amount to $657M for hospitals and more than $400M for nursing homes.
But we knew that our advocacy couldn't end when the buses left the Capitol. Our advocacy – in Albany and statewide – continued.
Read HANYS President Bea Grause's latest blog post to see how the days since Advocacy Day have affirmed the importance of continued advocacy to protect healthcare funding.
---
Innovation Spotlight – Mercy Medical Center enhances sepsis care
According to the CDC, at least 1.7 million adults in the U.S. develop sepsis each year, and nearly 270,000 die as a result. In 2014, Mercy Medical Center of Catholic Health Services of Long Island formed a sepsis committee to evaluate their current sepsis care practices and identify enhancements. From their findings, the committee developed a comprehensive Mercy Sepsis Program.
To learn more about this initiative and its results, read our full story.
This story is just one of the many initiatives profiled on HANYS' Member Innovation Spotlight website that demonstrate how New York healthcare providers are improving population health, enhancing the quality of patient care and reducing the cost of healthcare despite fiscal constraints.
---
April 3 trustee program in Westchester: Register now
HTNYS is pleased to announce the offering of a complimentary breakfast program for trustees, CEOs and other business and community leaders on April 3 at the DoubleTree by Hilton Hotel in Tarrytown. The program is designed for attendees to learn about key issues that impact your hospital, healthcare system and local businesses in your community. The program features a panel discussion about single payer and nurse staffing ratio proposals and impacts to hospitals, healthcare systems and the business community.
The program will include the following panelists:
Daniel Blum, president and CEO, Phelps Hospital and NorMet Chair;
Eric Linzer, president and CEO, New York Health Plan Association; and
Dan Cence, Solomon McCown — consultant working with HANYS on a campaign opposing mandated nurse staffing ratios.
Please register online.
HTNYS is sponsoring this program in collaboration with HANYS, the Suburban Alliance, Westchester County Association and Hudson Valley Economic Development Corporation. Contact: Sue Ellen Wagner
---