July 19, 2019 News Headlines
New from HANYS: New York is diligently responding to Candida auris
In our latest "Critical Issues in Healthcare" video interview, Darren Dopp, HANYS' senior vice president, corporate communications, discusses Candida auris with Sarah DuVall, a director in HANYS' Quality Advocacy, Research and Innovation division.
Watch our interview and read more about C. auris in HANYS' latest blog post.
---
CMS delays Star Ratings update
CMS will not be updating the CMS Overall Hospital Star Ratings this summer; this comes in response to concerns from HANYS and other stakeholders about potential program changes. The most recent Hospital Compare Data Preview Reports did not include updated Star Ratings.
According to a Modern Healthcare article, CMS officials noted the agency would not update the ratings in August. This will allow the Technical Expert Panel to complete its review of the many public comments received earlier this year. The American Hospital Association verified the article's content and expressed support of CMS' plan to postpone updating the Star Ratings. AHA also expressed support for TEP's additional review of the comments.
HANYS developed an interactive advocacy tool that explained the impact of proposed changes and provided a vehicle for members to submit comments. HANYS also submitted comments on behalf of our members. We urged CMS to remove the Star Ratings from Hospital Compare until they address many flaws in the methodology.
HANYS will continue to monitor this issue and will update members when more information is available. Contact: Kathy Rauch

---
House committee approves legislation to address surprise billing, Medicaid DSH
On Wednesday, the House Energy and Commerce Committee approved by voice vote legislation to eliminate two years of Medicaid Disproportionate Share Hospital cuts and address surprise medical bills as part of a marathon markup.
Medicaid DSH
A HANYS-supported provision approved by the Committee would prevent $16 billion in Medicaid DSH reductions by eliminating the impending cuts for federal fiscal years 2020 and 2021 and reducing the cuts for FFY 2022 from $8 billion to $4 billion. HANYS thanks Rep. Eliot Engel (D-Bronx) for his leadership in advancing this key federal advocacy priority to protect hospitals and health systems from the Medicaid DSH reductions otherwise scheduled to go into effect Oct. 1. HANYS looks forward to continuing to work closely with Rep. Engel, Sen. Charles Schumer and the entire New York congressional delegation to achieve a successful outcome.
Surprise billing
The Medicaid DSH measure was packaged with the No Surprises Act, which would prohibit balance billing for out-of-network emergency services and certain other services. In order to resolve payments for these out-of-network cases, the legislation would establish a benchmark payment to providers at the median in-network rate for a geographic region. An amendment adopted Wednesday would allow for an arbitration process for hospitals and physicians to contest inadequate payments in cases where payment exceeds $1,250.
HANYS is thankful that the committee worked to address concerns with the No Surprises Act. Despite these well-intentioned efforts to improve the bill, HANYS remains fundamentally concerned with the underlying policy. HANYS has long-supported efforts to shield patients from unanticipated medical bills; however, any legislation that would set a federal benchmark rate for provider payments is problematic because it would shift significant power in the marketplace to for-profit insurers to the detriment of patients and providers.
Next steps
The package could be brought to the floor of the House for a vote in the weeks ahead but will ultimately have to be reconciled with similar legislation still under development in the Senate. HANYS will continue to work closely with the New York delegation and our advocacy partners in Washington to improve the bill as it moves through the legislative process. HANYS will urge lawmakers not to use hospital payment cuts to pay for the elimination of Medicaid DSH reductions. Contact: Elyse Oveson
---
Workshop provides education and inspiration to member executive assistants and board coordinators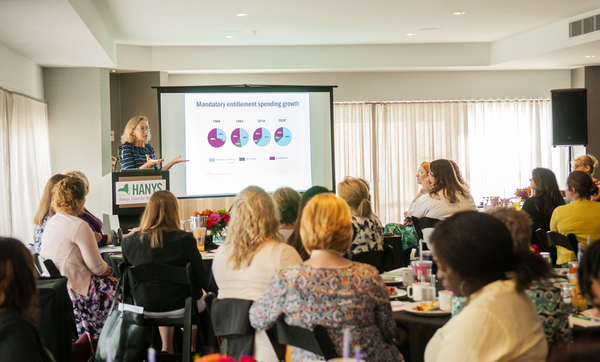 HANYS President Bea Grause speaks about the current healthcare landscape.
HANYS and HTNYS held their 2019 Workshop for Executive Assistants to the C-suite and Board Coordinators July 9 and 10 at the Renaissance Albany Hotel.
This annual program educates EAs to the C-suite and board coordinators on key issues that impact their hospitals and health systems. It also enhances key skill sets that are critical to their important positions.
This year's program included the following:
Avon Scherff, director, employee benefit services, HANYS Benefit services, led a thought-provoking session that helped the audience discover their intention, or something to bring them closer to their "Best Self."
HANYS President Bea Grause presented on the healthcare landscape and how HANYS is actively preparing for the future with the goal of building hospital resilience.
Millennial specialist Amelie Karam discussed various generations in the workplace; she helped the audience understand that each generation has strengths and weaknesses and has experienced certain life events. Ms. Karam discussed how to use those generational differences to create better work environments.
Dr. James Reed, president and CEO, St. Peter's Health Partners, provided his perspective about working with administrative professionals, what he views as characteristics of highly effective EAs, what he considers his key responsibilities as CEO, what's on his mind and what keeps him up at night.
Diane Cameron, director of development, Unity House, brought awareness to the possibilities of miscommunication and provided tips for communicating effectively in the workplace.
Sue Ellen Wagner, executive director, HTNYS, and vice president, community health, HANYS, discussed recent national and state governance trends, current board challenges and resources available through HTNYS.
Chris Smith, director, emergency preparedness, HANYS, provided information on the hospital's role in emergency management and the responsibility of an EA.
Information on next year's workshop will be available in early 2020. Contact: Kristen Phillips
---
Innovation Spotlight – Rochester Regional Health achieves continuous quality improvement
Long-term care facilities and nursing homes often treat the most vulnerable and complex patient populations. These facilities must address patients' quality of care and quality of life, often while struggling with workforce shortages. In 2016, Rochester Regional Health committed to achieving continuous quality improvement at its skilled nursing facilities.
To learn more about this initiative and its results, read our full story.
This story is just one of the many initiatives profiled on HANYS' Member Innovation Spotlight website that demonstrate how New York healthcare providers are improving population health, enhancing the quality of patient care and reducing the cost of healthcare despite fiscal constraints.
---