September 23, 2019 News Headlines
HTNYS provides educational programming at 2019 Annual Trustee Conference

Hospital and health system trustees and chief executives from 65 organizations across the state gathered Sept. 13 -15 at Healthcare Trustees of New York State's 39th Annual Conference, The Power of Governance, in Saratoga Springs.
Find coverage of our educational sessions below. For more on HANYS' President Bea Grause's discussion, read our Sept. 13 HANYS News article. For more on our annual award winners, read our press release.
---
Sue Ellen Wagner welcomes attendees with governance trends and a look to the future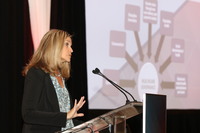 Sue Ellen Wagner, executive director, HTNYS, provides opening remarks at HTNYS' 2019 Annual Trustee Conference.
Sue Ellen Wagner, executive director, HTNYS, opened the conference by discussing national and state governance trends, the emergence of new governance models and HTNYS' plans for the future, including new programming and tools for trustees.
---
Dr. Jeremi Suri provides a historical perspective on leadership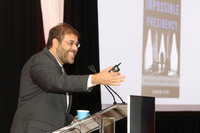 Jeremi Suri, PhD, professor for global leadership, history and public policy, University of Texas at Austin, delivers the opening keynote address.
In his keynote, "The Essentials of Effective Leadership," author Jeremi Suri, PhD, discussed the use of history to make ourselves better leaders. He explained how you can better understand the future if you know the past. If you can't look back, you cannot think forward, he said. Dr. Suri spoke to the differences in the days of former presidents over time and illustrated how schedules today are too full, hindering our time to think and focus. It is important that we bring people together, have a common vision and focus on issues that really matter, he said. According to Dr. Suri, we can become more effective leaders by doing five things: painting a picture, defining a purpose, pursuing priorities, teaching history and eliminating distractions.
---
Governance authority and responsibility changes due to consolidation
Today, 85% of hospitals in New York state are part of a healthcare system, i.e., a parent entity with multiple subsidiaries. This systemization has led to discussions regarding the allocation of governance authority and responsibility between a hospital board and the system parent board. Robert Swidler, vice president of legal services with St. Peter's Health Partners, has first-hand experience with hospitals joining a healthcare system and resulting discussions regarding governance. In his session, "Governance Models – Active vs. Passive Parents," Mr. Swidler explained the differences between active and passive parents and the proposed "limited purpose active parent" model.
---
Social determinants of health sessions explore factors that influence health status and how trustees can help address disparities in their communities
Sessions focused on how social determinants of health, which are non-medical factors, can affect health and healthcare outcomes. These factors include housing insecurity as well as access to affordable housing, food insecurity and access to care. In Friday's session, Dr. William Jordan focused on the great work that the New York City Department of Health and Mental Hygiene is doing through various methods such as making data actionable and looking at preexisting historical issues that have contributed to these health disparities. In Saturday's session, Dr. Marnie Brady discussed the impact that accessible and affordable housing has on health and how hospitals and health systems are addressing this in their communities. She also provided insight into how trustees can get involved.
---
What boards should know about communications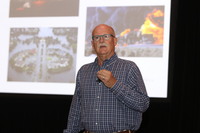 Steve Bell, managing partner of Steve Bell Communications, presents 'Out of the Chaos: The Board's Role in Crisis and Reputation Management.'
In his breakout session, Michael J. Schoppmann, Esq., president of MLMIC Insurance Company, discussed the unique benefits and the appropriate use and liability issues associated with social media in healthcare. According to a recent survey, 40% of consumers report that information they see on social media affects their healthcare, including when choosing practitioners and making healthcare decisions. When monitoring your organization's standing on rating and ranking websites, he recommended that hospitals never respond or dispute a review, as it may result in a privacy breach or HIPAA violation. Further, marketing should be vetted by the legal department. Mr. Schoppmann covered what a social media plan and policy should address and recommended guidelines for use of social media in healthcare. Attendees walked away with a list of 10 questions every trustee should ask their management team about social media.
Later that day, Steve Bell, managing partner of Steve Bell Communications, explored what trustees need to know about communications during a crisis. His key message was that what triggers a crisis is not as important as the response. The objective is to end the crisis as quickly as possible and return to business-as-usual – with credibility and reputation intact. How you handle yourself in the first few hours of a crisis determines how you will ultimately be viewed. Mr. Bell discussed the five key rules for effective crisis response. When responding, transparency and preparation are key, and emphasizing the facts is crucial, he said. Further, sometimes "I don't know" can be the best answer.
---
Luncheon session covers healthcare consumerism inside and out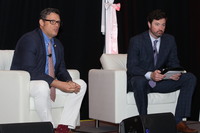 From left to right: Ed Rafalski, chief strategy and marketing officer with BayCare Health, and Ryan Donohue, corporate director of program development with National Research Corporation, during the Q&A portion of their session.
Ryan Donohue, corporate director of program development with National Research Corporation, returned to the conference to lead a high-level discussion of healthcare consumerism. He reported results of recent consumer surveys that painted the picture of consumers' three views of healthcare: the popular, politician and patient views. Mr. Donohue spoke about reshaping perceptions and said trustees should discuss three priorities: access, value and experience.
Next, Ed Rafalski, chief strategy and marketing officer with BayCare Health, discussed healthcare consumerism from the inside out. He described BayCare's approach to engaging customers, delivering care and building loyalty among the different generations of consumers, including: an "Easy Pass" loyalty program for patients, HealthNav – a self-care decisions symptom checker app, BayCare Anywhere – an app available at supermarket kiosks with medical professional follow-up within 48 hours to book primary care and a "Genius Bar-like" healthcare tech help for customers.
---
Experts discuss their hospital/community partnerships to address the opioid crisis
Hospitals and health systems are working within their organizations and with partners in their communities to address the opioid crisis in a variety of ways. In the closing session of the conference, Dr. Amanda Parsons, deputy chief medical officer at MetroPlus, and the Honorable David Godfrey, trustee of Eastern Niagara Hospital, provided examples of how their hospital and community partnerships are fighting this epidemic to provide lessons learned to the audience. They discussed their communities' needs, how they initiated their projects and built the "spider web" of interaction, the challenges and barriers they faced and their next steps. Bill Trust, chair emeritus of Montefiore Nyack Hospital, facilitated a very active and engaging Q&A session.
---
Mark your calendars for next year's conference in Syracuse, Sept. 25-26, 2020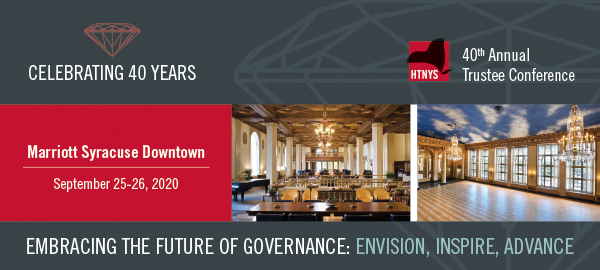 Please join us in celebrating the 40th anniversary of HTNYS' Annual Trustee Conference! Embracing the Future of Governance will take place Sept. 25 - 26, 2020, at the Marriott Syracuse Downtown. Please note 2020's new conference format will begin on Friday morning and adjourn late Saturday afternoon. Enjoy the pictures of this magnificent, historical hotel on its website. More event details will be available in early 2020.
We'd like to thank all who attended this year's conference. We hope you enjoyed the conference and left with a greater understanding of the complex issues and trends that impact your board's governance role and learned fresh ideas and new strategies to share with your board. We look forward to seeing you next year!
---