October 4, 2019 News Headlines
HANYS issues new resource on healthcare trends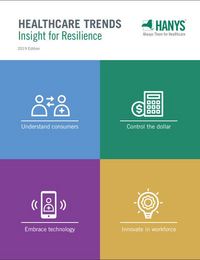 HANYS is pleased to present Healthcare Trends: Insight for Resilience, a strategic planning resource for hospital and health system leadership teams and governing boards. This report examines the changing healthcare landscape in New York, provides key data points and offers strategies for resilience.
Accompanying the report is a slide deck and video that offer a brief overview of the report.
Healthcare Trends: Insight for Resilience is a product of HANYS' Strategy, Innovation, and Policy Committee, which built on the work of the HANYS board of trustees' year-long scenario planning process. Contact: Courtney Burke
---
President's executive order calls for regulatory and payment changes to Medicare
President Trump issued an executive order Thursday entitled "Protecting and Improving Medicare for Our Nation's Seniors." According to the administration, the executive order is intended to expand flexibility in benefits offered by Medicare Advantage plans and to generate reimbursement and regulatory changes in fee-for-service Medicare. This could include, among other provisions, policies aimed at increasing access to health savings accounts, as well as additional price transparency and site-neutrality proposals. We expect rulemaking on many of the major policies outlined in the order to be announced within a year. HANYS will keep members updated on proposals pursuant to the president's executive order. Contact: Elyse Oveson
---
Innovation Spotlight – Albany Medical Center refines care transitions for patients
ICU readmission is associated with poorer health outcomes, including lower survival rates, prolonged hospitalization, increased costs, higher degrees of disability after ICU discharge and greater emotional stress to patients and their families. In 2017, Albany Medical Center implemented a multidisciplinary initiative to improve the transition from the ICU to a lower level care unit.
To learn more about this initiative and its results, read our full story.
This story is just one of the many initiatives profiled on HANYS' Member Innovation Spotlight website that demonstrate how New York healthcare providers are improving population health, enhancing the quality of patient care and reducing the cost of healthcare despite fiscal constraints.
---