HANYS Hosts Healthcare Summit on ACA: What's Next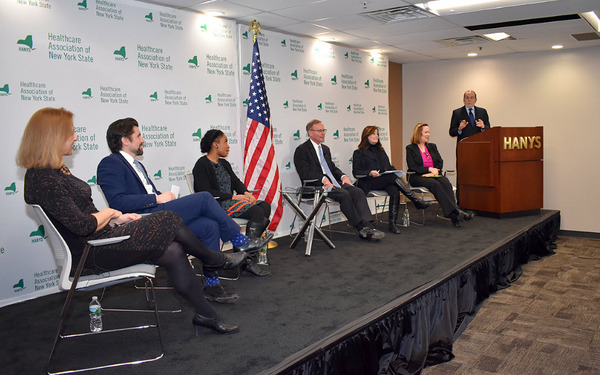 The panel (from left): Bea Grause, President, HANYS; James Malatras, President, Rockefeller Institute of Government; Krystal Scott, New York State Policy Director, Medicare Rights Center; James Clyne, Jr., President and CEO, LeadingAge New York; Beth Finkel, State Director, AARP New York, Kate Breslin, President and CEO, The Schuyler Center for Analysis and Advocacy; and William Streck, M.D., Chief Medical and Health Systems Innovations Officer, HANYS
On Thursday, HANYS hosted Healthcare Summit on ACA: What's Next, a panel discussion on the next steps for the Affordable Care Act (ACA), after the U.S. House of Representatives last week failed to bring its ACA repeal and replace bill to the floor for a vote. The panel explored what's next for ACA and what it means for the State of New York, consumers, and healthcare providers.
The panel, moderated by William Streck, M.D., Chief Medical and Health Systems Innovations Officer, HANYS, included:
Bea Grause, President, HANYS;
Beth Finkel, State Director, AARP New York;
James Malatras, President, Rockefeller Institute of Government;
James Clyne, Jr., President and Chief Executive Officer (CEO), LeadingAge New York;
Kate Breslin, President and CEO, The Schuyler Center for Analysis and Advocacy; and
Krystal Scott, New York State Policy Director, Medicare Rights Center.
The panelists agreed that the American Health Care Act (AHCA) was a step in the wrong direction, which would have had a dire impact in New York. Each panelist offered insight into their priorities going forward, even as Republicans in Washington are talking about trying again to repeal and replace ACA.
Based on the public outcry over the AHCA proposal, the panelists agreed on the importance of engaging the public to achieve workable solutions, but recognized that terms the average person does not understand, like "voucher," "premium support," and "block grants" must be replaced with plain language focusing on how policies impact people.
Speaking about last week's AHCA failure, Ms. Grause said, "We dodged a bullet, but unfortunately the gun is still loaded." She explained that HANYS opposed AHCA because "It took New York State backward on coverage . . . on federal support for the Medicaid program, and it took us backward on healthcare reform."
Ms. Grause said the key lessons learned from the AHCA debacle was that Americans do want affordable health coverage, and don't want people who got coverage under Obamacare to lose it. She noted that Obamacare is far from perfect, but rhetoric regarding "ACA imploding" polarizes the debate and scares Americans who are worried about losing coverage. She said she wants to see a bipartisan discussion to reach real solutions.
Referencing research the Rockefeller Institute conducted in 40 states, Mr. Malatras quipped that fixing ACA's imperfections requires a surgical approach, "a scalpel, not a meat cleaver," he said. Mr. Malatras described AHCA as an ideological bill that did not seriously attempt to address the very real problems that exist in healthcare, but instead aimed solely at reducing spending.
Mr. Malatras said the federal government is also making cuts to education, environment, housing, and nutrition programs, all of which have a direct impact on population health and healthcare. "We have to talk about Medicaid in the context of the totality," he said. He added that there is no consensus in Washington on even basic facts, noting that during the AHCA debate, Republicans criticized even the Congressional Budget Office estimated impact estimates.
Ms. Scott commented that AHCA proposed rolling back access to coverage for people age 46 to 64. She noted that before ACA was enacted, many Americans in this age group simply waited until they reached Medicare eligibility age before seeking needed care, leading to more severe illness and worse outcomes.
Ms. Scott emphasized the importance of informing the public about how Medicaid or Medicare cuts can impact entire families and communities, not just recipients. She agreed that the word "flexibility" is often used in misleading ways in the national healthcare debate, explaining as an example that reducing Medicaid funding to states actually undermines the ability of states to provide Medicaid coverage.
Mr. Clyne reminded everyone that Medicaid is the underpinning of long-term care, including nursing homes, home care, and assisted living. He said that if Medicaid funding is cut, as proposed by AHCA, states would be required to make hard choices about reducing coverage, reducing payments to providers, cutting other programs, or making fundamental changes in the Medicaid program.
"There are ways to save money in Medicaid without doing something drastic like block grants," Mr. Clyne said. "We have found ways to keep the growth at a level that is sustainable in New York."
Ms. Finkel said AARP was the first national organization to oppose AHCA, and she described how AARP mobilized its membership and reached out to every member of Congress. She agreed about the importance of supporting long-term care moving forward as baby boomers age, and described a recent AARP survey of young people, the vast majority of whom were aware that they would need to pay out-of-pocket for a portion of long-term care costs.
To achieve positive change in Washington, she suggested that focus be placed on areas that resonate on both sides of the political aisle, such as reducing pharmaceutical costs. "There is absolutely no rationale for why CMS can't negotiate drug prices," she said.
Ms. Breslin said most members of Congress were unaware of what was in the AHCA bill because it was moved so quickly, and once they heard from constituents, many Republicans soured on it. She said she is confident that Republicans in Congress will regroup and try to put forward another ACA replacement that changes Medicaid from an entitlement to a block grant program.
"In addition to being a cut to Medicaid, it also has an impact on the entire state budget and local municipal budgets," said Ms. Breslin, noting that "it would undoubtedly result in cuts in other places . . . none of us is safe." She emphasized that advocates should not allow lawmakers to pit them against each other.
Concluding the discussion with a look at the "big picture," Ms. Grause said that lawmakers engaging in healthcare policy discussions need to begin with realistic expectations. "Reducing health spending over time and creating affordability at the individual and societal level is going to take a number of years," she said.
Published March 31, 2017