Bea Grause Urges Providers to "Confront the Chaos" in President's Address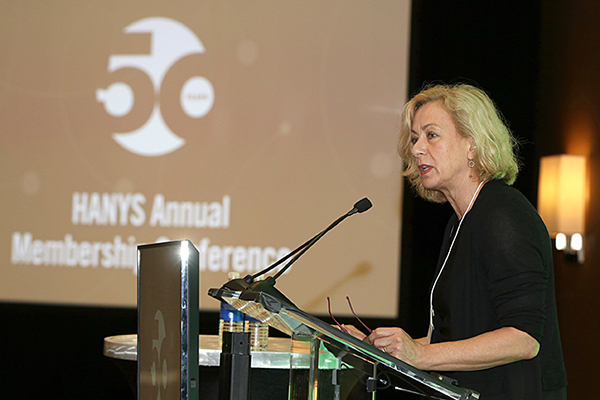 HANYS President Bea Grause addresses members at HANYS' 50th Annual Membership Conference.
In her annual President's Address to members, HANYS President Bea Grause described the turbulent environment that healthcare providers face and urged them to "confront the chaos." Watching events unfold and waiting to react to them is an inadequate approach to the VUCA (volatile, uncertain, complex, ambiguous) world we live in. Instead, we must gain an understanding of the larger forces at work and plan for an uncertain future.
She said HANYS has been doing just that. A group of HANYS members have lent their expertise to a "scenario planning" process that aims to identify trends impacting healthcare and develop four separate plausible scenarios for the future. Ms. Grause said that this process has already borne fruit in terms of focusing the organization on specific issues and member concerns, and has ignited new ways of thinking about the problems we face. To advocate effectively, preparation is imperative, and Ms. Grause explained that the scenario planning process will help frame HANYS' advocacy strategies.
The goal, she said, is to be a proactive player in shaping the future, not a reactive organization that just puts out fires. Planning is just one step in this process. She emphasized the importance of listening―to viewpoints that may not agree with your own―and then taking a stand to defend your mission. For healthcare providers, that mission is the Triple Aim of better health, better care, and lower per capita costs. Then, perseverance and tenacity are needed, she said, because there will always be headwinds and obstacles to progress.
Ms. Grause encouraged providers to consider this approach as they strive to achieve the Triple Aim and provide care to all in their communities.

Published July 5, 2018