"Control the dollar" sessions focus on provider sustainability in rapidly evolving marketplace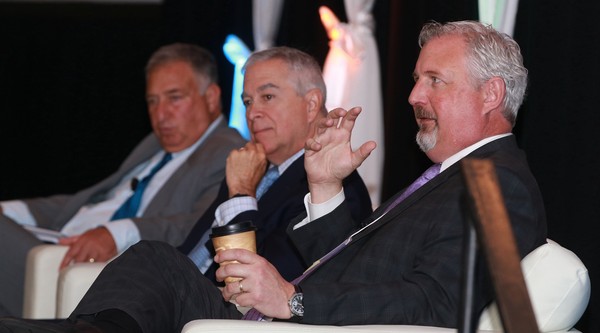 From left: Jeff Gold, HANYS' senior vice president and special counsel, insurance and managed care, moderated "Working Together to Ensure the Long-term Health of the Communities We Serve," a discussion with Robert Hinckley, executive vice president, strategy and communications and chief strategy officer, CDPHP, and Tony Vitagliano, vice president, health system performance, Excellus BCBS.
Between pressure on the premium dollar, "docs in a box," new specialty groups and growing partnerships between insurers and companies such as CVS, it is getting harder and harder for traditional providers to control the flow of the healthcare dollar. "Control the dollar" sessions were designed to give members ideas about different ways to build a sustainable future in a rapidly evolving marketplace.
One session covered the transition from fee-for-service to value-based payment, with a particular focus on Medicare Advantage. Another focused on payer evolution and new strategies for hospitals to cope with competitive disruption and the power derived from payer conglomeration, with observations made such as "the reports of the death of hospitals are greatly exaggerated" yet also acknowledging the moves organizations such as Optum are making to completely redesign the healthcare business model ("This is Optum's world, and we're just living in it").
In a panel discussion, two local health plan executives and Jeff Gold, HANYS' senior vice president and special counsel, insurance and managed care, spoke about how health systems and payers can be better aligned in their efforts to serve healthcare consumers, particularly as topics such as single-payer healthcare continue to dominate policy discussions.
Published June 27, 2019