Workshop provides education and inspiration to member executive assistants and board coordinators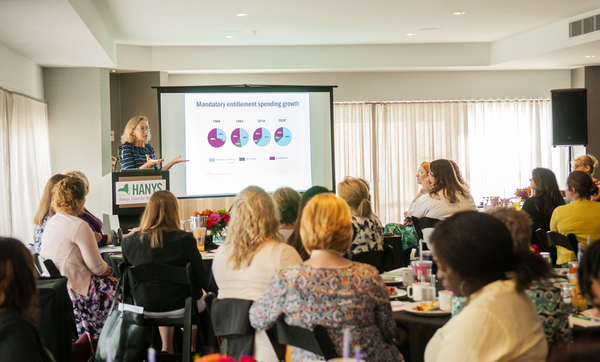 HANYS President Bea Grause speaks about the current healthcare landscape.
HANYS and HTNYS held their 2019 Workshop for Executive Assistants to the C-suite and Board Coordinators July 9 and 10 at the Renaissance Albany Hotel.
This annual program educates EAs to the C-suite and board coordinators on key issues that impact their hospitals and health systems. It also enhances key skill sets that are critical to their important positions.
This year's program included the following:
Avon Scherff, director, employee benefit services, HANYS Benefit services, led a thought-provoking session that helped the audience discover their intention, or something to bring them closer to their "Best Self."
HANYS President Bea Grause presented on the healthcare landscape and how HANYS is actively preparing for the future with the goal of building hospital resilience.
Millennial specialist Amelie Karam discussed various generations in the workplace; she helped the audience understand that each generation has strengths and weaknesses and has experienced certain life events. Ms. Karam discussed how to use those generational differences to create better work environments.
Dr. James Reed, president and CEO, St. Peter's Health Partners, provided his perspective about working with administrative professionals, what he views as characteristics of highly effective EAs, what he considers his key responsibilities as CEO, what's on his mind and what keeps him up at night.
Diane Cameron, director of development, Unity House, brought awareness to the possibilities of miscommunication and provided tips for communicating effectively in the workplace.
Sue Ellen Wagner, executive director, HTNYS, and vice president, community health, HANYS, discussed recent national and state governance trends, current board challenges and resources available through HTNYS.
Chris Smith, director, emergency preparedness, HANYS, provided information on the hospital's role in emergency management and the responsibility of an EA.
Information on next year's workshop will be available in early 2020. Contact: Kristen Phillips
Published July 19, 2019