Register today for Nov. 13 Healthcare Innovations Conference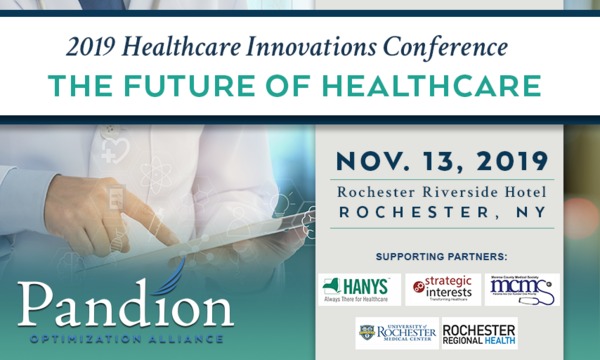 Registration is now open for the third annual Healthcare Innovations Conference: The Future of Healthcare, hosted by Pandion Optimization Alliance. This full-day educational event will be held Nov. 13 at the Rochester Riverside Convention Center.
Last year, more than 200 healthcare administrators, clinicians and business owners attended the conference, representing more than 70 organizations across New York. Anyone interested in the future of healthcare is encouraged to attend.
This year's keynote speaker is Emmanuel Fombu, MD, MBA, a physician, author and healthcare executive turned Silicon Valley entrepreneur. He is the author of the book The Future of Healthcare: Human and Machines Partnering for Better Outcomes.
Attendees will also be able to choose from six different educational tracks:
Consumer, Patient Engagement and Digitally Connected Health;
Clinical Informatics and Clinician Engagement;
Cybersecurity, Privacy and Security;
Leadership, Governance and Strategic Planning;
Long-term Care; and
Supply Chain Management.
Register online before Aug. 31 and get 25% off the registration fee.
Questions? Please contact Christine Pittman Ballard, director, quality and education, Pandion, at cballard@pandionalliance.com or (585) 214-2411.
Published August 23, 2019