HANYS' Survey Shows Persisting Physician Shortage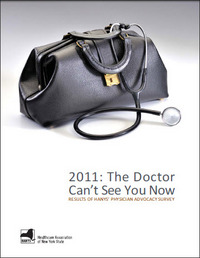 HANYS' new report, 2011: The Doctor Can't See You Now, confirms that New York's physician shortage is not diminishing and is likely to worsen. The report provides the results of HANYS' 2011 Physician Advocacy Survey.
Access to care in communities across New York State is threatened by growing physician shortages. This survey found a dramatic increase in the number of physicians that departed or retired in 2010, and continued difficulty in recruiting replacements. Further, the average age of physicians practicing in New York State is 52, and 16% are over the age of 65, meaning the pace of retirements will accelerate.
Findings include:
The pace of physician departures and retirements in New York State is accelerating. Nearly 2,300 physicians retired or left the medical staffs of responding hospitals in 2010, compared to 1,600 in 2009.
Sixty-six percent of responding hospitals indicated there were times when the physician shortage left their emergency department without converge for certain specialties; requiring the transfer of patients to other hospitals for treatment.
Thirty-four percent of responding hospitals reported that they had to reduce and/or eliminate services in 2009-2010 due to physician shortages.
Responding hospitals reported a need for 763 new physicians.
The report, developed in collaboration with Iroquois Healthcare Alliance, Nassau-Suffolk Hospital Council, Northern Metropolitan Hospital Association, Rochester Regional Healthcare Association, and Western New York Healthcare Association, corroborates studies by the State University of New York Center for Health Workforce Studies and American Association of Medical Colleges. A total of 109 member hospitals responded to this survey outside of New York City, a 71% response rate. Contact: Sherry Chorost
Published January 26, 2012