Health Care Leaders Advocate in Albany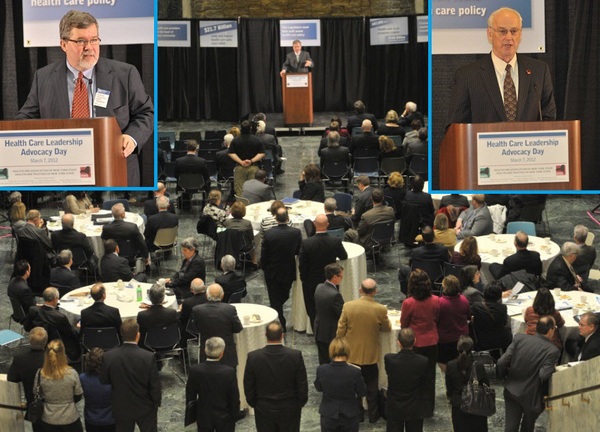 HANYS' President Daniel Sisto (center) speaks to the crowd in the well of the Legislative Office Building; (inset left) HANYS' Board Chair Joseph McDonald; and (inset right) HTNYS Board Chair John Lane.
Hundreds of health care leaders and trustees from hospitals and health systems across the state gathered in Albany today to advocate on behalf of their patients and institutions. Leadership Advocacy Day, hosted by HANYS and Healthcare Trustees of New York State (HTNYS), included speeches by key legislative leaders, individual and group meetings with legislators, and a luncheon panel discussion with the legislative health committee chairs.
Joseph McDonald, Chair of the HANYS Board of Trustees, and President and Chief Executive Officer (CEO) of Catholic Health System in Buffalo, began the day by welcoming and thanking the health care leaders in attendance for fulfilling the important role of being "a voice on behalf of our patients, our staff, physicians, and communities." John Lane, Chair of the HTNYS Board of Governors, and a trustee at Winthrop-University Hospital in Mineola, encouraged the trustees in attendance to provide examples to legislators to illustrate their commitment to fulfilling their fiduciary duties and the many ways they serve their facilities and communities as volunteer board members.
The health care representatives met with legislators and emphasized the need to develop health care policies that facilitate the transformation of health care delivery. They stressed the importance of health care to the economy and the quality of life in communities across the state, and the severe fiscal challenges that health care providers face after years of multiple rounds of cuts at the state and federal level. They advocated on key issues of concern, including proposals related to governance, executive compensation, and the appointment of temporary operators for health care facilities.
Health care organization executives and trustees told legislators that to achieve a more patient-centered and efficient health care system with better patient outcomes, the Legislature must play a central role in:
removing unnecessary and duplicative regulations that stifle innovation;
reforming managed care to ensure providers can thrive in a changing commercial insurance marketplace;
positioning New York State to optimize federal Disproportionate Share Hospital (DSH) funding; and
ensuring quality-related reimbursement policies are based on quality metrics and evidence-based guidelines, and align with federal initiatives.
As HANYS President Daniel Sisto noted in his remarks to the gathering, it is critical that legislators understand that the 4% of growth in Medicaid spending allowed in state fiscal year 2012-2013 does not translate to a raise for health care providers—the increase will largely be consumed by increased enrollment.
He said that while the two-year Medicaid global spending cap has been a successful experiment so far, and has shown that providers can exercise discipline and reduce costs, legislators should participate with the Administration in evaluating the effectiveness of the cap, which the Governor has proposed extending for another year.
Mr. Sisto noted that HANYS is urging legislators to also play a key role in shaping other legislative/budget language proposals put forth by the Governor, including: the temporary operator, governance, and executive compensation proposals, which are currently very broad and undefined. For example, he said that while those involved with egregious cases of governance abuse must be held accountable, the Legislature must also ensure a level of due process and must build in safeguards to ensure that the vast majority of governing boards, which fulfill their fiduciary duties, are not affected by the extraordinary power that would be granted to the Commissioner of Health. Contact: Nicholas Henley
Published March 7, 2012