Small device has huge impact on patient safety at SBH Health System
The use of the inexpensive device, coupled with education, drastically reduced the number of hospital-acquired infections
It's an inexpensive device, small enough to fit in the palm of your hand.
And yet, in a hospital full of massive, expensive, state-of-the-art equipment, the use of the small Adenosine Triphosphate Bioluminescence surface testing devices — in combination with education — drastically reduced the number of hospital-acquired infections at St. Barnabas Hospital in the Bronx.

The human element
The word "hospital" conjures images of nurses, doctors and surgeons rushing to the aid of patients in need of care. But behind those teams are legions of support staff who clean and maintain the facility.
"Everybody in a hospital contributes to the care of the patients, and that includes the environmental services department," said Judith Berger, MD, FIDSA, medical director, infection control, at SBH Health System.
In an effort to reduce HAIs, Berger and the team at SBH Health system took a closer look at patients' environments — bed rails, TV remotes, doorknobs — and how better cleaning of those things might reduce HAIs.
"Human cleaning, no matter who you are, is not perfect," Berger said.
But with education and testing, it can be improved.
Quantifying clean
It's a simple tool.
You swab an area in a patient's room, insert the swab into the machine and a few moments later you get your score, letting you know if the cleaning has been effective and all organic material has been removed, including harmful organisms.
1-25 means the area is clean.
26-50 throws up a caution flag.
51 or greater is a fail, requiring immediate attention.
"We've moved from a qualitative way of cleaning by a supervisor saying, 'looks good', to a very quantitative, data-driven way of looking at it," said Daniel Lombardi, DO, MBA, FACOEP, senior vice president, chief academic and quality officer, at SBH Health System.
Supervisors swab rooms after cleanings as a means of quality control. The immediacy of the results means supervisors can correct any issues quickly with more cleaning, then follow up with additional questions and training to make sure the problem doesn't reoccur.
After launching and seeing success on a small scale, use of the technology expanded to contact isolation rooms before branching out into the operating room. Now, 40% to 45% of the hospital units at SBH Health System utilize the technology.
Coupling technology with education
New technology was not the only tool used to lower HAIs at SBH Health System — education was also key.
Posters were hung throughout the hospital to reinforce best practices and keep HAI prevention top of mind. To ensure surfaces were cleaned thoroughly, environmental services workers received additional training and follow-up whenever there were issues.
When goals were met and zero-harm was achieved, it was met with recognition.
"We celebrated the zeroes. We celebrated the wins," Lombardi said.
Those wins were significant. SBH Health System saw a 73% decrease in HAIs from 2015 to 2019.
"When I see that we have decreased our hospital-acquired infections, that we're keeping our patients safer, that we're keeping our healthcare workers safer — it's a very special feeling that we've been able to do that," Berger said. "And we continue to put all our efforts into doing that."
Low-cost solution to a high-cost issue
Lowering the number of HAIs isn't the only benefit from the new program at SBH Health System.
"Not only are we preventing infections, but we're saving unnecessary days in the hospital and saving the costs associated with that," Lombardi said.
The device and swabs are inexpensive, especially when compared to the cost of treating a patient with an HAI.
From 2015 to 2019, SBH Health System realized an overall cost savings of $1,463,219 due to the reduction in HAIs.
More important was the impact on patients.
When Lombardi was in a role where he saw patients on a regular basis, he might have been able to impact 30 or even 40 people.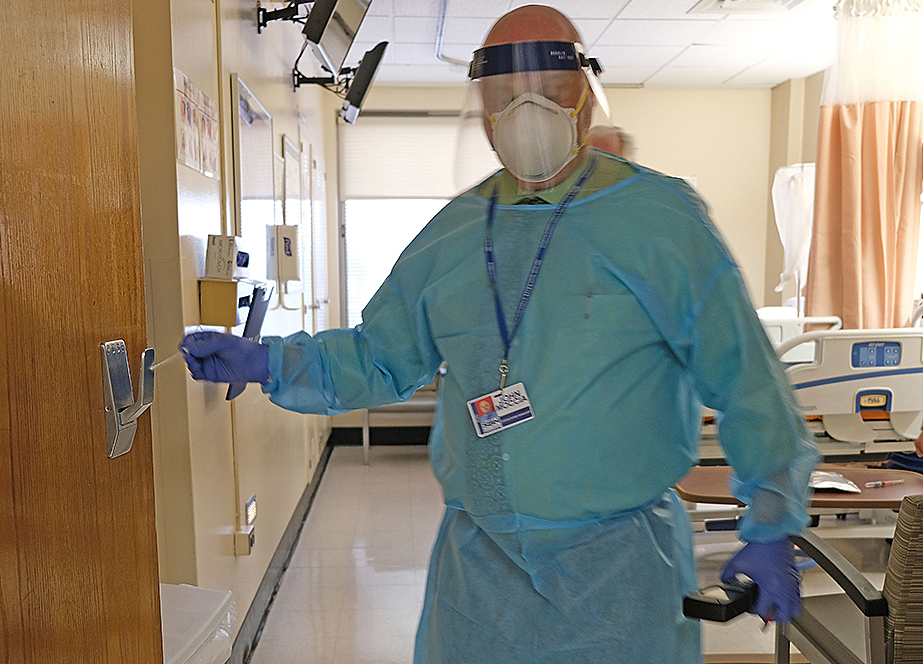 "With programs like this, we can impact hundreds and thousands of patients over time," he said.
Although they're celebrating their wins along the way, everyone at SBH Health System — from the environmental services workers to the CEO — is in it for the long haul when it comes to improving patient safety.
"It's not something you leave. You have to keep at it," Berger said. "This is just the beginning."