Jones Memorial Hospital fosters community wellness through outdoor activity
Community improvements could benefit the area for years to come
In the spring, little waterfalls flow off the hillside next to the nine-mile Wellsville, Addison and Galeton Railroad trail in Allegany County. Early morning runners wave as they pass one another. Hikers spot eagles in the sky and deer by the river.
This trail is about as picturesque as you can get.
Just five years ago, it was impassable.
Leading the charge to turn the WAG trail into a destination to brag about is just one way UR Medicine Jones Memorial Hospital is making a more walkable, bikeable and active-friendly community.
A county in need
Allegany County is one of the poorest in New York state. Its obesity rates are significantly higher than the statewide average and, in 2014, it had no dedicated walking trails. So focusing its Community Service Plan on increasing physical activity for families to help prevent chronic disease just made sense to Jones Memorial.
"Our Wellness Committee, led by Brenda Mong-Szabo, started looking for a project that was accessible and easy to use, and free for our community," said Jones Memorial CEO Eva Benedict.
The committee started by working with the village of Wellsville on a Complete Street Initiative, which focuses on creating safe access on roadways for everyone — pedestrians, bicyclists and motorists.
The projects snowballed from there. One led to another and another, each adding momentum and force. Pretty soon, it was unstoppable.
Perseverance pays off
While working on the Complete Street Initiative, the Jones Memorial team noticed a safety issue. A riverside path ended abruptly at one of the county's busiest bridges, which had definitely not been designed with pedestrians in mind.
"I saw people in electric wheelchairs playing 'Frogger' trying to get on the other side," said Brenda Mong-Szabo Jones Memorial vice president of specialty services and wellness committee chair.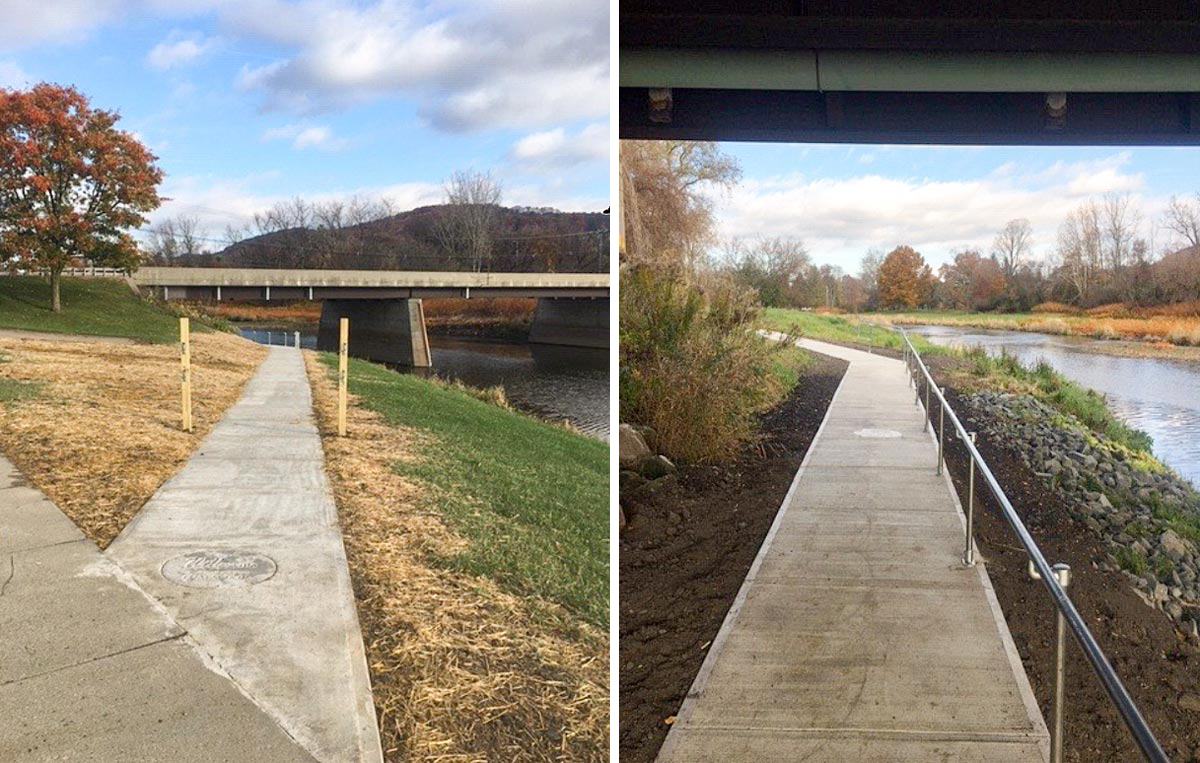 Four years of meetings, filing for permits, back-and-forth with state agencies and lots of late nights later, a newly built extension of the path running under the bridge has increased pedestrian safety.
Seeing moms pushing strollers and people in electric wheelchairs or scooters able to safely navigate the intersection is a huge win for those who put in so much work to see the project through.
"It's very rewarding to see," Mong-Szabo said. "You just have to persevere."
Planning for the next generation

Between the Complete Streets and River Walk expansion projects, Jones Memorial donated pressure-treated wood for new bridges on the WAG trail and installed two information kiosks in Wellsville that guide people to dedicated walking and hiking paths.
Connections made, partnerships established and lessons learned in those first projects helped the team at Jones Memorial take on even bigger challenges as the years went on. Their biggest to date is the approval of a $150,000 grant for Local Waterfront Revitalization for 10 communities along the Genesee River.
Those communities will be able to apply for grants to complete their vision, opening a world of possibilities for parks, fishing areas, hiking, biking, kayaking, economic development and other improvements along the Genesee River.
"This is for our children and our grandchildren," Mong-Szabo said. "You need to dream 20 to 25 years out."
Funding wellness with wellness
A blur of glowsticks, headlamps and neon. That's the best way to describe the GLOW 5K Run & Walk, one of two races benefiting Jones Memorial Hospital's wellness projects.

All the money raised by the more than 1,100 RidgeWalk & Run and GLOW Run participants each year are put back into the community for these projects.
"It's because of the support of our event sponsors, tireless work of countless volunteers and the entry fees of our participants that these wellness projects are possible," Benedict said.
Those same runners and walkers who helped fund these projects now take advantage of the results, with more miles of safe trails where they can run, walk and bike. Mong-Szabo says she hears from trail users all the time about how happy they are to see improvement in their community.
"They're excited to see what's going to happen with the future of the [WAG] trail," Mong-Szabo said.
The snowball keeps rolling
Jones Memorial isn't done helping theirs to be a more walkable, bikeable and active-friendly community. Excited by the progress so far, the team at Jones Memorial is eyeing further trail extensions to connect Allegany County and beyond.
"It's not just, how can we make our communities better now," Mong-Szabo said, "but how can we make them better for years to come."
Read about all of our 2020 Community Health Improvement Award submissions