Speakers
David Bueno, PhD
Partner
McKinsey & Company
Dr. David Bueno is a leader in McKinsey's healthcare practice and works with a wide range of providers and digital health companies. Bueno helps shape McKinsey's perspective on hospitals of the future — transformed through digital enablement, artificial intelligence and automation.
Bueno is passionate about leading large-scale transformations enabled by digital and analytics with outcomes focused on driving care quality, efficiency, patient experience and innovation. He has led major transformations ranging from leading academic health systems and children's hospitals to non-profit integrated regional health systems and large national systems.
Shana Dacon-Pereira, MPH, MBA
Assistant Vice President, Corporate Health System Affairs, Office for Diversity and Inclusion
Mount Sinai Health System
Shana Dacon-Pereira is a detail-oriented professional with over 10 years of progressive experience in the healthcare and DEI fields. As assistant vice president for corporate health system affairs in Mount Sinai Health System's office for diversity and inclusion, she provides guidance to system leadership to establish diversity, equity and inclusion strategic priorities and initiatives. She also oversees the system's administrative fellowship program, among other talent pathway initiatives for individuals of historically underrepresented groups in healthcare; drives staff engagement and participation in system-wide diversity councils and employee resource groups; and consults and advises on organizational interventions aimed at establishing an anti-racist culture throughout the health system. A certified educator in Unconscious Bias and Radical Inclusion™ concepts, she also develops and facilitates DEI educational content for faculty and clinical and administrative staff.
As a DEI practitioner, Dacon-Pereira is a member of numerous local and national councils, including HANYS' D&I Officers Committee and the National Center for Healthcare Leadership's Leadership Excellence Networks DEI Council. She is the secretary of the 2021-2023 executive board for the National Association of Health Services Executives – New York Regional Chapter and has been a featured speaker, panelist and moderator at local and national conferences and forums, including for the Institute for Diversity and Health Equity and the American College of Healthcare Executives.
Dacon-Pereira received a Bachelor of Science in management from the State University of New York at Binghamton. She subsequently received a Master of Public Health in health policy and management from Columbia University and a Master of Business Administration from New York University.
Michael Giuliano, PhD, MSc, BS
Chief Operating Officer
Planetree International
Michael Giuliano is the COO at Planetree International, a mission-driven nonprofit setting the global standard for person-centered excellence across the continuum of care.
Giuliano joined the organization after nine years of healthcare management work in Australia. Most recently, he was the executive director of the international and consulting divisions of The Australian Council on Healthcare Standards, working across Australia and 15 countries in the Middle East and Asia Pacific to support improvements in safety, quality and outcomes.
During his tenure, Giuliano led the development of standards focused on person-centered care and systems to encourage healthcare organizations to improve services for patients, staff, families and surrounding communities.
Previously, Giuliano worked at St. John of God Healthcare in Melbourne leading complex transformational programs such as division divestments and workforce optimization.
He received his master's in healthcare policy and financing from London School of Economics and is pursuing a PhD from the University of Cambridge exploring the impact of person-centered care implementation on outcomes and healthcare value.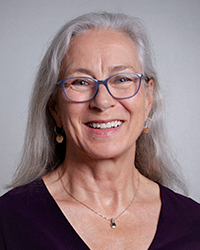 Bea Grause, RN, JD
President
HANYS
As president of HANYS, Bea Grause is a passionate advocate for New York nonprofit and public hospitals, nursing homes, home care agencies and other healthcare organizations. She also oversees HANYS' nationally engaged for-profit business services. Since her tenure began in 2016, she has contributed her extensive clinical, political and legal know-how to the organization's agenda, most recently helping guide the response to the COVID-19 pandemic by healthcare providers and state and federal policymakers.
Prior to HANYS, Grause served as president and CEO of the Vermont Association of Hospitals and Health Systems for 14 years, successfully leading Vermont hospitals through a variety of reform initiatives, including the state's single-payer debate, and building the hospitals' brand as trusted, competent leaders.
Grause spent 10 years in Washington, D.C., in a variety of positions. She began her D.C. tenure as a legislative assistant, first in the office of Rep. Norman Y. Mineta and then for Rep. Joseph P. Kennedy II. After she left Capitol Hill, Grause simultaneously held senior governmental affairs positions with the Tennessee Hospital Association and Massachusetts Hospital Association. She spent three years working as counsel with the law firm of Foley, Hoag. In this role, she developed tailored legislative and regulatory strategies for many healthcare clients. Grause previously worked as a registered nurse, primarily in the emergency room and intensive care areas at Santa Clara Valley Medical Center of California.
She completed a three-year term (2012 to 2015) as an at-large member of the American Hospital Association board of trustees, including a 2015 term on the AHA Executive and AHA CEO Search Committees. As part of her AHA board responsibilities, she also served as chairman of the AHA Allied Advisory Committee on Medicaid.
Grause earned her Juris Doctorate in 1991. She earned a Bachelor of Science in nursing from Boston College in 1979 and is a Fellow of the American College of Healthcare Executives. She is also a 2003 graduate of the Vermont Leadership Institute.
Ben Hammersley
Leading Futurist and Business Strategist
Hammersley Futures
One of the world's leading futurists, Ben Hammersley is the founder and principal of Hammersley Futures, an international strategic forecasting consultancy. They specialize in how society reacts to technological innovation, the future of crime and conflict, the changing workplace and marketplace and the new cognitive tools needed to flourish in the coming decades.
Previously, Hammersley was executive editor of WIRED, writer and presenter of the BBC's "Cybercrimes with Ben Hammersley," a war correspondent in Afghanistan, an advisor to the European Commission, a pilot, wilderness medic and the inventor of the word "podcast."
Hammersley is the author of the acclaimed book, 64 Things You Need To Know Now For Then, a guide to the new concepts of the modern world. His most recent book, Now For Then: How To Face The Digital Future Without Fear, focuses on the latest ideas in technology, culture, business and politics. Additionally, Hammersley is editor-at-large for WIRED magazine, a columnist for BA Business Life magazine and the principal of Onwards, Friend, a program that develops science and launch platforms for high-altitude and low-earth orbit. In fact, he is building his own personal satellite.
Mara Liasson
National Political Correspondent
NPR
Mara Liasson is a national political correspondent for NPR. Her reports can be heard regularly on NPR's award-winning newsmagazine programs Morning Edition and All Things Considered. Liasson provides extensive coverage of politics and policy from Washington, D.C. — focusing on the White House and Congress — and also reports on political trends beyond the Beltway.
Each election year, Liasson provides key coverage of the candidates and issues in both presidential and congressional races. During her tenure, she has covered seven presidential elections — in 1992, 1996, 2000, 2004, 2008, 2012 and 2016. Prior to her current assignment, Liasson was NPR's White House correspondent for all eight years of the Clinton administration. She has won the White House Correspondents' Association's Merriman Smith Award for daily news coverage in 1994, 1995 and again in 1997. From 1989-1992 Liasson was NPR's congressional correspondent.
Liasson joined NPR in 1985 as a general assignment reporter and newscaster. From September 1988 to June 1989 she took a leave of absence from NPR to attend Columbia University in New York as a recipient of a Knight-Bagehot Fellowship in Economics and Business Journalism.
Prior to joining NPR, Liasson was a freelance radio and television reporter in San Francisco. She was also managing editor and anchor of California Edition, a California Public Radio nightly news program, and a print journalist for The Vineyard Gazette in Martha's Vineyard, Massachusetts.
Liasson is a graduate of Brown University where she earned a bachelor's degree in American history.
Talya Meyerowitz
President and Founder
ARW Collective
Executive High-reliability Coach
Vizient Safe and Reliable Healthcare
Talya Meyerowitz is a dynamic coach, facilitator and relationship expert who helps individuals and teams stretch their limits and expand efficiency. Drawing from years of study and practical application, Meyerowitz works with her clients to look at interpersonal communications and navigate the challenges of groupthink. As a result, teams and their leaders are more enabled in ways that maximize both time and productivity.
Recently, Meyerowitz joined Vizient Safe and Reliable Healthcare as an executive high reliability coach. Prior to this, Meyerowitz was an administrator for culture and value-based leadership learning and development at URMC. In this role, Meyerowitz worked on interpersonal dynamics, change management, diversity and inclusion, leadership development and other issues related to culture, effective communication and efficiency.
As president and founder of ARW Collective, Meyerowitz has spoken at national and international leadership conferences. She is a certified DISC analyst and carries a Master of Science in Education in counselor education.
John Morley, MD, MPH
Deputy Commissioner, Office of Primary Care and Health Systems Management
New York State Department of Health
Dr. John Morley was born in New York City and grew up in Westchester County. Following college and medical school, he trained in anesthesia at St. Barnabas Hospital and later in internal medicine at Albany Medical Center. Morley completed fellowships in infectious disease and pulmonary and critical care.
Immediately following his medical training, Morley was appointed medical director of the pre-anesthesia screening clinic at Albany Medical Center. Four years later he was appointed associate medical director for Albany Medical Center Hospital and went on to become medical director in 2001.
Morley's public service began in 2005 as medical director of the DOH Office of Health Systems Management. In 2011 he was appointed deputy chief medical officer for NYC Health + Hospitals.
In 2018, Morley was appointed deputy commissioner and chief medical officer for the New York State Department of Corrections and Community Supervision, where he oversaw the medical care of over 40,000 incarcerated individuals at more than 50 state prisons during the COVID-19 pandemic.
Currently, Morley is deputy commissioner for the Office of Primary Care and Health Systems Management, where he is responsible for the Division of Hospitals and Diagnostic and Treatment Centers, Office of Professional Medical Conduct, and Center for Health Care Facility Planning, Licensure and Finance.
Morley is a clinician first, with compassion for patients and the passion to make a difference as a civil servant in New York state.
Kevin E. O'Connor, CSP, LCPC, LMFT, NCC
Consultant
Kevin E. O'Connor & Associates, Ltd.
Kevin O'Connor is a Certified Speaking Professional™ and a specialist in educating and coaching professionals charged with leading professional peers — particularly healthcare leaders and their physician partners. His major focus areas are leadership, influence, innovation and the development of healthcare executive/physician leader teams.
O'Connor teaches at Chicago's Loyola University and taught previously at Columbia College, Chicago's performing arts school. He holds three master's degrees and is the author or co-author of seven books, including the most recent, Fearless Facilitation.
Jill Pettinger, PsyD
Deputy Commissioner of Statewide Services
New York State Office for People with Developmental Disabilities
As OPWDD's deputy commissioner of statewide services, Dr. Jill Pettinger provides leadership, direction and oversight to the division of statewide services. Pettinger and her staff facilitate and oversee multiple projects and initiatives that directly impact the mission and vision of OPWDD, which helps individuals with developmental disabilities lead richer lives.
Before assuming her current position, Pettinger served as the deputy commissioner of state operations and statewide services in the division of service delivery from 2016 to 2022, assistant deputy commissioner of OPWDD's statewide services from 2012 to 2016, assistant commissioner for OPWDD's bureau of behavioral and clinical solutions from 2007 to 2012 and was the chief psychologist for OPWDD from 2003 to 2007. Pettinger worked as a licensed psychologist at the Capital District DDSO, a regional office of OPWDD from 2001 to 2003. She also served as the clinical assistant director of psychology at the Center for the Disabled and as a licensed psychologist for the Schoharie County ARC. She has worked in private practice and served as an adjunct professor at the University at Albany, Sage College Graduate School, the College of Saint Rose and Hudson Valley Community College. Pettinger is a graduate of the University at Albany and St. John Fisher College.
Claudia A. Salzberg, PhD, MSE
Principal Analyst
MITRE
Adjunct Faculty
Johns Hopkins Bloomberg School of Public Health
Dr. Claudia A. Salzberg is principal analyst at MITRE, where she focuses on Medicare policy on payment and quality, and adjunct faculty at Johns Hopkins Bloomberg School of Public Health, where she chairs the Quality and Effectiveness Module of the Leading Transformation for Value-Based Health Care program. She was also director of research for the future of health community, which brings together senior leaders from health organizations around the world with the objective of influencing, transforming and redesigning healthcare.
Prior to MITRE, Salzberg was vice president of health research and policy at the Federation of American Hospitals, leading the portfolio for quality, performance and value-based programs as well as the drug and pharmacy task force. In this capacity she served as the liaison to CMS, the Medicare Payment Advisory Commission and senior quality and policy executives at member companies.
Salzberg earned a PhD in health policy and management from Johns Hopkins Bloomberg School of Public Health; a Master of Science and Engineering from University of Pennsylvania and a Bachelor of Science in Biology from Brown University.
Ann Sullivan, MD
Commissioner
New York State Office of Mental Health
As commissioner of the New York State Office of Mental Health, Dr. Ann Marie Sullivan is responsible for a multi-faceted mental health system that serves more than 800,000 individuals each year. OMH operates psychiatric centers across the state and oversees more than 4,500 community-based programs.
As commissioner, she has guided the transformation of the state hospital system in its emphasis on recovery and expansion of community-based treatment, reinvesting over 100 million dollars in community services. Sullivan also implemented the incorporation of critical recovery services for the seriously mentally ill in the Medicaid benefit plan and expanded services for the mentally ill in the criminal justice system and in community reentry. Working closely with mental health providers and health plans, she has guided the integration of physical, mental health and substance use in care and treatment; the integration of early prevention, wellness and the social determinants of health in service delivery; and the statewide implementation of critical programs such as Zero Suicide, First Episode Psychosis Teams, crisis intervention services and school-based mental health clinics.
Previously, she was the senior vice president for the Queens Health Network of NYC Health + Hospitals, responsible for Elmhurst and Queens hospital centers, two public hospitals which serve a community of over 2 million New York City residents. She has also served as associate director of psychiatry and medical director of ambulatory care at the Gouverneur Diagnostic and Treatment Center in Manhattan. Sullivan graduated from NYU and its school of medicine and completed her psychiatric residency at New York University/Bellevue Hospital in 1978. Sullivan is a distinguished fellow of the American Psychiatric Association and has served as the speaker of the American Psychiatric Association's Assembly. She is a clinical professor at the Mount Sinai School of Medicine, a fellow of the New York Academy of Medicine and a member of the American College of Psychiatrists. Sullivan is an active advocate for her patients and her profession, and has published and lectured on best practices in community psychiatry.