September 22, 2008 News Headlines
DOH Recommendations Reveal Evolving Regional Health Planning and CON Reform Approach
The Department of Health (DOH) provided a glimpse into how it plans to take a regional approach to health care capacity as it addressed Certificate of Need (CON) proposals for the expansion of three Rochester hospitals.
The State Hospital Review and Planning Council (SHRPC) Project Review Committee on Thursday approved plans to add 105 licensed beds and approved new construction to upgrade and relocate existing beds at the three hospitals. The facilities, Strong Memorial Hospital, Rochester General Hospital, and Unity Hospital had applied for a total of 244 new beds.
The approvals recommended by DOH carried with them flexibility that would allow a more streamlined process for bringing additional beds online if the need arises and if the hospitals are in compliance with all conditions of the approvals. The projects must go before the full SHRPC for approval. The factors DOH considered, in addition to the bed need formulas, included:
incidence of preventable hospitalizations;
non-emergent emergency room visits;
consideration of peak occupancy situations when utilization exceeds 100% of available capacity;
impact on sustainability of community hospitals;
collaboration among hospitals, physicians, and community-based providers;
ongoing collaboration with the local health planning agency, the Finger Lakes Health Systems Agency.
Also on Thursday, the SHRPC Planning Committee, in conjunction with DOH and the Public Health Council, held the second in a series of two hearings soliciting input on reforming CON and local health planning. Invited stakeholders described frustrations with the current CON system, including delays in paperwork that add months to construction timetables, and described the additional costs to the system associated with the delays.
Through hearings and Health Care Efficiency and Affordability Law for New Yorkers (HEAL NY) local health planning grants, the state is soliciting models of bringing grassroots community input into the health planning process. HANYS provided testimony at a hearing in July and is continuing to gather information to provide to DOH as it addresses reforming CON and creating a new model for health planning. DOH is posting stakeholders' testimony on its Web site.
Contact: Karen Roach
---
HANYS/Cornell Leadership Academy Opens in Ithaca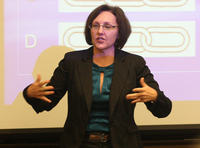 Elizabeth A. Mannix, Ph.D., Professor of Management and Organizations, and Director of the Institute for the Social Sciences at Cornell University, at the Academy's opening session at the Cornell campus.
The Academy for Healthcare Leadership Advancement celebrated the start of its inaugural program Sunday on Cornell University's campus in Ithaca. The opening session brought 42 health care leaders from 28 different facilities to Ithaca, where faculty from HANYS and Cornell University brought participants through orientation, an in-depth curriculum on leadership, industry and customer analysis, and business management.
"Strengthening future leaders' skills and knowledge is critical to the viability of health care organizations in today's environment," HANYS' Chief Operating Officer Maryjane Wurth said. "I'm proud that facilities across New York are strongly represented here and recognize the value this program will have in helping their facilities meet today's challenges and the needs of their communities today and in the future."
"This wonderful collaboration between health care and business experts, and the tremendous potential it carries to raise the bar on health care leadership is evident in the enthusiasm displayed by faculty and participants alike," said Thomas Hambury, Ph.D., Director, Executive Programs of The Johnson School of Management, Cornell University.
After the opening program at Cornell, the eight-week curriculum continues through a series of Web sessions focused on health care. The Academy ends on November 18 with a final closing session at Cornell University.
This Cornell certificate program brings together The Johnson School's executive education and business expertise and HANYS' data analytics excellence and in-depth knowledge of New York's health care system. Dates for the 2009 Academy are being set for next September and registrations are being accepted. For more information, contact Joan Stewart, Registration Coordinator, at (518) 431-7990. Contact: Rachel Hajos
---
HANYS to Co-Sponsor Physician Job Fair
To address the physician shortage in Upstate New York, Greater New York Hospital Association (GNYHA) in cooperation with HANYS, Iroquois Healthcare Alliance, Upstate New York Physician Recruiter Network, and the Department of Health (DOH), will hold a Where to Practice job fair on Sunday, September 28, at the Sheraton New York Hotel and Towers in New York City from 2 to 6 p.m.
Between 150 and 300 residents are expected to attend this open house. This is an opportunity for health care organizations to network with physician residents, share practice opportunities, and discuss the benefits of living and working in Upstate New York.
There will also be presentations from DOH on loan forgiveness, J-1 Visa waivers, and new opportunities made available through the Doctors Across New York program.
To reserve a space for an exhibitor organization, contact Leslie Isenegger, Assistant Vice President, Communications, GNYHA, at isenegger@gnyha.org. Contact: Sherry Chorost
---