May 13, 2009 News Headlines
Schumer Leads Effort to Reverse Pending Medicare Cut to Teaching Hospitals
Led by the efforts of Senator Charles Schumer (D-NY), 56 U.S. Senators sent a letter yesterday to Charlene Frizzera, Acting Centers for Medicare and Medicaid Services (CMS) Administrator, urging CMS to reverse the pending elimination of inpatient hospital capital Indirect Medical Education (IME) payments to teaching hospitals. In its proposed inpatient rule for federal fiscal year 2010, CMS reiterated its intent to fully eliminate these payments on October 1.
Eliminating these payments would cut Medicare reimbursement to New York's teaching hospitals by $60 million per year. A provision secured by Senator Schumer in the American Recovery and Reinvestment Act (ARRA) reversed a partial elimination of these payments that took effect on October 1, 2008. HANYS is grateful to Senator Schumer for his continued commitment to preserving these important payments to teaching hospitals.
A comparable U.S. House of Representatives effort to preserve capital IME funding has gained the signatures of more than 200 members of the House, including nearly all of New York's Congressional Delegation. HANYS thanks the Delegation for its long-standing support of New York's teaching hospitals. Contact: Susan Van Meter
---
Senate Panel Continues Health Reform Dialogue, Releases Coverage Options Paper
The Senate Finance Committee continued its health reform dialogue this week, releasing a policy paper on options for expanding health care coverage to the uninsured. HANYS is providing feedback on the paper to Senator Charles Schumer (D-NY), a member of the panel. The broad policy paper offers an array of options for expanding coverage, including insurance market reform, implementation of a public plan, changes to the Medicaid program, and the following proposals:
Alter, in a budget-neutral manner, the Federal Medical Assistance Percentage (FMAP) formula to take into consideration states' poverty rates, in addition to their per capita income. This proposal would establish an automatic countercyclical stabilizer to increase the federal share of FMAP to states during economic downturns.
Federalize Medicaid Disproportionate Share Hospital (DSH) payments. Although the option would maintain each individual state's current DSH allotment and the definition of a DSH hospital as under current law, it would give the Secretary of the Department of Health and Human Services authority to designate specific services as eligible for DSH payments. The Secretary would make these payments directly to hospitals upon receipt of hospital claims for uncompensated care.
The Committee plans a closed-door session tomorrow to walk through all coverage options.
The coverage paper is the second of three to be released by the Committee. The first, released last month, addressed delivery system reform. It contained quality-related Medicare payment reform options, including a Medicare inpatient hospital value-based purchasing program, reimbursement reform related to hospital readmissions, and bundling of acute and post-acute payments. Last month, HANYS and members of its Statewide Steering Committee on Quality Initiatives met with Senate Finance Committee health staff to offer New York providers' perspective on these reform options. A Webcast updating HANYS members on these reform options and impressions from the meetings are available online to members. HANYS is preparing comments on these delivery system policy options.
The Finance Committee yesterday held a roundtable on financing health reform and is expected to issue its final options paper on this topic later this week. Committee leadership continues to work toward completing health reform legislation in June. Contact: Susan Van Meter
---
Nursing and Allied Health Survey Shows Continuing Shortages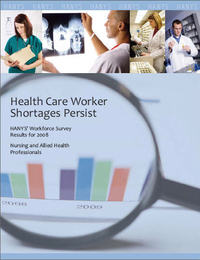 HANYS' 2009 Nursing and Allied Health Survey results indicate that recruitment and retention of nurses and allied health professionals continue to be a concern. While individuals may be delaying retirement for the short term or remaining in current positions because of the recession, this dynamic is certainly temporary as the supply of health care professionals continues to fall behind the pace of demand.
Highlights of the survey results include:
In 2008, the statewide vacancy rate for registered nurses (RNs) was down from the previous year to 7.1%, compared to 8.8% in 2007. The 2008 national RN vacancy rate is 8.1%. The statewide turnover rate for RNs in 2008 is also down from the 2007 rate.
From 2007 to 2008, positions that have become more difficult to recruit include physical therapists (58% of respondents reported more difficulty), clinical laboratory technologists and technicians (57% reported more difficulty), and pharmacists (52% reported more difficulty).
Experienced RNs are much more difficult to recruit (57% reporting difficulty) versus newly graduated RNs (9.4% reporting difficulty).
Respondents noted that the highest level of educational attainment for a majority of their RNs (57.2%) is an Associate's degree, 31.2% of RNs have Baccalaureate degrees in Nursing, and only 4.5% have Nursing Diplomas.
Seventy-five percent of respondents noted they are making either a financial, staff time, or space/supplies contribution to a health occupation educational program in their community.
Hard copies will be mailed to members. Contact: Sherry Chorost
---
$175 Million in HEAL Announced for Long-Term Care Alternatives
New York State today announced $175 million in Health Care Efficiency and Affordability Law for New Yorkers (HEAL NY) funding to support development of long-term-care alternatives, such as assisted living, for older adults and people with disabilities. Applications must include downsizing of licensed residential health care facility beds as part of the project.
Eligible applicants for the program, called HEAL NY Phase 12, include nursing homes, certified home health agencies, assisted living programs, assisted living residences, adult homes, enriched housing programs, local municipal governments, continuing care retirement communities, not-for-profit senior housing corporations, not-for-profit consortia comprised of any of the above, or a corporation or entity specifically established to develop alternative long-term care initiatives.
Applications are due July 14 and an applicants' conference is scheduled for May 22. Additional information is available in the Request for Applications.
A prior HEAL offering, called HEAL 11, was announced earlier this month; it is geared toward acute care restructuring proposals. Contact: Karen Roach
---
State Senate Convenes BSN Roundtable Discussion
State Senator Toby Ann Stavisky (D-Flushing), Chair of the Senate Higher Education Committee, on Monday convened a roundtable discussion on a legislative proposal (S.4051, Stavisky/A.2079-A, Morelle) that would require new registered nurses to attain a Baccalaureate of Science degree in Nursing (BSN) within ten years of their initial licensure. Registered nurses already practicing and current nursing students would be "grandfathered."
Participants in the roundtable discussion included HANYS' members Ann Gilpin, President and Chief Executive Officer, Oswego Health, and Sondra Olendorf, R.N., Senior Vice President of Nursing and Hospital Operations, Maimonides Medical Center; along with HANYS' staff Robin Frank, Vice President, Governmental Affairs and Continuing Care, and Cindy Levernois, Senior Director, Behavioral Health and Workforce.
HANYS will have further dialogue on this issue with its members, the State Legislature, and other stakeholders, and will keep members informed. Contact: Cindy Levernois
---
Reserve Your Place in Cornell/HANYS Leadership Academy

Registrations have started to come in for the 2009 Academy for Healthcare Leadership Advancement. With limited space available, now is the time for members to secure a place in this year's program.
Last year's Academy received high acclaim from participants and tremendous support from member chief executive officers who sent their emerging leaders and decision makers to the educational collaborative. The business expertise of Cornell University's Johnson Graduate School of Management, combined with HANYS' in-depth knowledge of health care issues and information creates a unique opportunity for professionals to receive Ivy League training that they can apply to become more effective leaders.
As challenges for health care professionals continue to intensify, the Academy gives participants the skills, insight, and know-how to effectively lead their organizations and implement cutting-edge strategies for success.
This eight-week certificate program builds the knowledge of emerging leaders to strengthen their ability to lead organizational change, engage in strategic negotiation and decision making, understand competitive strategy, and improve financial performance. The Academy provides the insight and understanding needed to enhance core leadership competencies in areas such as service excellence, the "LEAN" approach to quality, service line profitability, and managing quality and financial implications and trends. Participants also gain valuable insight into workforce, health information technology, community stewardship, marketplace analysis, and customer preference issues in today's rapidly changing health care environment.
The competencies addressed during the eight-week certificate program include: leadership style, organizational change, strategic negotiation and decision making, marketplace analysis, service excellence and LEAN, customer preferences, competitive strategy, financial performance, service line profitability, the health care environment, managing quality and financial implications and trends, workforce and HIT issues, and community stewardship.
To accommodate demand and maintain an intimate classroom environment, HANYS and Cornell have expanded this year's Academy to offer two programs held on the Cornell campus in Ithaca. For more information, or to register for the 2009 program, visit the Academy's Web site, or call Rachel Hajos at (518) 431-7838. Contact: Rachel Hajos
---
Swine Flu Outbreak Mostly Has Mild Symptoms in New York
As of today, the U.S. Centers for Disease Control and Prevention (CDC) is reporting 3,352 human H1N1 (swine flu) infections in the United States, with 192 in New York State. CDC continues to issue and update interim guidance daily in response to the rapidly evolving situation.
Commissioner of Health Richard Daines, M.D., issued a statement characterizing the swine flu outbreak in New York State as involving mild to moderate symptoms, similar to seasonal flu. He said that there have been hundreds, if not thousands, more cases of H1N1 than what have been submitted to laboratories for testing, because many individuals with mild symptoms do not go to a physician or hospital, but instead recover at home.
The Department of Health (DOH) and the New York City Department of Health and Mental Hygiene (DOHMH) continue to update their guidance for hospitals as the situation progresses. Below are links to the most current New York State updates.
· DOH: Health Advisory: Update #4, issued May 7, replaces all previously released H1N1 virus health advisories. This guidance is intended for providers seeing patients outside of New York City.
· DOHMH: Health Alert #17, issued May 12, provides an epidemiologic update on the outbreak in New York City, revised reporting requirements, revised guidance on diagnostic testing, revised guidance on antiviral treatment for influenza and febrile respiratory illness, and updated guidance on antiviral prophylaxis for exposures to influenza and febrile respiratory illness. Providers should regularly check the DOHMH Web page for updated information and recommendations.
Hospitals have been notified and provided guidance for the new DOH H1N1 daily survey and additions to the weekly survey through the Health Provider Network (HPN). HPN coordinators and others responsible for responding to HERDS surveys should ensure that their information in the DOH Communication Directory is up to date. HANYS urges hospitals to regularly check HPN for additional information. Contact: Christopher Smith
---