March 3, 2010 News Headlines
Health Care Providers Urge Legislators to Protect Health Care for All New Yorkers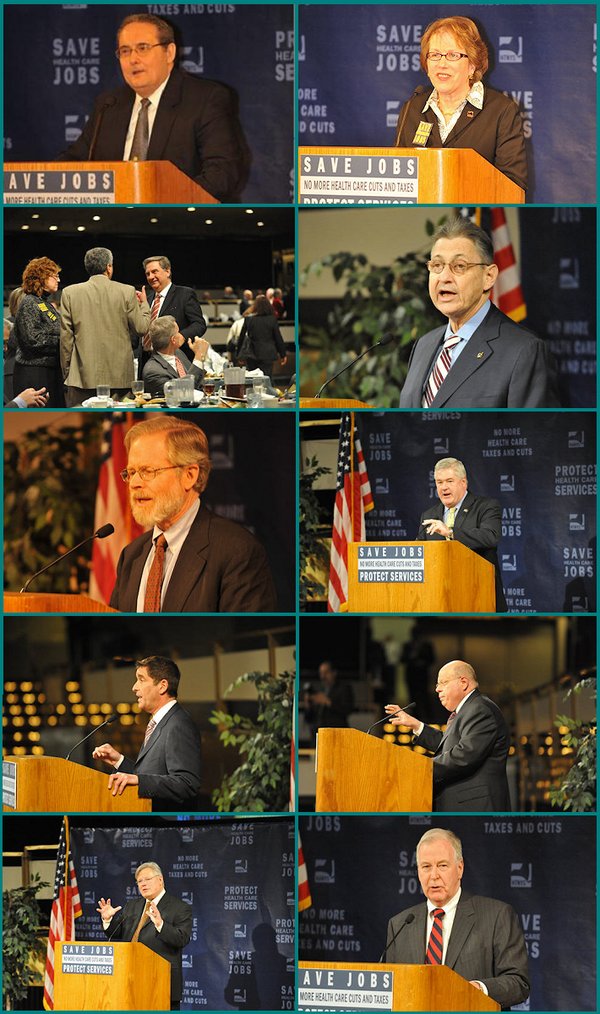 Pictured at Leadership Advocacy Day (clockwise from top left): HANYS Chair Joseph Quagliata, HTNYS Chair Sarah Schermerhorn, Assembly Speaker Sheldon Silver, Assembly Minority Leader Brian M. Kolb, Senate Finance Committee Chair Carl Kruger, Senate Health Committee Ranking Republican Kemp Hannon, Senate Health Committee Chairman Thomas Duane, Senate Deputy Majority Leader Jeffrey Klein, Assembly Health Committee Chair Richard Gottfried, and HANYS President Daniel Sisto discussing advocacy with members at the luncheon.
More than 350 health care chief executives, administrators, board chairs, and trustees representing hospitals and health care organizations from across the state converged in Albany today to urge lawmakers to reject Governor Paterson's proposed $1 billion in health care provider taxes and cuts. The Governor's $1 billion in proposed health care provider taxes comes on top of nearly $4 billion in cuts already enacted through six different budget actions over the last two years.
Health care leaders at the HANYS/Healthcare Trustees of New York State (HTNYS) Leadership Advocacy Day appealed to legislators to protect jobs, preserve access to vital health care services, and encourage economic recovery in their communities. They also presented smarter revenue options and urged that a portion of the state's anticipated $1.5 billion in Federal Medical Assistance Percentage (FMAP) relief be used to eliminate the Governor's proposed taxes and cuts.
Following morning meetings with legislators organized by the allied associations, participants gathered in the Empire State Plaza Convention Center to hear from state legislative leaders. HANYS' Board of Trustees Chair Joseph A. Quagliata, President and Chief Executive Officer of South Nassau Communities Hospital in Oceanside, welcomed participants and emphasized that with a deep state budget deficit, many advocacy groups are vying for shrinking funds. "Our challenge is to stand out," he said "With a clear, compelling, and unified message, we can succeed." He urged members to tell legislators what taxes and cuts will mean for jobs and health care services in their home districts.
HTNYS' Chair Sarah Schermerhorn, a trustee at Ellis Medicine in Schenectady, reminded trustees in attendance that what is good for health care providers is good for their communities. She offered steps health care trustees should take to keep advocacy pressure on lawmakers. In addition to making advocacy part of every board meeting and passing board resolutions opposing health care provider cuts and taxes, she urged trustees to "advocate with everyone you come into contact with in your community . . . and share your message and stories with the local media."
"We came to Albany today to explain to lawmakers that our hospitals, nursing homes, and home care providers are reaching a financial tipping point. Any additional taxes and cuts will have negative, real-life implications in their home districts," said HANYS' President Daniel Sisto. "In the last ten years alone, 51 nursing homes and 29 hospitals have been forced to close, resulting in thousands of lost jobs and eliminating access to critical health care services in communities throughout our state."
Assembly Speaker Sheldon Silver said that the state has a moral obligation to ensure that all New Yorkers have access to health care, and that any cuts must minimize the impact on working families. "We fully comprehend how vitally important health care is to the economy of New York," he stated. "And we recognize and appreciate the economic sacrifice your industry has taken since 2007." Speaker Silver said that the work ahead would be "difficult and distressing," but noted that the path forward involves working together to find workable solutions. "We are committed to the idea of sharing sacrifice," he said.
Assembly Health Committee Chairman Richard Gottfried (D-Manhattan) said it is unclear how the state budget will come together with deep deficits and strong opposition to raising taxes, but he asserted that the health care taxes and cuts "cannot be sustained as proposed . . . . Another round of cuts . . . is really not something New York in good conscience can enact," he said. Assemblyman Gottfried noted that in past years, working with providers, the Legislature has been able to beat back a sizable portion of cuts and that "we are working together to make this year a year in which we protect health care and the institutions that provide care to us."
Assembly Minority Leader Brian M. Kolb (R-Geneva) said the Republican Conference in the Assembly adamantly opposes any new taxes, particularly on health care providers, and is ready and willing to find solutions to protect health care. Discussing federal assistance in the form of an increase in the FMAP, Assemblyman Kolb asserted, "If FMAP becomes available, it should go entirely to health care." He said the state should seek savings by eliminating state agencies' focus on "more paperwork, more bureaucracy, and more inspections that do nothing to enhance the quality of care you provide."
Senate Deputy Majority Leader Jeffrey Klein (D-Bronx) said health care is the biggest employer in his district and that he is a strong advocate for the importance of protecting health care throughout the state. Rather than enacting taxes and cuts, he said the state could save huge amounts of money by eliminating government waste. Senator Klein said he is chairing a new task force on government waste that will recommend consolidations and other measures to save hundreds of millions of dollars. "I am hopeful that every dollar we save from government waste, we will use to stop health care cuts," he said.
Senate Finance Committee Chair Carl Kruger (D-Brooklyn) assured participants that protecting health care is at the top of the Senate agenda, and that the Senate Finance Committee will remain cognizant of the fact that health care is an economic engine and vital to constituents. He said that addressing the health care community's issues both now and into the future "requires that we have to stay solvent in the present, and that is our goal."
Senate Health Committee Chairman Thomas Duane (D-Manhattan) emphasized that the state's economic recovery is tied to the success and accessibility of health care in communities throughout the state. He asked for help in supporting the proposed sugared beverage tax, which he said stands on its own merit as good public health policy, and that any revenue it generates should be used to offset proposed provider taxes and cuts. He said he disagreed with the state using FMAP funds for non-health care purposes to plug budget holes.
Senate Health Committee Ranking Republican Kemp Hannon (R-Westbury) predicted that this year's budget negotiations would be "excruciatingly difficult." He said that instead of imposing taxes and cuts, the state needs to have a public discussion to determine what services it expects providers to deliver, and the resources needed to deliver those services. Senator Hannon also decried the state's hospital readmissions penalty proposal, asserting that this issue needs a comprehensive public policy discussion related to the many health care delivery changes it would cause.
HANYS, HTNYS, and the allied associations continue to advocate to protect health care for all New Yorkers. Contact: Nicholas Henley
---
State Budget Deficit Growing
The New York State Division of Budget, Senate Finance Committee, and Assembly Ways and Means Committee this week released the 2010-2011 Consensus Economic and Revenue Forecast Report. The report shows a further decrease in state revenue of $850 million through the end of state fiscal year (SFY) 2010-2011, compared to the Governor's projection. This means that the projected $8.2 billion deficit for the remainder of the current SFY and SFY 2010-2011 is now estimated to be more than $9 billion.
The estimated $9 billion deficit for the current SFY and SFY 2010-2011 has grown from $7.4 billion since the release of the Executive Budget on January 19. The Governor last month increased the projected deficit by $750 million, from $7.4 billion to $8.2 billion, due to the continued effects of the recession. At a meeting of the Governor and legislative leaders earlier this afternoon, the Governor announced that the state's cash crisis for the current fiscal year is worsening. Contact: Nicholas Henley
---
Deadlines Approaching for HANYS' Quality and Community Health Awards
The deadlines are fast approaching for HANYS' members to highlight their commitment to improving care to communities by submitting nominations for HANYS' Pinnacle Award for Quality and Patient Safety and HANYS' Community Health Improvement Award.
The application deadline for the Community Health Improvement Award is March 8; the Pinnacle Award application deadline is March 17.
Each year, HANYS provides its members an opportunity to honor their staffs' superior efforts toward quality outcomes in patient and community care. By nominating programs, facilities help HANYS highlight provider excellence to policymakers, media, and the public, as all nominations are published and featured in HANYS' recognition materials.
HANYS' Pinnacle Award for Quality and Patient Safety--celebrating its tenth year--recognizes members' significant achievements in quality and patient safety.
HANYS' Community Health Improvement Award recognizes outstanding initiatives by members to improve the health and well being of their communities.
All members are eligible to apply for these awards. Electronic submission is required for both awards and application templates are available online. A public presentation of the awards will be held during HANYS' Annual Membership Conference in June at The Sagamore in Bolton Landing. Contact: Sue Ellen Wagner and Kathleen Ciccone
---
Additional Funding Available for Energy Efficiency Projects
Health care facilities in Western New York and New York City are eligible for a new round of funding, administered by the New York State Energy Research and Development Authority (NYSERDA) for energy efficiency and clean fleet projects. Applications are due April 7 for the program, which is funded under the American Recovery and Reinvestment Act (ARRA).
Funds for other regions have already been committed in prior rounds of funding for this program. More information about this request for proposals (RFP 1613) is available on the NYSERDA Web site. Facilities may also contact NYSERDA's Focus on Healthcare Hotline at (866) 774-8818 for information about this funding opportunity.
Facilities interested in searching other funding related to energy efficiency may search NYSERDA's new Web page that serves as a clearinghouse for these programs. Contact: Karen Roach
---