June 25, 2010 News Headlines
HANYS' 42nd Annual Membership Conference Focuses on Navigating Health Care Reform
HANYS' 42nd Annual Membership Conference, Navigating Health Care Reform, this week brought together experts from across the spectrum of health care policy and leadership to share their insight on how federal and state health care reform impact key areas of health care operations, and how to effectively lead change in an era of reform. In addition, at the Conference HANYS launched a new Web site for members, the Health Care Reform Navigator, a marquee source for tools and resources designed to help member institutions chart a course and lead in the health care reform era. Members can access Conference materials online.
---
HANYS Presents Distinguished Service Award to Raymond Sweeney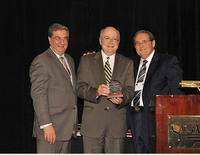 HANYS' 2010 Distinguished Service Award is presented to Raymond Sweeney. Joining him are HANYS' President Daniel Sisto and Board Chairman Joseph Quagliata, President and Chief Executive Officer, South Nassau Communities Hospital (right).
On Wednesday evening, HANYS presented its 2010 Distinguished Service Award to Raymond D. Sweeney, HANYS' Executive Vice President. Mr. Sweeney has been a driving force behind the development of health policy in New York State for four decades. Due to his sterling reputation as a leading health policy expert, stakeholders of every type seek him out to provide analysis, information, and insight into major regulatory and financial policies.
"An unwavering commitment to ensuring the provision of quality care to all New Yorkers through advocacy for rational health care policies has been the hallmark of Ray Sweeney's career," commented HANYS' President Daniel Sisto. "HANYS, its member facilities, and the people of New York have benefitted greatly from Ray's unparalleled understanding of health care policy. But just as important as his legacy of informed, balanced health care policy is his personal impact on all of us who have worked with him. Ray's tenacity and skill in finding solutions to difficult problems earn him respect in his professional life, but his real gifts are his calm demeanor and sense of humor that win him friends everywhere."
Mr. Sweeney served as HANYS' Executive Vice President for 15 years. Before joining HANYS, he served in state government for 25 years, most recently as Director of the Office of Health Systems Management (OHSM) at the Department of Health.
During his tenure at OHSM, Mr. Sweeney was instrumental in implementing expansive health reform initiatives. Mr. Sweeney is retiring from HANYS at the end of June 2010 after more than 40 years of outstanding contributions to health care in New York State.
---
HANYS Presents 2010 Pinnacle Quality Awards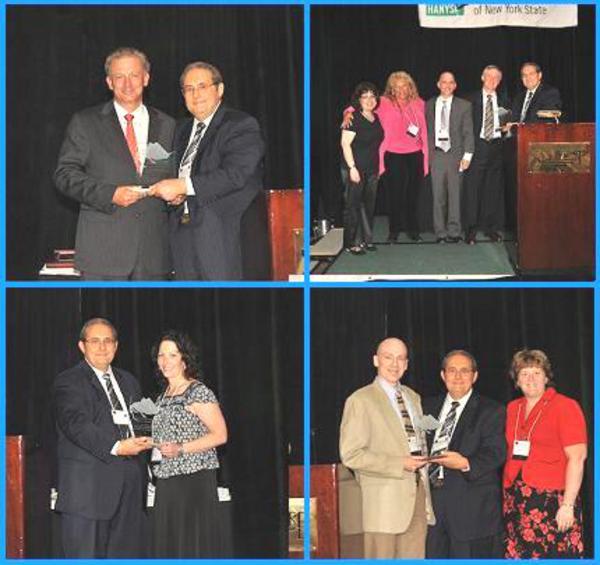 HANYS' Board Chairman Joseph Quagliata presents the Pinnacle Award to (pictured clockwise from top left): (1) Joseph Conte, Executive Vice President of Corporate Services, on behalf of Catholic Health Services of Long Island; (2) David Bernard, M.D., Chief Medical Officer and Executive Vice President; Brian Koll, M.D., Medical Director and Chief, Infection Control and Hospital Epidemiologist; and nurses Marie Moss-Crispino and Alexis Raimondi, on behalf of Beth Israel Medical Center; (3) Philip Mehl, Administrator; and Christine Jones, Director of Nursing, on behalf of Mountainside Residential Care Center; and (4) Maura Snyder, Wound Center Director, on behalf of Clifton Springs Hospital and Clinic.
HANYS presented its highest award recognizing quality improvement and patient safety to four health care provider institutions. The Pinnacle Award for Quality and Patient Safety recognizes the unwavering commitment of New York State hospitals to improving the quality of care for patients by honoring and celebrating significant achievements in the areas of quality improvement and patient safety. The program also encourages broad dissemination of best practices and successful initiatives.
HANYS presented the 2010 Pinnacle Award in the Multi-Entity Category to Catholic Health Services of Long Island for its "Improving Patient Safety in Obstetrics Using Crew Resources Management" initiative. The winner in the Large Hospital Category is Beth Israel Medical Center in New York City for its "Prevent Catheter-Associated Urinary Tract Infections" initiative. The Small Hospital Category winner is Clifton Springs Hospital and Clinic for "Simple Steps Drive Success: How Quality Principles Guided Change." In the Specialty Division Category, the 2010 Pinnacle Award winner is Mountainside Residential Care Center for its "Medication Administration Compliance Initiative."
"HANYS congratulates the award winners for their outstanding and measurable achievements in enhancing care for patients," said HANYS' President Daniel Sisto. "These programs are just a few of the many innovative health care provider initiatives across the state that collectively represent providers' unwavering commitment to improving health care quality."
---
Brookdale University Hospital and Medical Center Receives HANYS' 2010 Community Health Improvement Award

HANYS' Board Chairman Joseph Quagliata presents the Community Health Improvement Award to (from left): (1) Sarita Dhupar, M.D., Founder and Executive Director of the Live Light . . . Live Right and Director, Division of Pediatric Cardiology, accepting on behalf of Brookdale University Hospital and Medical Center; Mr. Qualgiata presents Honorable Mentions to (2) Maria Yomtov, Director of the Center for Community Health and Wellness, accepting on behalf of SUNY Downstate Medical Center; and (3) Steven Goldstein, President, Strong Memorial and Highland Hospitals, accepting on behalf of University of Rochester Medical Center.
HANYS presented its 2010 Community Health Improvement Award to Brookdale University Hospital and Medical Center of Brooklyn for its "Live Light . . . Live Right" childhood obesity program. The prestigious Community Health Improvement Award is HANYS' highest honor recognizing outstanding initiatives that improve community health and well being. The Live Light . . . Live Right childhood obesity program is a hospital- and community-based non-profit program that serves obese children, 95% of whom are minorities, and nearly half of whom live in poverty. HANYS presented Honorable Mentions to the University of Rochester Medical Center for the Rochester Youth Violence Partnership and to SUNY Downstate Medical Center in Brooklyn for its Center for Community Health Promotion and Wellness.
HANYS' President Daniel Sisto said, "These are just a few examples of the many innovative programs and services that New York's hospitals and health care providers offer, all of which lead to measurable improvements in community health. This year's awardees were selected from a field of hundreds of similar proactive community health initiatives from across the state, which collectively represent health care providers' tireless commitment to improving the health and well being of their communities."
---
Sisto Offers Leadership Guidance Amid Tumult of Reform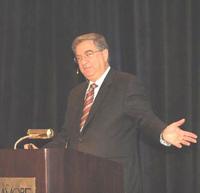 Daniel Sisto addresses HANYS' members.
In his annual address to the membership, HANYS' President Daniel Sisto drew from history to illustrate key principles for leading in today's era of health care reform and tumultuous change.
Mr. Sisto said that that the more complicated things become, the simpler the leader's message and vision must be to sustain the will of others in the cause. Drawing inspiration from Sir Winston Churchill's tenure as Great Britain's leader during the Second World War, Mr. Sisto cited the carefully chosen words that clearly, simply, and powerfully explained to his people that the nation must persevere, would not waver in its principles, and would be victorious.
Similarly, hospital and health system leaders need to articulate their vision for a changed health care system in easily understandable terms, he said, without getting bogged down in the details and complexities of reform. Mr. Sisto clarified that in citing Winston Churchill's leadership to inform the choices facing today's hospital and health system executives, he was not equating the disruption of health care reform with World War II. But he noted the comparison is useful "because the same attributes of leadership apply: perseverance, courage, and prudent risk-taking . . . . None of you would be here as chief executive officers if you had not at some point in your career faced the peril of a crisis, and dealt with it successfully."
Mr. Sisto emphasized the importance of understanding the magnitude of the challenges facing one's organization, and forging strategic alliances to meet those challenges. Mr. Sisto noted that, understanding that the United States must enter the war to liberate Europe, Winston Churchill's number one strategy was to forge a war alliance with the United States, which ultimately led to success. Referencing the expression "the sun never sets on the British Empire," Mr. Sisto suggested that Winston Churchill might have sensed that this statement would no longer be true after the war. Likewise, we might infer that while inpatient acute will always be needed, it may no longer be the central core around which all other services revolve in a post-reform health care care system. He said it is important for health care leaders to keep an open mind as they think about how they can reconfigure to meet their patients' and communities' needs.
Mr. Sisto said HANYS' role in reform is to support members in their leadership. "In the short term that means preserving and protecting the resources you need to allow you time to adjust to the imperatives of reform," he said, citing examples of HANYS' current advocacy, including an advertising campaign on the state budget.
However, Mr. Sisto said that HANYS' long-term role is to help members transform the system. He cited numerous ways HANYS is already engaged in this effort, including multiple briefings for members and trustees on reform issues; HANYS' new Health Care Navigator Web site for members; HANYS' member-driven Medicaid Reform Task Force; the Academy for Healthcare Leadership Advancement; HANYS' Health Information Technology Strategy Group; multiple committees and workgroups that are tackling reform; and collaboratives such as the Partnership to Accelerate Clinical Electronic Research (PACeR), and the Multi-State Managed Care Coalition, to name a few. He noted that with association and provider customers in nearly 40 states across the nation HANYS' DataGen subsidiary also strengthens HANYS' advocacy by disseminating accurate impacts of government policies and building bridges between New York and other states.
Mr. Sisto said the road to reform and transformation of health care will not be easy, and many facility leadership decisions will not be popular. Now, more than ever, health care leadership requires an unwavering focus on achieving goals that are right for health care in the community. Mr. Sisto noted that Winston Churchill achieved his ultimate goal of saving Great Britain. Nevertheless, his rise and fall in the arena of public opinion still mirrored his successes and failures. Despite ending his career on a high note, Winston Churchill's personal popularity was not enough to overcome dissatisfaction with his party, and he was voted out of office. Mr. Sisto noted that ironically, one of the platforms of the victorious Labour Party's platform was establishment of Great Britain's National Health Service.
---