March 3, 2011 News Headlines
HANYS Testifies at Joint Legislative Hearing on State Budget
In his testimony today before a joint legislative hearing on the state health care budget, HANYS' President Daniel Sisto urged legislators to support the Medicaid reform package adopted last week by the Governor's Medicaid Redesign Team (MRT), which is contained in the Governor's "30-day amendments" to his Executive Budget.
Mr. Sisto emphasized that the reform initiatives contained in the MRT package represent "a two-year experiment" and the State Legislature should play a critical active role in monitoring it and determining which changes should be continued, modified, or eliminated after the two years.
Mr. Sisto said the MRT approach is in some ways a "gamble" for health care providers because they would have to live within a Medicaid expenditure cap for the next two years—and if Medicaid enrollment grows during that time or costs increase for some other reason outside of their control, providers would need to make up the difference. In addition, New York's health care providers will face significant reductions under the plan, including the loss of the annual inflation update and a 2% across-the-board Medicaid rate cut. These cuts come on the heels of more than $5 billion in reductions over the past two years.
Nevertheless, said Mr. Sisto, with the state facing a $10 billion deficit, the MRT package is a prudent risk since the alternative would be devastating provider cuts and taxes. He noted that the cap on expenditures will serve as an incentive to accelerate needed care delivery changes that will improve coordination of care and reduce costs.
The public hearing, hosted by the Senate Finance Committee and Assembly Ways and Means Committee, attracted a wide variety of testimony, and some spirited debates between committee members and speakers. In response to questions from the joint panel, Mr. Sisto expressed HANYS' strong support for "a robust home care and nursing home system" throughout the state, which he said will become even more important as health care reform incentives and penalties reshape the delivery system into one in which hospitals and other settings coordinate care in an integrated manner and ensure that each patient is cared for in the appropriate care setting.
Kenneth Raske, President, Greater New York Hospital Association, presented a vigorous defense of the malpractice reforms contained in the MRT, under pointed questions by Senator John DeFrancisco (R-Syracuse), Chairman of the Senate Finance Committee. Gary Fitzgerald, President, Iroquois Healthcare Alliance, noted that the MRT did not go far enough in that it failed to address the Medicaid program's expenditure drivers of eligibility levels and optional benefits.
HANYS written testimony offers more detail on HANYS' support of the MRT package, including proposals it contains for better care coordination and reform of the medical malpractice system. It lists harmful proposals that were eliminated in the MRT deliberation process, including increasing the gross receipts tax on hospitals, deep cuts to indigent care funding, and a flawed pay-for-performance proposal. HANYS' testimony urges the Legislature to give special consideration to hospitals operating in areas where access to care is limited, to ensure the viability of the health care safety net in every region. It also urges that appropriate safeguards be built into the home health care system as it transitions to an episodic-based payment model. The testimony also emphasizes the issue of nursing home reimbursement and the intersection between rebasing and pricing urgently needs to be addressed. Contact: Sara Rosenberger
---
Congress Narrowly Avoids Government Shutdown With Stopgap Spending Measure
Averting a federal government shutdown, the U.S. House of Representatives passed a Continuing Resolution (CR) on March 1 to fund federal government operations for two weeks. The CR, fashioned by the House Republican leadership and heavily influenced by that caucus's fiscally conservative members, cuts approximately $4 billion in discretionary spending. The Democrat-led Senate approved the CR yesterday, just two days before the current funding arrangement was set to expire. The President signed the bill.
Cuts in the CR are taken from a list of programs President Obama targeted for reduction or elimination in his federal fiscal year (FFY) 2012 budget released last month, and elimination of earmarks. The CR has a limited impact on health and human services programs, affecting only those associated with earmarks that would have used FFY 2011 funding.
Congress is expected to pass at least one additional short-term CR to allow time to complete negotiations on a longer term agreement. Senate Democrats must decide what to do about a House-passed CR that would fund the government through FFY 2011 at $61 billion less than current spending levels.
The President, eager to help broker an agreement to avoid a shutdown, invited congressional leaders from both parties to begin meeting with Vice President Joseph Biden and Office of Management and Budget Director Jack Lew to hammer out long-term funding measures for the rest of this fiscal year. Contact: Chelsi Stevens
---
Online Registration Now Open for HANYS' Federal Advocacy Day in Washington, D.C.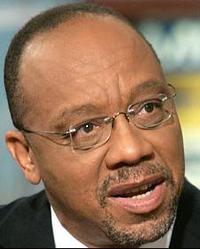 Washington Post columnist Eugene Robinson will be the guest speaker at a dinner on April 12 for members.
Registration has begun for HANYS' 2011 Federal Briefing and Congressional Advocacy Day, which will be held April 12 and 13 in Washington, D.C., in conjunction with the American Hospital Association's Annual Membership Meeting.
HANYS encourages members to come to Washington to urge the New York State Congressional Delegation to stand firm in opposition to reducing Medicare and Medicaid funding in the federal fiscal year 2012 budget and to work with New York hospitals and health systems to improve the Affordable Care Act (ACA) and ease implementation of the Medicare and Medicaid Electronic Health Record incentive program.
Highlights of the two-day event include meetings with members of the New York State Congressional Delegation, HANYS' Federal Briefing, and dinner at the Mayflower Hotel with featured speaker Pulitzer-Prize winning biweekly Washington Post columnist Eugene Robinson.
HANYS encourages members to register now to allow ample time to coordinate congressional visits. In anticipation of these meetings, HANYS encourages members to take advantage of its recently-released federal issues papers, published on HANYS' newly redesigned Health Care Reform Navigator Web site. Contact: Susan Van Meter
---