February 2, 2018 News Headlines
February is American Heart Month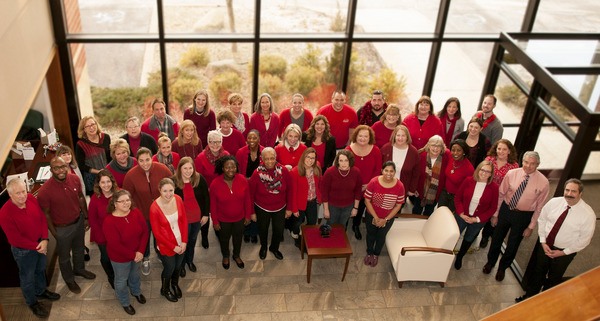 HANYS' staff celebrate National Wear Red Day on February 2, 2018.
According to the National American Heart Association, cardiovascular disease, including heart disease and stroke, remains the leading global cause of death with more than 17.9 million fatalities each year. American Heart Month, a federally designated event in February of each year, focuses on educating Americans about cardiovascular disease and reminding people to monitor and improve their heart health.

Friday, February 2, 2018, was National Wear Red Day®, an advocacy day focused on raising awareness of cardiovascular disease and raising funds for the Go Red For Women® campaign. With nearly 500,000 American women dying from heart disease and stroke each year, this campaign works to empower women to take charge of their heart health.

Learn more about American Heart Month on the American Heart Association website, and follow more American Heart Month updates throughout February on HANYS' and HANYS members' social media accounts. Contact: Sue Hoffman
---
Register Now For Advanced Executive Leadership for Physicians Program
HANYS and Cornell continue their successful collaboration by offering education and training in the skill sets needed to succeed as a physician leader.
Advanced Executive Leadership for Physicians is an intense, effective, and efficient way to support the career development of physician leaders interested in elevating their executive leadership skills. Combining essential policy and program review, advanced learning, peer interaction, and the use of assessment tools for long-term individual leadership development, Advanced Executive Leadership for Physicians offers a distinctive program to add depth and breadth to individual leadership capabilities.
The 2018 program will be delivered in two sessions, May 7-9 and June 4-6, at the Cornell Executive Education Extension Office, 45 West 57th Street, New York, New York.
Registration is available online. Contact: Terry August

---
Innovation Spotlight—Triple Aim: Mercy Hospital of Buffalo Improves Patient Pain Management
To improve pain control, Mercy Hospital in Buffalo voluntarily engaged in a 10-month study by the National Data of Nursing Quality Indicators (NDNQ) to develop and implement evidenced-based methods to improve pain management.
To learn more about this initiative and see its results, read the full story here. This story is just one of the many initiatives profiled on HANYS' NYS Triple Aim website that demonstrate how New York healthcare providers are improving population health, enhancing the quality of patient care, and reducing the cost of healthcare despite fiscal constraints.
---