June 1, 2018 News Headlines
Op-ed by HANYS President Bea Grause: State-mandated nurse ratios would hurt patient safety
"Around the clock, tens of thousands of patients require immediate care in New York State's hospitals, and teams of health care professionals converge to help them. Top-quality, patient-centered care is the number one priority for these highly trained professionals, and they do fantastic work.

Creating trained teams ready and able to deliver evidence-based care has been broadly embraced and instituted in hospitals across the state and nation. This approach works and supports a culture that helps high-risk industries like hospitals reliably achieve safe outcomes. As a former emergency room nurse, I understand that nurses are important team members, but so are nurses' aides, technicians, respiratory therapists, and of course, physicians. . ."
Read the rest of Bea Grause's op-ed on mandated nurse-to-patient staffing ratios.
---
Innovation Spotlight—St. Charles Hospital Stands Against Falls
Rehabilitation facilities often focus on preventing falls on-site, leaving patients unaware of the risks after returning home. St. Charles Hospital surveyed patients three months post-discharge from inpatient rehabilitation facilities and found that nearly 23% of patients reported a fall within six months of data collection.
To learn more about what St. Charles did to address this, read the full story here. This story is just one of the many initiatives profiled on HANYS' NYS Triple Aim website that demonstrate how New York healthcare providers are improving population health, enhancing the quality of patient care, and reducing the cost of healthcare despite fiscal constraints.
---
Long Island Nurses Recognized for Excellence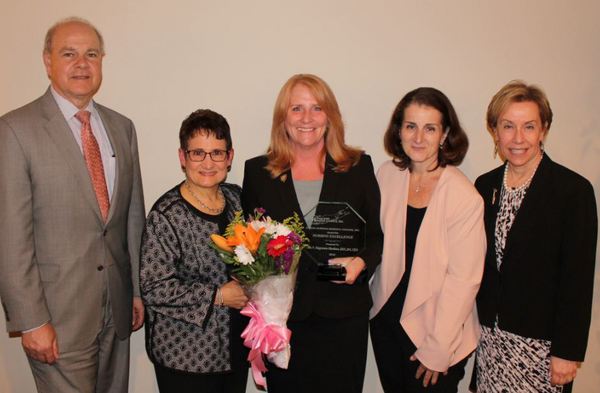 Al Glover, Chief Operating Officer, NYU Winthrop Hospital; Valerie Terzano, RN, Chair of the Nurse Excellence Sub-Committee and Senior Vice President of Nursing/Chief Nursing Officer, NYU Winthrop Hospital; 2018 Nurse of Excellence Lila Hageman-Sheehan, RN; Donna Caccavale, RN, Vice President, Nursing, NYU Winthrop Hospital; and Gara Edelstein, RN, Chief Nursing Officer, Good Samaritan Hospital Medical Center/Catholic Health Services of Long Island.
Nurse leaders from Long Island's hospitals and nursing education programs gathered Wednesday, May 16, 2018, to bestow recognition upon their nurse peers at the Nurse of Excellence Award Ceremony hosted by the Nassau Suffolk Hospital Council (NSHC).
Seaford resident Lila Hageman-Sheehan, RN, Nurse Manager, Emergency Department (ED), NYU Winthrop Hospital, rose above a field of 27 nominees selected from a field of about 500 nurses at hospitals and teaching institutions from across Long Island.
Hageman-Sheehan brings enthusiasm to her job and to her team. Drawn to emergency medicine because of the difference she could make in people's lives, she extends her nursing skills beyond the ED to include volunteer work in the community near and far. She is a volunteer for the Nassau County Medical Reserve Corps and has provided medical support for the Special Olympics program and the Long Island Marathon.
For her emergency room colleagues who were treating victims of the Las Vegas shooting last year, she organized an effort among her hospital peers to send nourishment and encouragement to the overwhelmed staff. She also used that tragic event as a teachable moment in Winthrop's ED to review and improve incident response.
Hageman-Sheehan is an instructor for the American College of Surgeons' "Stop the Bleed" program, which teaches lay persons how to administer basic medical care until the arrival of a medical team. She is currently leading the effort at her hospital to establish a Sexual Assault Forensic Examiner (SAFE) program.
NSHC's annual salute to nurses is now in its 23nd year. For more information about this program and a full listing of nominees, visit www.nshc.org. Contact: Janine Logan
---