January 18, 2019 News Headlines
Statement by HANYS President Bea Grause, RN, JD, regarding Gov. Cuomo's executive budget proposal
Tuesday, Jan. 15, Gov. Cuomo delivered his annual State of the State address and released his state fiscal year 2019-2020 executive budget.
HANYS President Bea Grause released the following statement in response:
HANYS commends Gov. Andrew Cuomo for a thoughtful and deliberate approach on key issues facing the healthcare sector.
The governor has proposed a commission to consider how to achieve universal access to healthcare in New York. We believe that studying this complex issue is the right approach.
The governor has also proposed a nurse staffing study by the Department of Health. We have strongly opposed mandated nurse staffing ratios in the past and continue to believe that inflexible mandates are the wrong approach. In this regard, multiple studies, including the recent Massachusetts Health Policy Commission study, clearly demonstrate that inflexible staffing mandates do not improve quality and only increase costs. We stand ready, however, to discuss ways to make further improvements in patient safety and quality of care.
We look forward to a robust, fact-based dialogue on both of these issues.
We also support the governor's proposal to codify the provisions of the Affordable Care Act, including protections for pre-existing conditions, as well as his effort to address gun violence.
Finally, we look forward to working with the governor and state lawmakers on continued investment in the healthcare system in 2019. The state has made significant progress in recent years – climbing in the national healthcare rankings – and we want to continue and expand that progress.
---
On Capitol Hill, HANYS meets with New York delegation on 2019 federal advocacy priorities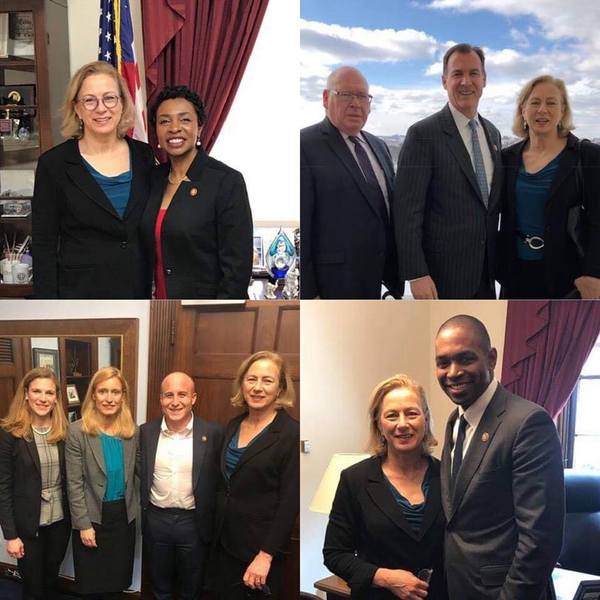 Top row: Bea Grause, president, HANYS, and Rep. Yvette Clarke (D-Brooklyn); Kevin Dahill, president and CEO, Suburban Hospital Alliance, Rep. Tom Suozzi (D-Glen Cove) and Bea Grause. Bottom row: Cristina Batt, vice president, federal affairs, HANYS, Courtney Burke, chief operating and innovation officer, HANYS, Rep. Max Rose (D-Staten Island) and Bea Grause; and Bea Grause with Rep. Antonio Delgado (D-Rhinebeck).
HANYS President Bea Grause met with members of the New York congressional delegation in Washington this week to discuss 2019 federal priorities for hospitals and health systems, including relief from the Medicaid DSH cuts set to take place on Oct. 1, 2019. Among the members HANYS met with were freshmen Reps. Anthony Brindisi (D-Utica), Antonio Delgado (D-Rhinebeck) and Max Rose (D-Staten Island), as well as returning Reps. Yvette Clarke (D-Brooklyn), vice chair of the House Energy and Commerce Committee, and Tom Suozzi (D-Glen Cove), New York's newest member of the House Ways and Means Committee. HANYS looks forward to continuing to work closely with all members of the delegation in 2019 to protect hospitals and health systems and the patients they serve. Contact: Cristina Batt

---
Innovation Spotlight – Health Quest reduces sepsis mortality
Sepsis is a serious threat to patient safety and public health. It has been found in more than one-third of patients whose hospitalization culminated in death, and inpatient care for sepsis is a crucial and substantial cost driver for hospitals. In 2017, Health Quest implemented steps to reduce sepsis mortality.
To learn more about this initiative and its results, read our full story.
This story is just one of the many initiatives profiled on HANYS' Member Innovation Spotlight website that demonstrate how New York healthcare providers are improving population health, enhancing the quality of patient care and reducing the cost of healthcare despite fiscal constraints.
---
Fidelis Care providing family planning and reproductive health benefit
Effective Jan. 1, 2019, the Fidelis Care Medicaid package now includes coverage for family planning and reproductive health services, including birth control drugs and devices, emergency contraception, pregnancy testing and other services. Following its purchase by Centene, Fidelis Care is no longer able to claim the religious exemption from covering family planning and reproductive health benefits. Participating Fidelis Care providers should bill these services to Fidelis. Previously, Medicaid fee-for-service had provided this benefit for Fidelis members. Contact: Anna Sapak

---