March 1, 2019 News Headlines
New reports: See how hospitals impact their local communities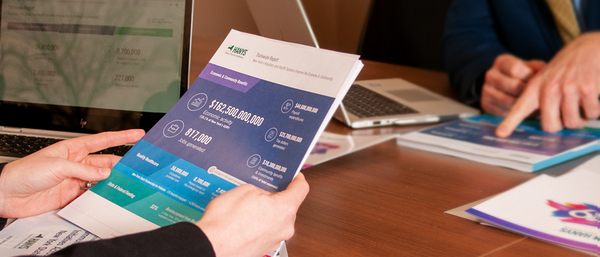 Quality care. Jobs. Economic activity ... and so much more.
The benefits hospitals provide their local communities cannot be overstated. Hospitals serve as anchor institutions in communities throughout New York state and their positive impact goes far beyond the quality patient care they provide.
Our series of economic impact and community benefit reports explores these impacts at the statewide, regional, legislative district and hospital- and system-specific levels.
Learn more about our reports and New York hospitals' impact in our latest blog post.
---
Community Benefit Spotlight – Jamaica Hospital Medical Center prevents falls
Jamaica Hospital Medical Center's emergency department reported 770 fall-related trauma cases between January and November 2018. Senior citizens accounted for 68% of those cases. To address this critical issue, JHMC collaborated with local senior centers to educate seniors on strategies to avoid falls.
To learn more about this initiative and its results, read our full story.
This story is just one of the many initiatives profiled on HANYS' Community Benefit Spotlight website that demonstrate how New York healthcare providers are improving population health, addressing regional health disparities and delivering valuable benefits to local communities.
---
HANYS GPS renews partnership with GNYHA Ventures, Inc.
HANYS Group Purchasing Services recently renewed its agreement to partner with the GNYHA Ventures companies Acurity, Inc. and Nexera, Inc. to extend preeminent group purchasing offerings and expert supply chain solutions to hospitals across New York state.
HANYS members have access to Acurity's regional group purchasing portfolio, which includes regional contracts at superior pricing as well as strategic agreements focused on information technology and staff augmentation services, emergency preparedness and response, cybersecurity, financial management and revenue enhancement, and many other solutions addressing health industry needs.
This partnership also offers HANYS members access to Nexera's supply chain consulting services in the areas of Financial Improvement, Operations Improvement, Clinical Engagement and Workforce Solutions. Contact: Terry August
---
DOH commissioner's Medical Grand Rounds to address maternal mortality March 6
Maternal mortality rates are increasing in both New York and nationally, with stark racial and ethnic disparities. Black women in New York are three times more likely to die of pregnancy-related complications than white women. Every healthcare provider, regardless of specialty or practice setting, has a role in addressing this issue.
On March 6, DOH Commissioner Dr. Howard Zucker will host a Grand Rounds session, Reversing the Trend in Maternal Mortality: What Every Provider Should Know. The session aims to increase knowledge about maternal mortality and disparities, as well as individual and system-wide approaches to addressing this issue, from enhancing routine well-women care as a foundation for healthy pregnancies to improving facilities' clinical response to maternal health emergencies.
Registration is free for all New York state providers.
HANYS is an active member of Governor Cuomo's Maternal Mortality Task Force and continues to provide feedback and recommendations to DOH on this important topic. Contact: Kathy Rauch
---