May 10, 2019 News Headlines
New post: Thank a nurse you know this week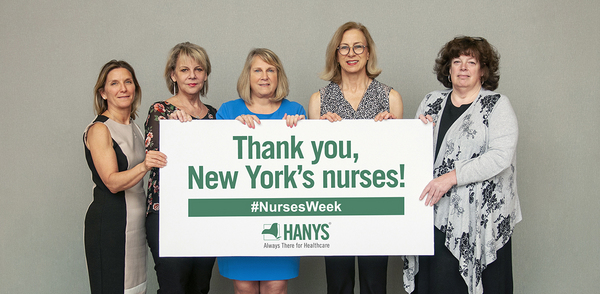 This week is National Nurses Week! HANYS members have been busy celebrating their nurses all week; HANYS has shared many of the celebrations on our Twitter account.
Nurses Week ends on May 12. We encourage all to continue to celebrate the work of New York's nurses and thank a nurse you know.
---
Community Health Spotlight – Flushing Hospital Medical Center advocates for healthy mothers and newborns
In 2015, Flushing Hospital Medical Center began a community-based program, Breastfeeding and Beyond: Breastfeeding Education and Nutrition in the Community. Through this initiative, FHMC works with partners in the community to improve health and promote the well-being of women, newborns, infants, toddlers and children.
To learn more about this initiative and its results, read our full story.
This story is just one of the many initiatives profiled on HANYS' Community Health Spotlight website that demonstrate how New York healthcare providers are improving population health, addressing regional health disparities and delivering valuable benefits to local communities.
---
May 14 webinar: Doing Good While Doing Well
More and more, investors are seeking to combine their personal values with their investment decisions without sacrificing long-term results. How important should the focus on socially responsible investing strategies be?
HANYS Benefit Services' May 14 webinar, Doing Good While Doing Well, will explore socially responsible investing. Attending this 11 a.m. webinar will help you determine if environmental, social and governance investing makes sense in your retirement plan.
Speakers William Desormeau, vice president, HANYS Benefit Services, and Eric Paley, partner, Nixon Peabody, will cover:
the potential value of ESG investing to investors and plan sponsors;
ESG investment fund ratings and reporting standards;
fiduciary oversight challenges for ESG investing and compliance best practices; and
key tools and resources for consideration.
Register online. Registration support: learning@hanys.org; HBS contact: William Desormeau
---
HRSA releases funding opportunity for rural opioid response
The Health Resources and Services Administration's Federal Office of Rural Health Policy has released a Notice of Funding Opportunity that will invest up to $8 million in rural communities to expand medication-assisted treatment.
Eligible applicants include Critical Access Hospitals and other rural hospitals with 49 beds or fewer, rural health clinics, health centers and tribes or tribal organizations. Award recipients will receive up to $725,000 for a three-year performance period. Applications are due June 10.
The Federal Office of Rural Health Policy will hold a technical assistance webinar about this opportunity on Thursday, May 16, from noon to 1:30 p.m. Information to access the webinar and to play the recording afterward is contained on page ii within the funding opportunity. To access the full Notice of Funding Availability document at the above link, click the "package" tab and then click "preview" and "download instructions." Questions may be directed to HRSA at ruralopioidresponse@hrsa.gov. Contact: Karen Roach
---