June 27, 2019 News Headlines
HANYS provides educational programming at 2019 Annual Membership Conference
---
"Understand consumers" sessions review changing consumer preferences, ongoing patient initiatives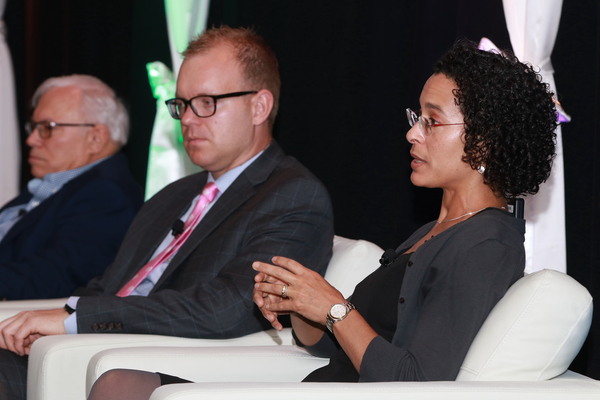 Monika Taylor, MBA, LCSW, CASAC, director, chemical dependency, Crouse Health, moderated "Medication-assisted Treatment for Opioid Use Disorder: Best Practices Across the Continuum of Care," featuring (from left) Jim Follette, MSPH, MD, DABA, FASAM, owner and physician, Center for Addiction and Pain Management; Joshua Lynch, DO, FACEP, clinical assistant professor of emergency medicine, University at Buffalo Jacobs School of Emergency Medicine; and Renee Rodriguez-Goodemote, MD, FAAFP, medical director, The Saratoga Community Health Center.
More convenience, simplicity and ease of access are increasingly being sought by consumers using healthcare services. "Understand consumers" sessions provided innovative ideas and practices for providers to help put consumers at the center of care and improve their care experience.
Sessions focused on serving a variety of patient populations, with topics including: making the health system more age-friendly for individuals over the age of 65; providing better care to people with developmental disabilities, people with mental health service needs and aging individuals with six or more chronic illnesses; reducing stigma around medication-assisted treatment for patients with opioid use disorder; and managing the legal concerns surrounding patient use of social media, mobile apps and other digital forms of communication while receiving care.
Consumer-focused sessions spoke to the fact that how patients want their care delivered is changing, and legacy providers must adapt their care delivery systems to meet their needs, or other market entrants will step in to provide that care. In addition to new consumer preferences and best practices to improve the care experience, quality of care and patient safety continued to be key conference session themes.
---
"Embrace technology" sessions explore new tech entrants and tools in healthcare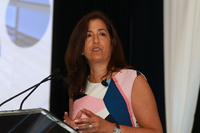 Marisa Barbieri, chief executive officer, Competitive Solutions, and founder, The 1Life Project, presented and led a workshop with members during "AI and Healthcare" about what steps they can take to be best prepared for an artificial intelligence and data-driven future.
Many conference presenters agreed on one key theme: technological advancements are changing how healthcare is delivered – and what patients expect and want from their providers. "Embrace technology" conference sessions were designed to help providers understand new technologies and tools, as well as take advantage of the opportunities they provide. A series of tech-focused sessions aimed to help HANYS members incorporate new technology into growth strategies, clinical care and operations.
Specific topics discussed include the overall digital transformation of the consumer experience in healthcare, cybersecurity, robotics process transformation and artificial intelligence. Sessions included both presentations and group exercises that spurred discussion amongst members about how new technologies can be leveraged and how providers can overcome obstacles – such as costs and talent needed – to fully embrace these opportunities.
---
"Control the dollar" sessions focus on provider sustainability in rapidly evolving marketplace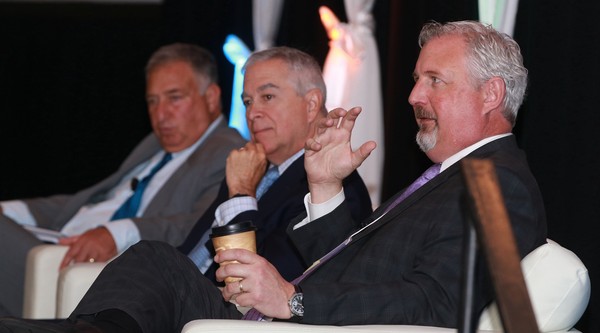 From left: Jeff Gold, HANYS' senior vice president and special counsel, insurance and managed care, moderated "Working Together to Ensure the Long-term Health of the Communities We Serve," a discussion with Robert Hinckley, executive vice president, strategy and communications and chief strategy officer, CDPHP, and Tony Vitagliano, vice president, health system performance, Excellus BCBS.
Between pressure on the premium dollar, "docs in a box," new specialty groups and growing partnerships between insurers and companies such as CVS, it is getting harder and harder for traditional providers to control the flow of the healthcare dollar. "Control the dollar" sessions were designed to give members ideas about different ways to build a sustainable future in a rapidly evolving marketplace.
One session covered the transition from fee-for-service to value-based payment, with a particular focus on Medicare Advantage. Another focused on payer evolution and new strategies for hospitals to cope with competitive disruption and the power derived from payer conglomeration, with observations made such as "the reports of the death of hospitals are greatly exaggerated" yet also acknowledging the moves organizations such as Optum are making to completely redesign the healthcare business model ("This is Optum's world, and we're just living in it").
In a panel discussion, two local health plan executives and Jeff Gold, HANYS' senior vice president and special counsel, insurance and managed care, spoke about how health systems and payers can be better aligned in their efforts to serve healthcare consumers, particularly as topics such as single-payer healthcare continue to dominate policy discussions.
---
"Innovate in workforce" sessions review workforce trends, provide leadership best practices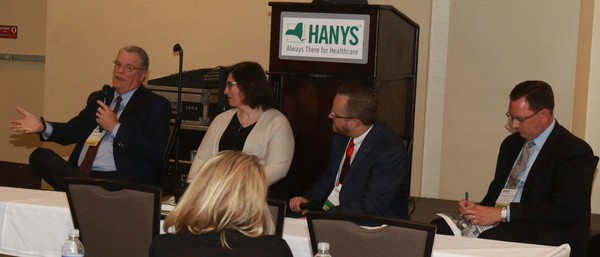 From left: William Myhre, senior director, Workforce Transformation/Human Resources, Staten Island Performing Provider System, Elisa Arespacochaga, vice president, American Hospital Association's Physician Alliance, session moderator Evan Brooksby, HANYS' director, policy analysis and special projects, and Mark F. Klyczek, MS, FACHE, LNHA, senior vice president, Long-term Care Division, Rochester Regional Health, discuss "Innovating for the Workforce of Tomorrow."
Demographic trends show that the demand for healthcare workers will increase over the next decade as the baby boom generation ages. At the same time, workers and employees are seeking ways to have more flexibility in their scheduling, scope or job function. The idea of the "gig" or "shared" economy is also impacting healthcare. "Innovate in workforce" conference sessions sought to help members better understand some of the changes occurring in healthcare and provide best practices on how to adapt leadership approaches.
Two pre-conference sessions focused on how leaders can better drive change and success in the areas of quality, safety, patient experience and workplace culture. A panel discussion covered various workforce challenges being experienced at the health system, regional and local levels, from recruitment issues and financial constraints to supporting employees who face issues that inhibit their ability to work, such as lack of transportation and demands as a caretaker at home. One presentation looked at Trajectories, a prospective modeling technique that combines systems engineering and social science techniques to model potential failures within clinical processes.
Overall, these sessions provided strategies to attract and retain staff and support them in their efforts to drive continuously high-quality patient outcomes.
---
Make plans for Buffalo: HANYS' 2020 Annual Membership Conference is June 17-19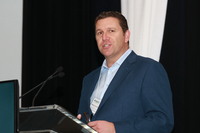 Thomas Quatroche, Jr., PhD, president and CEO, Erie County Medical Center, and HANYS board of trustees chair-elect, announces HANYS' 2020 Annual Membership Conference location.
HANYS is pleased to announce our 2020 Annual Membership Conference will take place in Buffalo, New York! Save the dates and plan to join us at the Hyatt Regency Buffalo Hotel June 17-19, 2020. More event details will be announced in the months ahead. We look forward to seeing our members at next year's conference! Contact: Allison Manny
---