August 16, 2019 News Headlines
HANYS' advocacy helps consumers: New York takes steps to clarify insurance coverage, streamline processes
HANYS supported a variety of bills this session aimed at making managed care work better for consumers. The New York State Legislature passed an array of new, HANYS-backed bills and rules that will streamline the patient experience and shield patients from the complexities of healthcare payment.
Learn more about these bills in our latest press release.
---
HANYS issues statement on final public charge rule
HANYS President Bea Grause issued the following statement on Monday, Aug. 12:
The Trump administration's public charge rule will harm patients and raise healthcare costs. This final rule would cause patients to delay or defer needed care and when patients forego medical care and other social services, the care they ultimately require becomes more complex and costly.
The federal government is expanding the types of benefits (such as Medicaid) that an immigrant has used when making a public charge determination. Determining immigrants as public charges will likely negatively impact their immigration status. Undoubtedly, this rule will instill fear and deter entire populations from accessing critical programs and services for which they are currently eligible.
We implore the administration to reconsider this policy. HANYS will continue to work to ensure that all New Yorkers have access to the care they need when they need it.
HANYS' official comments are available online.
---
HANYS forms new collaboration with Hospital Innovation and Lean Network of New York
HANYS is pleased to announce a new collaboration with the Hospital Innovation and Lean Network of New York. HILNNY is a collaborative network that brings together Lean and innovation practitioners in hospitals and healthcare facilities throughout New York to enhance learning and further the development of organizations' work in innovation, process improvement and change management. As part of HANYS' ongoing commitment to healthcare innovation, we are excited to support the work of HILNNY as a benefit to healthcare organizations across the state.
If you are interested in becoming active with HILNNY and receiving communications regarding future HILNNY activities, please let us know by filling out this brief survey.
HILNNY's 6th Annual Conference will be hosted by Northwell Health, Nov. 7-8 at Lenox Hill Hospital in New York City. This year's conference theme is Innovating for Tomorrow's Healthcare: Problem Solving for What Really Matters. Focus areas include innovation and technology, change management, process improvement, quality and population health. More information on the conference, including registration information and agenda details, will be coming soon. Contact: Nick Henley
---
HANYS launches interactive census tool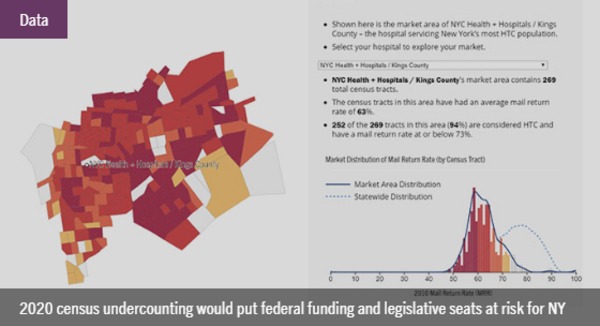 This week, HANYS launched its interactive tool to help members better understand the individuals and communities in hospital market areas that may be at risk for being undercounted.
HANYS is working in partnership with the New York State Complete Count Commission to provide population-specific materials for patient engagement in the coming weeks. An undercount of New York residents in the 2020 U.S. Census could cause a loss in federal funding and congressional representation in Washington.
---
State legislative activity update
Since the end of the 2019 legislative session, 122 bills have been approved by Gov. Cuomo and chaptered, including the following bills of interest to HANYS and our members:
Prohibiting discrimination against religious attire – clarifies that it is an unlawful discriminatory practice for an employer to require a person to violate or forego the wearing of religious attire, clothing or facial hair, unless the employer demonstrates that it is unable to reasonably accommodate without undue hardship (Chapter 154).
Workplace harassment protections – increases protections for employees from sexual harassment by removing the "severe and pervasive" standard, expanding non-disclosure agreement prohibition and extending statute of limitations for sexual harassment claims from one to three years (Chapters 160 & 161).
There are currently 755 bills that passed both houses but are still awaiting delivery to the governor for consideration and action before the end of the year. We will update members as the governor takes action on bills of interest.
Should you have questions on the information provided or any other legislative activity or issues please contact our state governmental affairs team: Amy Nickson, vice president, governmental affairs; Katie Gordon, director, research and legislation; and Scott Janke, director, state governmental affairs.
---
Innovation Spotlight – NYC Health + Hospitals/Bellevue advances quality care for trauma patients
In 2017, NYC Health + Hospitals/Bellevue began its Ventilator-Associated Pneumonia in Adult Trauma Patients initiative to reduce the rate of VAP in adult trauma patients by achieving a culture change through multidisciplinary effort and empowerment.
To learn more about this initiative and its results, read our full story.
This story is just one of the many initiatives profiled on HANYS' Member Innovation Spotlight website that demonstrate how New York healthcare providers are improving population health, enhancing the quality of patient care and reducing the cost of healthcare despite fiscal constraints.
---
SWAT 2019 keynote to showcase Maryland Hospital Association's work addressing complex case patients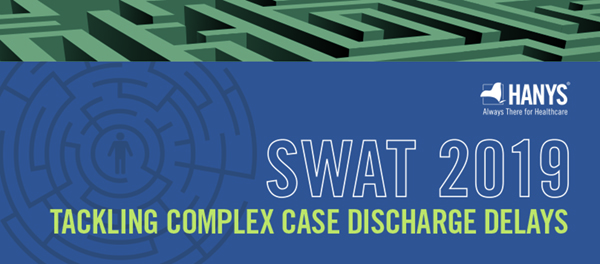 The keynote address at Strategies, Weapons and Tactics 2019 will explore the amazing work that the Maryland Hospital Association has done to address complex case patients – those who do not fit neatly into any discharge model within the healthcare system because the system is not designed for them.
Erin Dorrien, director of policy, Maryland Hospital Association, and Kristin Dillon, research scientist, Wilder Research, will explain how MHA harnessed the expertise and energy of hospital frontline staff to develop solutions by gathering data about discharge delays in emergency departments and inpatient units and using the data to engage the state's decision makers to take action on regulatory barriers that inhibit the timely discharge of patients.
Plan to join us on Oct. 23 and 24 at The Saratoga Hilton for HANYS' annual SWAT program. Additional program details, registration and hotel information coming soon! Contact: Victoria Aufiero
---
OASAS announces RFP to expand medication-assisted treatment
The Office of Alcoholism and Substance Abuse Services recently announced the release of a Request for Proposals to establish up to 350 new Opioid Treatment Program slots in counties throughout the state of New York, excluding those counties in New York City. These new slots are for areas that do not currently have OTP services or have limited capacity.
Eligible applicants are OASAS community-based voluntary agencies that operate one or more OASAS-certified programs; hospitals that operate one or more OASAS-certified programs; and local governmental units that operate one or more OASAS certified programs. The deadline to apply is Sept. 12. Contact: Victoria Aufiero
---