September 6, 2019 News Headlines
HANYS responds to opinion piece critical of hospitals
A Sept. 1 opinion piece in The New York Times, "That Beloved Hospital? It's Driving Up Health Care Costs," casts a misleading and negative light on America's hospitals and the reality providers face.
Hospitals have seen billions of dollars in payment reductions in the years since the Affordable Care Act was passed, and there are more on the way. The hospital industry isn't fighting one reimbursement issue – we're fighting dozens.
Despite those challenges, New York's hospitals are making measurable progress in reducing health spending growth while improving access to high-quality care.
Hospitals are reducing medical inflation. HANYS' member hospitals have and will continue to put forth constructive, collaborative ideas that reduce health spending growth without hurting patients and that take advantage of new ideas, technology and innovation.
Hospitals provide local service, open to all regardless of their ability to pay; provide stable, well-paying jobs; invest in their communities; serve as the front-line for epidemics and disasters; and manage emerging challenges.
They do not get off "scot-free" in Congress, and the public and politicians should not be led to believe that cutting hospital reimbursement will fix healthcare. Dr. Rosenthal's angry messages run counter to the real need for the development of bipartisan, lasting solutions.
---
New post – Technology in healthcare: Compete or collaborate?
Providers face the unusual task of identifying tech partners who aren't aiming to replace them.
Thomas Hallisey, HANYS' director of health information technology, encourages providers to consider the long-term goals of their potential partners. Read our latest blog post to learn more about this challenge.
---
Register today for SWAT 2019: Tackling Complex Case Discharge Delays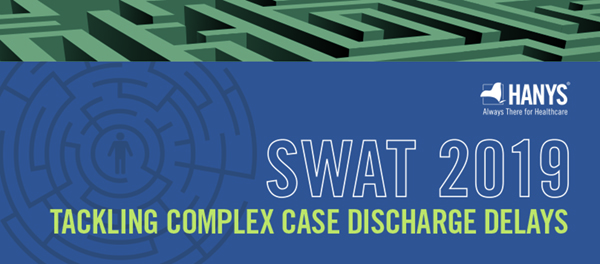 Registration is now open for HANYS' annual Strategies, Weapons and Tactics program, taking place Oct. 23-24 in Saratoga Springs. SWAT 2019 focuses on a growing problem: long delays in discharging patients who have complex needs and who are not able to easily be placed into non-hospital settings.
Visit our website for complete event details and to register. Online registration closes Oct. 14.
This education and networking event will promote conversation among participants about the challenges hospitals face when trying to discharge complex case patients and encourage solution-focused discussions. A variety of stakeholders will participate, including HANYS member hospitals and long-term care facilities, policy makers, payers, representatives from other states and interest groups representing patients with complex cases.
HANYS has reserved rooms at The Saratoga Hilton for the nights of Oct. 22-23. Book your reservation by Oct. 4 to take advantage of our special $179 room rate.
For program questions, contact Stefanie Pawluk, director, insurance and managed care, at (518) 431-7827 or spawluk@hanys.org, or Victoria Aufiero, director, behavioral health, at (518) 431-7889 or vaufiero@hanys.org.
For registration questions, contact the Healthcare Educational and Research Fund at (518) 431-7867 or at learning@hanys.org.
---
Community Health Spotlight – MidHudson Regional Hospital helps kids overcome their fears
In an effort to improve children's comfort level with the hospital and staff, MidHudson Regional Hospital, a member of the Westchester Medical Center Health Network, hosts an annual Teddy Bear clinic for local kids.
To learn more about this initiative and its results, read our full story.
This story is just one of the many initiatives profiled on HANYS' Community Health Spotlight website that demonstrate how New York healthcare providers are improving population health, addressing regional health disparities and delivering valuable benefits to local communities.
---