October 25, 2019 News Headlines
Nearly 200 New York healthcare providers join HANYS' C2X℠ program, affirm their commitment to quality and patient safety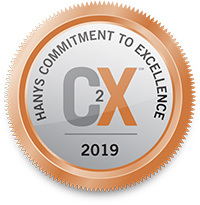 Hospitals, health systems and other healthcare provider organizations across the state are signing on to the Healthcare Association of New York State's Commitment to Excellence program, affirming their commitment to continuous quality improvement, patient safety and performance excellence. In celebration of Healthcare Quality Week, HANYS was pleased to announce this week that nearly 200 facilities statewide have signed the C2X℠ pledge, including every member of the HANYS board of trustees.
Learn more about this first-of-its-kind comprehensive statewide consortium in our press announcement.
---
New post: Complex case discharge delays must be addressed

The concept of hospital discharge is simple: Once patients no longer need acute care at the hospital, they are discharged to their home or another level of care. But what happens if the patient can't go home and another facility will not admit them?
Read our latest blog post to learn more about the growing problem of long delays in discharging patients who have complex needs and who are not able to easily be placed into non-hospital settings.
HANYS' SWAT 2019 program, Tackling Complex Case Discharge Delays, took place Oct. 23-24 in Saratoga Springs. A wide variety of stakeholders, including hospitals and long-term care facilities, policymakers, payers and interest groups representing patients participated. See POLITICO PRO's coverage, "HANYS sets sights on addressing hospital discharge delays."
---
Federal judge orders CMS to stop site-neutral cuts
A federal judge this week rejected a Centers for Medicare and Medicaid Services request to reconsider a Sept. 17 order vacating portions of the federal fiscal year 2019 outpatient prospective payment system rule that reduced payments for certain services provided in off-campus hospital outpatient departments that were grandfathered under the Bipartisan Budget Act of 2015.
The court also denied CMS' request for a stay to consider whether to appeal the order. The latest opinion follows the court's September ruling in favor of the American Hospital Association and other hospital plaintiffs, which stated CMS did not have the authority to implement the site-neutral reductions. CMS is likely to appeal the decision.
HANYS applauds the court's ruling. Reversing CMS' cuts and protecting against further site-neutral reductions is one of HANYS' key federal advocacy priorities. Contact: Elyse Oveson
---
State legislative activity update
Gov. Cuomo has approved 364 bills since the end of the 2019 legislative session, including the following chaptered bill of interest to HANYS and our members:
Patient notification of recalled drugs -- requires pharmacies to make reasonable attempts to notify all patients that have been prescribed and who are currently taking a drug dispensed from such pharmacy of a United States Food and Drug Administration class I recall by phone or by mail within three days of the pharmacy being notified of such recall (Chapter 379).
Currently, 492 bills that have passed both houses are awaiting delivery to the governor for consideration and action before the end of the year. We will continue to provide you with updates as the governor takes action on bills of interest.
Should you have questions on the information provided or any other legislative activity or issues please contact our state governmental affairs team: Amy Nickson, vice president, governmental affairs; Katie Gordon, director, research and legislation; and Scott Janke, director, state governmental affairs.
---
HANYS' 2020 Community Health Improvement Award Call for Submissions is now open!
HANYS is now accepting submissions for our 2020 Community Health Improvement Award. This award honors member hospitals and health systems for their collaborative initiatives to improve the health and well-being of their communities. The submission deadline is Feb. 19, 2020.
CHIA recognizes programs that target specific community health needs, demonstrate leadership and collaboration with diverse community partners and, most importantly, achieve quantifiable results.
HANYS is pleased to provide a new, streamlined online process for submitting your CHIA nomination. Learn more about the submission criteria and access the submission form on HANYS' website. Contact: Kristen Phillips
---
Senate Finance Chair seeks information on GME program spending
Last week, Senate Finance Committee Chair Chuck Grassley (R-IA) sent a letter to the Department of Health and Human Services seeking information on graduate medical education programs, specifically inquiring about how the funds are spent and what oversight processes are in place to prevent waste, fraud and abuse. Chairman Grassley stated in the letter, "...Congress must take a closer look at the GME program to increase oversight and transparency, and ensure that taxpayer money is being spent in a manner that accords with congressional intent and achieves the highest public good."
HANYS is reviewing the letter and working closely with our advocacy partners in Washington, including the American Association of Medical Colleges and the American Hospital Association, to ensure Chairman Grassley and others fully understand the critical role of GME for New York's hospitals and health systems and the nation.
HANYS appreciates that the entire New York delegation has a longstanding history of standing together in strong support of robust GME funding and will continue to build support legislation to bolster the program. Such legislation includes the Resident Physician Shortage Reduction Act of 2019 (S.348/H.R.1763), introduced by Sens. Charles Schumer (D-NY), Robert Menendez (D-NJ) and John Boozman (R-AR) in the Senate and Reps. John Katko (R-Syracuse) and Terri Sewell (D-AL) in the House, and the Opioid Workforce Act (H.R. 3414), introduced by Reps. Elise Stefanik (R-Schuylerville) and Brad Schneider (D-IL). Both bills would increase the number of Medicare-supported residency slots. Contact: Elyse Oveson
---
HANYS comments on DFS health insurance identification card requirements
HANYS submitted comments in support of the New York State Department of Financial Services' proposed regulations for health insurance identification cards. The new regulations would require health insurance ID cards to be updated annually with complete plan, product, network, copay and other information. This would allow providers to easily distinguish between fully insured, state regulated products and self-funded, exempt products. HANYS also suggests that all newly required information be included in the electronic eligibility response as well. Contact: Anna Sapak
---
UVMHN - Elizabethtown Community Hospital fosters good nutrition
A nutritious diet and food security are essential to wellness and affect all aspects of personal health. Interventions in this area can lead to reductions in chronic disease, mortality and medical costs. In April 2019, The University of Vermont Health Network - Elizabethtown Community Hospital launched the Wellness Rx program to provide nutritious food to the needy in their community while improving dietary habits.
To learn more about this initiative and its results, read our full story.
This story is just one of the many initiatives profiled on HANYS' Member Spotlight website that demonstrate how New York healthcare providers are investing in forward-looking initiatives that improve care quality and health outcomes.
---
Finalize your plans to attend the 2019 Healthcare Innovations Conference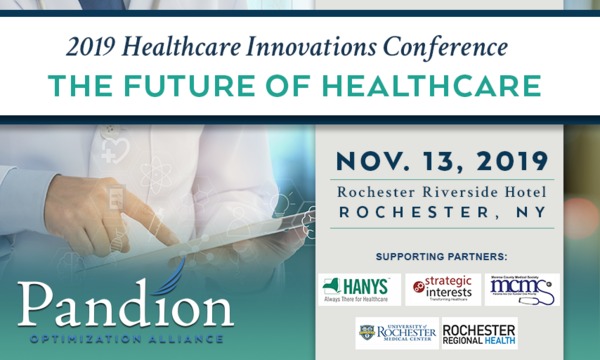 We encourage you to attend Pandion Optimization Alliance's Healthcare Innovations Conference: The Future of Healthcare. This year's event will take place Nov. 13 at the Rochester Riverside Convention Center.
Last year, more than 200 healthcare administrators, clinicians and business owners attended the conference, representing more than 70 organizations across New York. Anyone interested in the future of healthcare is encouraged to attend. Contact: Christine Pittman Ballard
---
Molina Healthcare to acquire assets from YourCare Health Plan
On Oct. 16, Molina Healthcare announced that it has reached an agreement to acquire certain assets of YourCare Health Plan, including the rights to serve approximately 46,000 Medicaid members in seven counties in the Western New York and Finger Lakes regions. YourCare is a not-for-profit subsidiary of Monroe Plan for Medical Care, which will continue to provide certain management and administrative services to YourCare through its MP CareSolutions division. The deal is subject to regulatory approvals and is expected to close in early 2020. Contact: Anna Sapak
---