June 12, 2020 News Headlines
Reflections on the COVID-19 response – and a look ahead

In her latest blog post, HANYS President Bea Grause, RN, JD, considers key takeaways from the past few months that will help us prepare for future public health emergencies.
---
HANYS wants to share your success stories
---
IPRO's Quality Care Collaborative assists nursing homes with free technical support
The COVID-19 pandemic has had a significant impact on the organizations that care for our most vulnerable patients. As we look toward the future, HANYS encourages you to review IPRO's CMS Nursing Home Quality Care Collaborative, which provides free technical support and assistance to help improve care delivery systems, enhance outcomes and attain organizational goals beyond the current crisis.
Over the next five years, IPRO's quality improvement teams will work with participating nursing homes on evidence-based and data-driven methodologies to support improvements in CMS-identified topic areas, including decreasing opioid prescribing, infection prevention, reducing adverse drug events, emergency department visits and readmissions in the sub-acute population and improving quality measure scores. In addition to these original goals, the program now will include technical assistance on rapid response, emergency management and infection control.
Nursing homes that participate in the NHQCC will receive free assistance to help transform the quality of care they provide, improve resident outcomes, increase satisfaction scores and elevate Star ratings. Members will have access to educational resources and tools, health information technology support, data analysis and reporting, peer-to-peer collaboration, person and family engagement insight and online learning.
More information and frequently asked questions are available. Email "Yes; I'm interested," to Dora Fisher and IPRO will contact you to register. Contact: Dora Fisher
---
Confidential counseling offered at no-cost to hospital-based essential employees
Give an Hour, a national organization with a mission to develop networks of volunteers, is offering six hours of free, confidential mental health support to all hospital-based essential employees and their loved ones. Give an Hour's Hospital Heroes Program also includes counseling services for non-clinical, non-direct care hospital employees. Additional resources to support healthcare staff are available on HANYS' COVID-19 webpage. Contact: Sarah DuVall
---
Upcoming events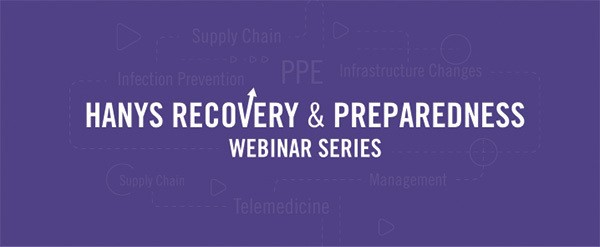 HANYS continues to closely monitor the governor's reopening guidelines and assess how we can continue to best and safely offer our robust educational programming in this next phase of the COVID-19 pandemic. Be sure to check out our current offerings in our events listing, including our wide array of COVID-19-related webinars aimed at helping our members recover from this unprecedented experience.
The upcoming June 15 session in HANYS' ongoing Recovery and Preparedness Webinar Series will focus on strategies for helping personnel develop coping skills and remove obstacles to personal and professional satisfaction in the wake of the COVID-19 pandemic – register now.
---