June 4, 2021 News Headlines
Download the app, get ready for the 52nd Annual Membership Conference
Access to this year's virtual conference is available exclusively through the CrowdCompass app. Register for the conference online, then check your email for instructions on how to access all the event offerings.
---
Deadline approaching for CHIA nominations
Only six business days remain for facilities to submit their nominations for our Community Health Improvement Award, recognizing member hospitals and health systems' innovative work to improve the health and well-being of their communities. Beat the June 14 deadline — submit your nomination today!
---
State legislative activity
This week, the following bills passed both houses of the Legislature and are awaiting delivery to Gov. Cuomo:
CON health equity impact assessments (A.191-A / S.1451-A)
Licensed clinical social worker Medicaid billing (A.7187 / S.6576)
Sickle cell disease informational packets (A.6429-B / S.5606-B)
MAT prior authorization under Medicaid (A.2030 / S.649-A)
Human organ delivery vehicles (A.96-A / S.4071-A)
Education programs relating to postnatal tissue and fluid donation (A.182 / S.3209)
Please see our summary chart for a complete list of bills of interest that have passed both houses this year.
---
Explore person-centered care in our 7-part webinar series
From gender and sexism to indigenous persons and refugee biases, our Pathway to Person-centered Health Encounters series helps providers reduce bias and disparities in healthcare. Register now.
---
New health disparities sessions on contact tracing, community health workers
Register now for the summer sessions of our Turning the Tide webinar series. On June 8 we'll explore healthcare hesitancy and mistrust from the contact tracer perspective, while our July 13 session will highlight effective interventions championed by community health workers to address care disparities among underserved populations.
---
CDC reflects on 40 years of AIDS
The CDC published an article looking back as we approach 40 years since the emergence of HIV/AIDS. The reflection focuses on evolving epidemiology, science and global health, as well as lessons learned and preparation for a fifth decade of AIDS.
---
Healthy food grant proposals due June 9
NYSHealth's "Advancing Healthy Food, Healthy Lives" RFP aims to support a more robust, diverse food system that promotes health and equity throughout New York state. Online inquiry forms for proposals that connect New Yorkers with the food they need to thrive are due June 9.
---
Maternal sepsis webinar to introduce new data and approaches
---
Spotlight on NYC Health + Hospitals/Jacobi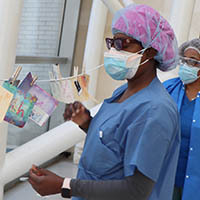 String of Hope
Wellness events, emotional support rounds and fast-tracked connections with therapeutic support are all part of Summer of Hope, a staff mental health and wellness program created in response to the pandemic. Learn more in our Member Spotlight.
---
Upcoming events
---